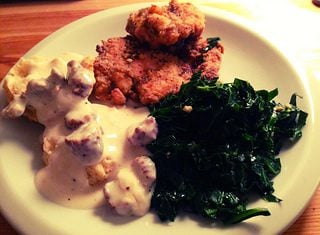 No Voodoo or Hoodoo discussion about this time of year would be complete without talking about the traditional New Year's recipe for collard greens. This dish is served just after midnight. If eaten and prepared right, it is said to bring divine blessings of money and success. The shredded greens, which you are supposed to tear with your bare hands, are thought to represent dollars coming your way.  Collard greens are really good for you too. They are rich in calcium and are said to lower cholesterol, detox your body, and give you cardiovascular and digestive support. Linda Stradley in her piece for What's Cooking America mentions the popular folklore that a fresh leaf can be hung above the door to "ward off evil spirits." Collards are undoubtedly a southern U.S. Tradition. Lucky for us, they are readily available this time of year, I even found them on sale as I got ready to make this recipe.  Don't like greens, well my best advice is to eat them anyway, Amanda Galiano says in her piece about Wealth with Collard Greens and Cornbread that each bite "is worth $1,000 in the upcoming year"  How's that for incentive to eat your veggies.
Collards for Financial Success Recipe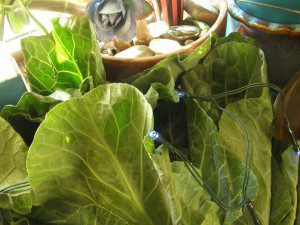 2 large bunches Collard greens, washed very well and torn into thin strips.
1/4 lb. bacon, diced
4 tbs. olive or grapeseed oil
Juice of one fresh lemon
Salt and Pepper to taste
Cover greens with water and add the rest of the ingredients. Bring to a boil, then lower heat to simmer and cook 20 minutes, or until tender. Keep a close watch on it to make sure it doesn't scorch. Remove from heat. Add salt and pepper to taste. May also be sweetened after cooking with molasses or maple syrup.
There are lots of other traditional foods to eat on New Years, like black eyed peas(Hoppin' John) or ham, and some you're supposed to stay away from, like lobster because it goes backwards. This is a time for moving forward with grace and joy. December 31st is also the time to celebrate the Karamu feast which is part of Kwanzaa. It allows a time for expressions of traditional culture like drumming, dance and song, as well as a time for remembering the ancestors and feasting. Menus for the Kwanzaa feast have been known to include yucca, plantains, gumbo, corn pancakes, okra, popcorn, yams, rice, peanuts, shrimp and grits, and more.
For the Collard green recipe and other great traditional ones please check out my e-cookbook African American Ritual Cooking, and have a Great and Bountiful New Year!