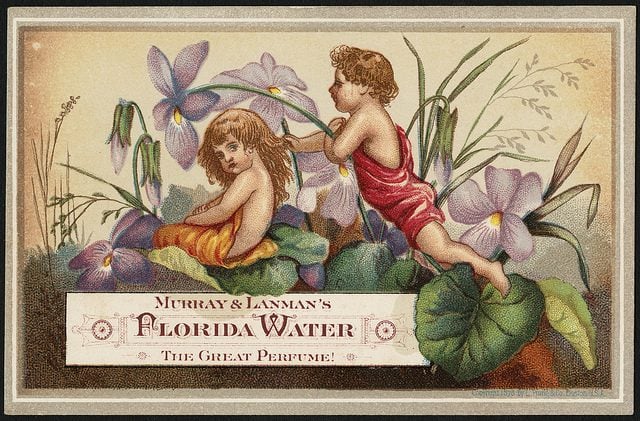 "Voodoo smells great," this is one of the first things my godchildren say to newcomers to our rituals. They are right. One of the most divine things about Voodoo and Santeria is that these religions find a way to deliciously bless and protect participants with some delightful magickal scents. One of the main blessing ingredients used is Florida Water. This isn't actually a water at all. It's Florida Water Cologne, it has an alcohol base and a history as long as my arm.
Murray and Lanman's "Most Popular Perfume in the World"
There is no other. For over two hundred years this preparation has been the gold standard of excellence. My Sicilian Strega-tastic Great-Grandmother used it as part of her daily routine and also as a blessing for St. Anthony. I've known Shamans who use it as a blessing to heal and access the world of the ancestors. It's scented power wafts across boundaries, cultures and worlds.
The Murray Hill neighborhood in New York City was named for one of the company's founders. There is even a quaint educational film about the history of this company.
Florida Water
How To Do Voodoo Blessings Done Rite
In New Orleans Voodoo practice we employ Florida water on almost all occasions. It is used for water blessings and consecration of altars. During possession trance Florida water is used to help the person transition between worlds. It is rubbed on the back of their neck, hands and feet. Florida water Cologne can be used both for grounding or protecting an individual during ceremony. Buy the large bottle and use liberally.
How To Use Florida Water in Santeria (Lucumi)
Every Santeria/Lucumi practitioner uses Florida Water. I'm not prone to making bold statements, but this is definitely true. Murray and Lanman's first foreign factory was in the Santeria( Lukumi) hotbed of Havana, Cuba. The common belief is that this became a much used ingredient as access to more rare and unusual ingredients for the Orisha became difficult to obtain.
In Carlos Montenegro's Santeria Formulary it is added to both bitter( for banishing) and sweet (for attracting) herb floorwashes. Montenegro covers almost everything in this valuable resource. I was fortunate enough to interview him before his death, and I was amazed and astounded at the wealth of his knowledge.
Use It Often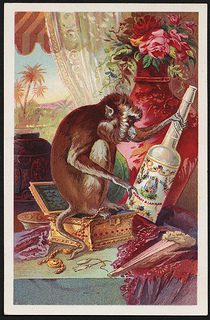 You can do almost anything with Florida Water. People have been known to call it the "baking soda" of the Pagan world. I like to say it's like liquid quartz crystal. An all purpose formula that lends itself to any direction you choose to point it in. First and foremost it is used for blessings and honoring the Lwa or Orisha ( Gods.)
It is used everywhere from Peru to Italy to Surinam for sacred blessings. People wear it as a cologne like the name implies, or in any multitude of other ways. It seems to have undercurrents of lemon, lavender and bergamot. It's a sweet citrus blend that is truly delightful.
Varla Ventura's Blog of the Bizarre It is an ingredient on the list of Spells to Damn Your Enemies. Even more mainstream Wicca practitioners use it to sprinkle over their altars and shrine. Florida Water can be used in almost any circumstance. Put some in your ritual bath water, sprinkle it on your shoes to guide your footsteps, bless your space and your self. What are your special uses for Florida Water? I would love to hear them.