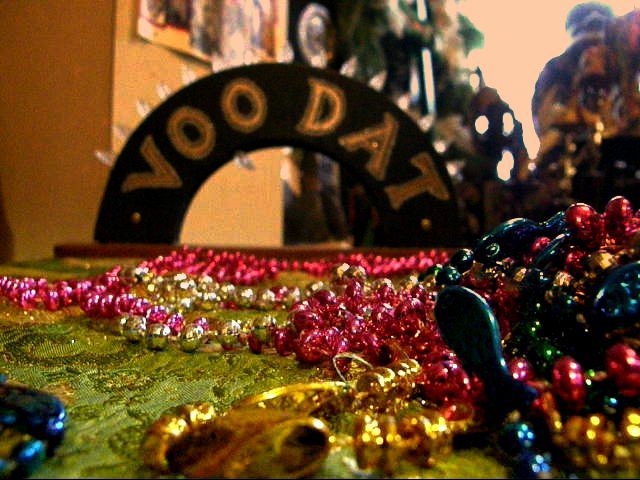 Gearing up for Mardi Gras with mind, body, and spirits for the spirits! The Times-Picayune called last night's Krewe Du Vieux "Deliciously Disrespectful." We can all start to get in the mood, and join in the fun with…
New Orleans Voodoo Mojo Juice.
This is my own sacred recipe for this popular party concoction!
1 oz. Pineapple juice (blessing and protection)
1 oz. Coconut Rum ( for opportunity and to honor the ancestors)
1 dash orange curacao ( orange is traditionally associated with love)
1 lemon wedge
1 lime wedge ( both lemon and lime are for protection and cleansing)
Serve over ice!
The Urban Dictionary , my favorite ghetto source for the words on the street, defines Voodoo Juice as a crazy mix of liquors, "created when teens steal from their parents' liquor cabinet." That's a different kind of ancestor wisdom or stupidity depending on how you look at it. But if you'd like a bit more of an adult Voodoo Brew check out Everyday Drinkers video and the Travel Nola site lists many Voodoo cocktails to enjoy this Mardi Gras season. Don't forget my African-American Ritual Cookbook that is full of spirits and recipes for your soul. Another way to get in the mood is watch this amazing Second line video I shot of Red Baraat on Mardi Gras Day 2013!
Iko Iko and party on!