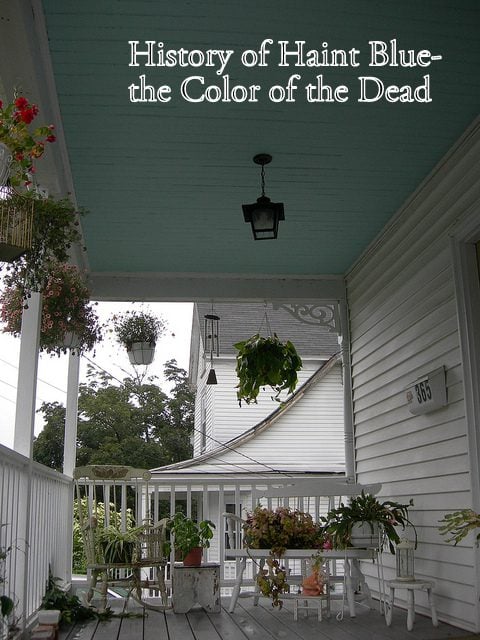 There are blues that you get from sleepless nights,
But the bluest blues to me,
Are the blues that make me hot and cold and make me want to shiver

And make me want to end it all by jumping in the river,

Are the blues my naughty sweetie gives to me, gives to me.

The blues my naughty sweetie gives to me.
The Blues My Naughty Sweetie Gives to Me– Words and Music by N. Swanstone, Charles R. McCarron and Carey Morgan (This song came on while I was writing this, those naughty sweetie Haints )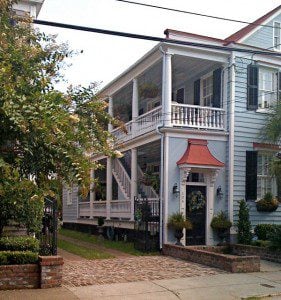 Voodoo and Hoodoo history have a color for you: It's called "Haint Blue." Maybe your grandmother used it, or your great grandmother. A haint is another way of saying haunt, or ghost, but the word is not used very often these days, even if the haints still exist. The color, however is as bright and alive as it ever was.
Back to the Gullahs
The history of Haint Blue goes back to the Gullah (sometimes referred to as Geechee after the Ogeechee river) people of coastal South Carolina and Georgia.Even Southern Living tells us it is a ghostbuster, and recommends buying Benjamin Moore Palladin Blue to duplicate it's classic effects at home.
A Serious Blue
Some think the history goes back to the use of Cobalt Blue to ward off the evil eye, or Cerulean Blue by Kongo people to honor the ancestral realms. Souls Grown Deep: African-American Vernacular Art notes it was used on "window frames, door frames, and porches of many Southern African-American homes." This is a simple, and effective tradition to continue today. Even if you can't, or don't want to paint your whole window or porch blue, consider using this color to place protective veves, sigils, or other symbols around your home. The original recipe for "Haint Blue" paint was a mixture of dye from the indigo plant and lime among other things. Plant indigo around your home to protect it and chase away negativity (be careful it's poisonous.) Crystal Aneira in her blog Herbal Riot mentions how indigo can be used for protection, and even offers a recipe for Dragon's Blood using indigo. Lime, naturally repels insects and this is most likely how "Haint Blue" got it's reputation for chasing away bugs, spiders, and other literally creepy things. Lime can be sprinkled around outside the home for both sacred and secular protection magick. Good luck and Happy Hainting!