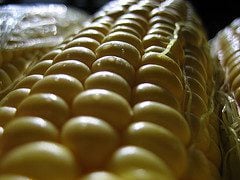 New Orleans has a unique flavor all its own: the jazz, the Voodoo, the streetcar, and the food. Oh, how we love the food. Maque Choux is a Southern Louisiana corn delicacy. As usual in New Orleans, no one is exactly sure how the dish got its name. Maque Choux (pronounced Mock Shoe) could possibly come from the Cajun French term maigrchou, which translates as "thin child" and may refer to the thinning of the recipe with cream or milk according to wisegeek.com. The recipe is similar to creamed corn, a common treat in New England.
This is based on a Native American staple corn. It was, and is still used by indigenous North and South Americans as a divine component of their everyday lives. Corn comes in many different colors and forms, and is said to be spiritually ruled by the moon. In addition to providing fertility, corn is also said to impart protection and luck to those who partake of it wisely. In the Santeria, or La Regla Lucumi, religion corn is often used in spells for the Orisha (God) Babaluaiye for healing. There is also a practice of using toasted corn as part of working for protection. It is clear there is a wide range of uses for corn.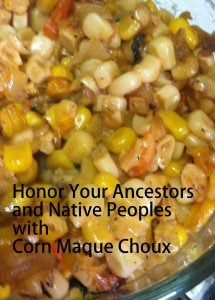 Almost everyone in New Orleans has their own special recipe for Macque Choux . Chef
John Besh
, from Restaurant August uses claw crabmeat in his version. 
Emeril Lagasse'
s "Kicked Up" recipe is listed on the Food Network site and features jalapenos. Many people also consider this dish incomplete without shrimp. I had a classic version from the Uptown restaurant better known as a local treasure, The Camellia Grill. This restaurant is an adventure, the waiters are wild, and I definitely recommend a stop for those who haven't been there. The following recipe is my own special version of Maque Choux, that I served up recently for our
Maman Brigitte
Feast.
Corn Maque Choux Recipe
1 tbs. butter
4 fresh ears steamed and cut from cob or 2 cans corn
2 cloves garlic, minced
1 small red onion, diced
½ green pepper
½ red pepper
1/2 cup cream
Bacon bits
dash hot sauce
Melt butter over low heat in a saucepan. Add onions, and when they start to go translucent add garlic, peppers. Cook until peppers begin to brown. Place corn, hot sauce, and cream in the mixture. Simmer over low heat for 15-20 minutes, stirring frequently. Top with bacon bits. Serve immediately.
For more ritual recipes please check out my African-American Ritual Cookbook.