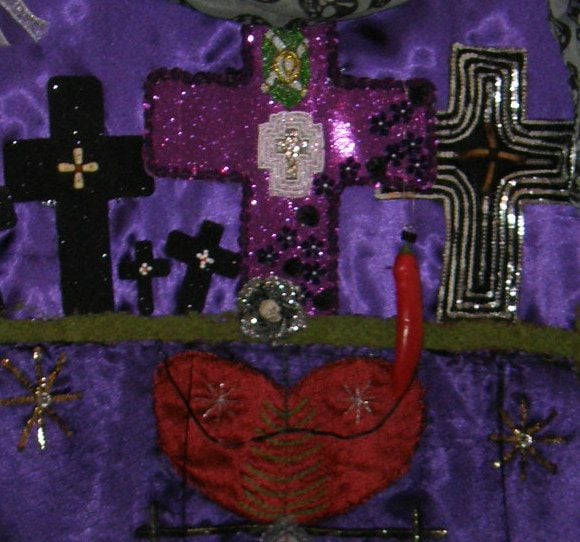 You might know her from the roses in her hair, the eye sockets in her skull, or the icy Voodoo hand there to hold if you need it. Maybe you don't even know her name. It's Brigitte, Maman Brigitte. She is the ancient primal feminine power. In Haitian Vodou she is honored as the first woman buried in every cemetery. Alongside her husband Baron Samedi, she guides and protects all who seek her blessing. Here devotees find wisdom, connection and healing justice. She is very often associated the Catholic St. Brigit and the Celtic goddess Brighid. Consequently her feast is celebrated on February 2, also known as Candlemas or Imbolc. St. Brighid is the patron saint of poets, healers, fugitives, midwives, blacksmiths, Irish nuns, and infants.
Maman Brigitte holds a special place in New Orleans Voodoo. Some say she was one of the patron deities of Marie Laveau. The Voodoo Spiritual Temple, of which I am a long standing member has frequently performed rites and rituals for her. The veve pictured here was for a rite we performed for her over a decade ago, notice it incorporates St. Bride crosses. Carolyn Wise, of the Fellowship of Isis, speaks to the special connection between this Celtic deity and New Orleans. A large number of Irish immigrant women relocated to New Orleans in the 1800 and brought their spiritual beliefs with them. Wise makes the interesting connection between the Voodoo dolls in the city and St. Bride dolls, and also states one of my favorite quotes about this deity,"She does not suffer fools."For more information about traditional aspects of Brighid please visit my fellow Patheos bloggers posts Encountering Brighid and What is Brigidine Paganism?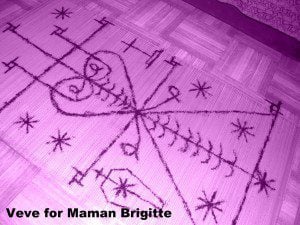 My Voodoo house holds Maman Brigitte in special regard as one of our patron deities. The past several years have seen feasts, rituals, readings, and initiations occurring this time of year. We use a special veve, or sacred ground drawing, that we lay out in cornmeal or coffee. This veve features Brighid's crosses, which are a traditional Irish symbol. Coffee usually figures prominently in the feast menu as well, which includes Maman Brigitte's other favorite offerings too. Oranges, Chocolate, Wine, Pork or beef are included. She is a people's goddess. It is easy to establish a connection with her, as long as you are respectful and genuine at all times. In our house she is a patron of justice, a connection to the realm of the ancestors that we hold most sacred. The exquisite flag for her that my goddaughter created (shown above) contains her traditional imagery of crosses, headstones, hearts, and a chili pepper for a little extra spice. For us she is a goddess of death that reminds us of the healing power of connection to the dead and the ancestors who have walked this path before.
Chants of the Spirits: Volume II The Lwa is a fantastic cd of traditional Haitian Vodou chants compiled and performed by my goddaughter Cathleen McGowan, now a priestess and spiritual leader in her own right. The cd can be obtained from her etsy store Purring Banshee Studios.
The following is her moving chant for Maman Brigitte: Mother of the Dead
Mesye La Kwa, avanse pou l'we yo.
Maman Brigitte malad, li couche sou do.
Pawol anpil pa leve les mo
Mare tet ou; mare vant ou; mare ren ou.
Yo prale we ki jan yap met a jenou.
Gentleman of the cross, enter for her to see.
Maman Brigitte is sick, she sleeps on her back.
Plenty of talk won't raise the Dead.
Tie up your head, your stomach, your back,
They will see how they will beg for forgiveness.