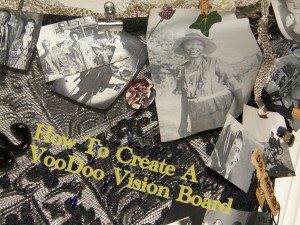 Most peoples idea of Voodoo involves skulls, bones, and stolen hair. Blame the media. Don't believe the hype. The truth about New Orleans Voodoo and Haitian Vodou is that they incorporate every aspect of life and death into their practices. This stems from a constant respect and honoring of the Lwa (Loa) the demi-Gods and demi-Goddesses who represent the sacred forces of the earth and beyond.
Vision boards are nothing new. They consist of pictures, drawings, and words to help inspire and support your vision. They assist in staying focused with positive thinking. You can be a Christian, Pagan or even an Atheist and still create a vision board. In our modern age you can even create an electronic one and put it on Pinterest – check out my one for Yemaya . The possibilities are endless. The instructions below are technically for a vision hanging, between you and me, I was bored with the board.
Someone came in my kitchen the other day, looked around and asked me if I was an artist. Aren't we all? I guess my whole house is a bit of a vision board. Positive images, words and assemblages help me to have a brighter day. My vision board hangings include not just only traditional Voodoo symbols like veves, but also photos of iconic Voodoo devotees such as Zora Neale Hurston and Jean Michel Basquiat. Obviously yours can include whomever or whatever you want, take a page out of my book 55 Ways to Connect to Goddess and make one dedicated to your own spiritual path that could include, the Blessed Mother, Maman Brigitte, Freya, or Oshun. Let your spirit guide you and you just might be amazed at what you can create.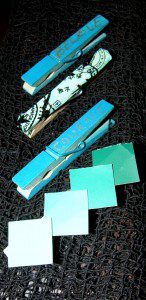 You Will Need
piece of lace fabric or lace scarf
nails or hooks for hanging fabric
clothespins
paint and/or markers
inspirational photos, postcards
bling (this could be jewelry, buttons, feathers, snakeskin, ribbon, etc.)
Instructions
Hang your fabric on the wall, with nails or hooks.
Decorate your clothespins. They can be painted in whatever color you like, or just write inspirational works and thoughts on them. Mine say things like courage, joy, hope, and breathe. If you are extra crafty and feel so moved you can break out the glue gun and attach sequins feathers or whatever you want to the clothespins to make them even snazzier too. The photo above shows me going to town with some washi tape and paint sample chips.
Choose which pictures or photos you are going to use. Cut off or trim whatever parts you don't want to display. In a way this is a hanging shrine to your desires, proceed accordingly.
Begin placing the photos onto the fabric with the clothespins. Stand back and observe your creation every once and awhile to see it looks good from all sides and distances. Make mistakes, move stuff around, make more mistakes, until you have it the way it wants and needs to be.
Now is your chance to begin decorating. Using clothespins you can attach silk flowers, feathers, ribbons, snakeskin, etc. I also like to hang my jewelry (earrings, necklaces, bracelets)  here so it picks up the energy of the board and then I can carry that with me throughout my day.
I hope everyone enjoyed my first How-to post, please help me out and share, pin, tweet, and spread the vision!