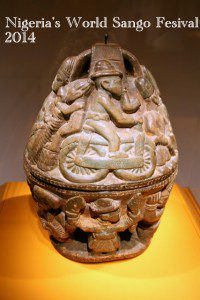 Sango is a king, a god, a warrior. This year's World Sango festival was held in Oyo Nigeria on August 21-30. Created to celebrate African cultural heritage, the event features performances from different Orisha worshiping groups from around the globe. Last year's event was attended by a million followers. This is truly a blessing to behold. Those, like myself, who were unable to attend should check out the website for photos and more information about the cultural history and legacy of the Yoruba people and the Ifa religion.
The video of Otunba Ajiboye on Sango Festival 2013 tells of the event, the great king's connection to his father
Aggayu
, his double-headed axe of judgement, and much more. The issue of cultural preservation is also highlighted which is something that all too often gets forgotten in the more modern manifestations of the Afro-diasporic religions.
The amazing ritual drama performed for King Sango during the 2013 event is also worth viewing.

To see fantastic photos of the 2014 festivities please check out the event's Facebook page. If you are interested in reading more about the myth, the man, the king that was Sango I would recommend Sango in African and the African Diaspora.
Ase Sango!