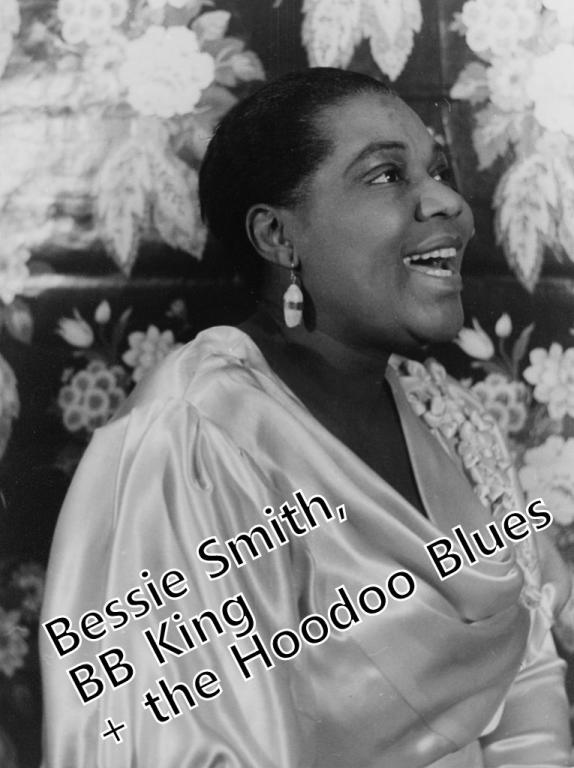 Though many people don't even know her name, Bessie Smith was a legend and an inspiration. She triumphed against amazing odds and circumstances, and sang her blues to the world. Blues and early Hoodoo tradition go together like, well I don't want to say "white on rice," maybe I will say dirty on rice. Bessie Smith takes center stage again almost 80 years after her death with HBO's new film Bessie staring Queen Latifah, and premiering on May 16. The story is by Horton Foote and Dee Rees and tells of the singers transformation. Bessie Smith was born in Tennessee in 1894. By the end of the roaring 20's she was the highest paid performer of color, female or otherwise. She died suddenly after an automobile accident in 1937. But who was this "Empress of Blues," and why did she sing about the Southern Folk magick commonly known as Hoodoo ?
The Hoodoo tradition is older than Bessie Smith and BB King put together. The resourceful and powerful system of practices "jes grew" out of hardship and the oppression of slavery and colonial injustice. Part of the creative beauty of Hoodoo is that it uses whatever it can. It goes without saying that slaves and others with little economic resources couldn't afford rare or expensive ingredients for their spells. Very often things like hair, weeds, bones and other immediately available items are commonly used ingredients.In my post Myth of the Voodoo Mojo Bone i wrote:
"Hoodoo, while related to it's distant cousins Vodou and the like, has it's own way of doing things. Very often these ways are whispers heard from the swamp and handed down across the ages in a game of psychic telephone. The phone-lines have been buzzing for years about the power of the mojo bone."
Many blues songs specifically reference the use of a Mojo Bone or hand. Mojo literally means magick and the use of "fixed" bones has been in place for hundreds of years. Bessie Smith sung about a particular kind of mojo, the kind for love.
Lady Luck Blues written by
"Lady Luck, Lady Luck
Won't you please smile down on me
There's the time, friend of mine
I need your sympathy
I've got his picture turned upside down
I've sprinkled goofer dust all around
Since my man is gone I'm all confused
I've got those Lady Luck blues
Find my good man
I've got those Lady Luck blues"
Turning someone's picture upside down is said to bring about confusion and control according to some Hoodoo practitioners. Goofer dust on the other hand is both a Hoodoo and New Orleans style Voodoo classic blend containing graveyard dust and other magickal ingredients. It can be used to curse, control, or bless depending on your specific formula.
As I was writing this Bessie Smith post, the word came out that BB King had died. BB King was also a legend and there is no way Jazz or Blues would be what it is today without him. My dear late friend Herman Roscoe Ernest III played with him, and the stories were always amazing. Called a Neo-Hoodoo by Vincent L Wimbush in his book African-Americans and the Bible: Sacred Texts and Social Structures , this is in reference to Ishmael Reed's "Neo-Hoodoo Manifesto," which told of a people that did things a new way and didn't listen to anyone.
As with most of history no one will know exactly what Bessie Smith or B.B. King's connection about Hoodoo and magick truly was, for only they knew for certain and they are no longer with us. I can say this however, where ever they are now their mojo is definitely working… and it works on us.
BB King – I Got My Mojo Working
Don't forget to pass the mojo and share this post!