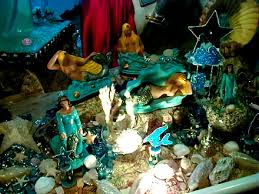 Yemaya is the Orisha of the Ocean in the Lucumi (Santeria) religion. A Mother to all, she rides the waves with her gentleness and blessings. Cooking is one of the simplest and also most divine ways to honor the Orisha, even if you are not initiated in the tradition. Many honor her on her feast day September 7th, which is quickly approaching. Like all Orisha she should be treated with respect and great care.
In my post Oh My Yemaya, I list traditional offerings given to her. These can be left at the beach or ocean, or on your Yemaya shrine if you have one.
Traditional Offerings for Yemaya
Coconut
Plantains
Bananas
Black Eyed Peas
Pineapple
Watermelon – uncut
Watercress
Molasses
White Roses
Blue Roses
This summer I taught my ritual cooking workshop at a festival and we all enjoyed making this coconut rice, as well as grilled pineapple salsa, drunken oranges, and some other delicious treats. My Godmother asked me to share this recipe, and I am happy to do so.
Yemaya Coconut Rice Recipe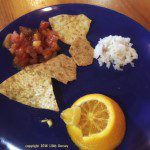 1 cup coconut water
½ cup coconut milk
½ cup water
1 cup rice
1 Tbs. Butter
Place coconut water, water, coconut milk, and butter into a large saucepan. Cook on medium heat until the water begins to simer. Add rice and stir well. Turn heat down to low, cover, and simmer rice 15-20 minutes until all the liquid is absorbed. Add salt and pepper to taste if desired, and serve warm. Makes 3-4 generous servings.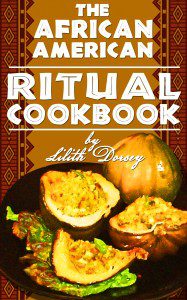 For more recipes please see my African-American Ritual Cookbook, available on Amazon and Etsy. If you have enjoyed this recipe please remember to share, share, share, this dish, and hopefully this post. Many blessings and Happy Eating!