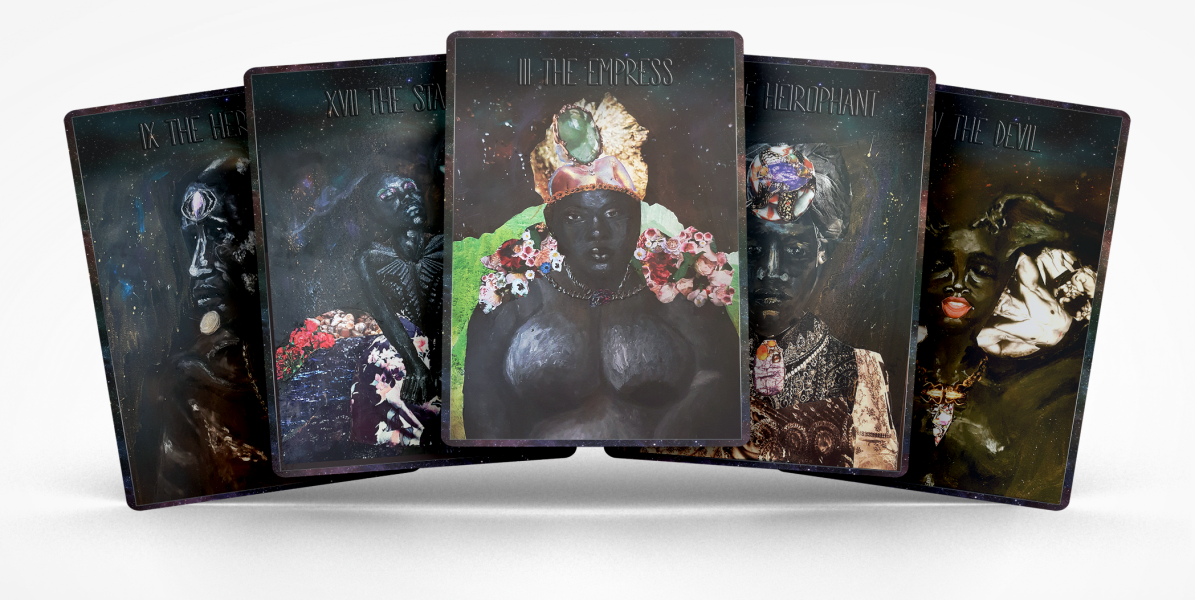 I can honestly say the Dust II Onyx- A Melanated Tarot is one of the most beautiful and powerful decks I have ever seen. It was a great honor to interview it's artist and creator, Courtney Alexander. If you can, please support the kickstarter for the project which ends on October 17th, and is fortunately very near it's goal as I write this. You can read more about the project below, and if you have enjoyed what you found here, please remember to share, share, share !
When did you start divining?
Well I can't say I've been doing it too long. I've only been reading tarot for others less than a year. However most of my life I have found myself giving guidance to others. It's always felt like a gift, the wisdom and encouragement that I have been able to give to others. It's just been on a more intuitive level. Using tarot has allowed me to harness and refine that skill. Besides tarot, when someone visits me I allow them to choose a crystal to take home. Then I tell them about why they chose it and what their spirit is asking for.
I'm also a very vivid dreamer. I've had many premonitions and messages come to me throughout my life. The more I've grown into my spiritual authenticity the more connections I am now able to make. So I've been paying more attention to what my dreams tell me.
How important is the choice/phrasing of the question?
Phrasing I've learned makes a world of difference. Sometimes it helps to write down questions. We aren't always conscious of the uncertainty we place on messages before we even start. When I do yes/no questions I go for a more simple pull to find out the overall answer. Then if I need clarification I pull additional cards. If I need to know something specific then I make sure that while I'm shuffling I state what each and every card placement will tell me so then I can reiterate what kind of answers I am looking for. That's why I find general readings a bit more difficult. Spirit has so much information to give us and there is an infinite well of divine knowledge to pull from. Imagine walking in a library and just asking someone to find a book for you without specifying a topic. You'd simply be pulling books until you randomly found one. But properly stating your questions helps bring a focus to your intentions and we know with magick intention is everything.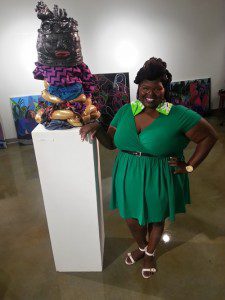 Is there any advice you have for newcomers when using divination?
I prefer to not use tarot to predict. If I read for anyone or myself it is always with the premise of empowering the receiver. There is no system of divination that can overpower my ability to make decisions or manifest in my life. It can not replace my free will. All it can do is give me a forecast. From there I always have the power to make decisions that align with my soul growth. It is an informant of sorts. So with the philosophy in mind it keeps me from falling into the trap of believing tarot has some special power to control my life. That's how many who read or go to readers are disappointed. However, when we see tarot as a teacher we are in a much better place to receive the lessons we need to learn.
Also be patient with yourself. Experiment. Remove the idea from your mind that divination has to look a certain way. There are no concrete rules. Learn how your spirit speaks and give it attention. You will always be way better at a method tailored to you than picking someone else's. You will also build trust in yourself that way, which will strengthen everything you do. Anything can be read and used for divination. Water, shells, cards, smoke, road kill. ANYTHING. Because divination methods are tools to draw out of you what is already there. So honor and appreciate the gift you have.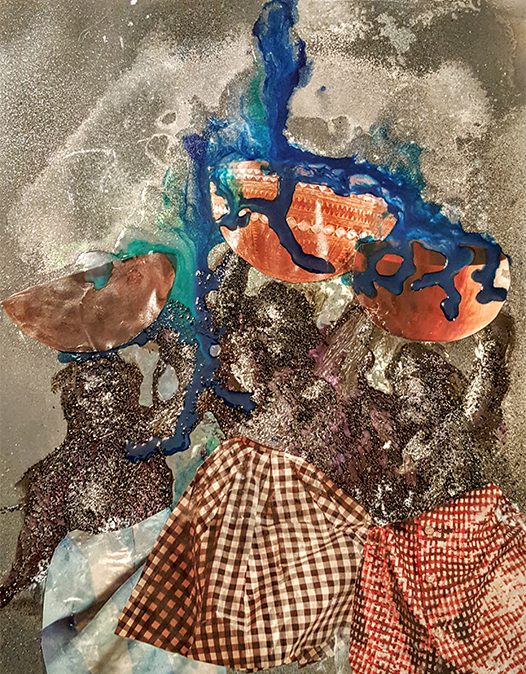 You are a gifted artist, working on Dust II Onyx A Melanated Tarot, can you tell us about it?
Being a fat/black/queer woman there wasn't a deck I saw myself in. I agonized for months over how to express the depth and diversity I wanted to see. After months of not having a vision for what it'd look like a dream came to me. Then it came to me again. In the dream was an intensely gorgeous black portrait which has become the inspiration behind this deck. I began the work using my current knowledge of tarot and mostly my own intuition. The imagery that comes forth is as new to me as it is for the readers who will use this deck. It is coming from a place that is far beyond my conscious mind. Dust II Onyx was created from my desire to make artwork that resonated with my soul, and now has become a work I want to share with others.
My desire is for people to see themselves in this deck. To have a kindred connection. To see the mirror reflecting who they really are. It's about deep, impactful transformation. That's the energy I put into them and hope resonates with each user. Whether you're an enthusiast or a reader, the work is meant to stir within you on the soul level.
The Kickstarter is nearing its end on October 17! So please support in any way you can. If you can not donate right away, I also take shares and positive loving energy. All of your beautiful messages sent have definitely motivated me through this intense process. Please visit Http://Kck.St/2cIbJ1F to support the Kickstarter! You may also sign up to receive updates at Www.Dust2onyx.Com.
Dust II Onyx: A Melanated Tarot Deck will be a full 78+ card tarot deck. Each card will feature spot gloss and gold foil accents to maintain varying surface quality of the original works. The cards will be high quality 3.5 " x 5″ cards on 350GSM stock with rounded corners. The decks will come in a limited edition lidded box. You may also purchase metal and digital prints of the artwork during this campaign!
What's next for you ?
More work! I do have other decks in me, I know this much. But they will arise in due time. Otherwise I will continue to work on my craft and plan exhibitions. My desire is to use art to spread love around this world, using the faces of those that have too often represented oppression. That is the legacy I want to leave behind.