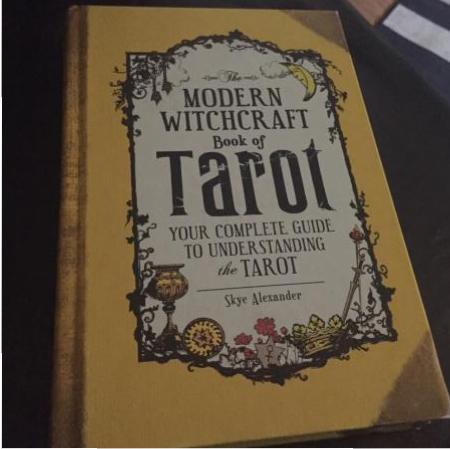 Like it or not there are loads of tarot books on the market. There are books to understand tarot using astrology, psychology, and just about every other way you can think of. I am always on the lookout for new books, as people are forever asking me for recommendations and suggestions when they are starting out. I was excited to be given the chance to read Skye Alexander's latest work The Modern Witchcraft Book of Tarot to see what mysteries it might hold.
Skye Alexander has written a comprehensive and informative text to help you perform better readings with tarot cards. The Modern Witchcraft Book of Tarot is a great book for beginners, or those looking for an introductory text. She talks about symbols and signs and gives both  historic analysis and spiritual guidance. Alexander deals with necessary questions about the Tarot, like what is the shelf life of a reading ? This is something most people don't discuss but they should. In the author's opinion " a reading can look ahead only about three months max. Outcomes do, however, occur as predicted, even over long periods. " For the most part I am in agreement, sometimes a reading can give insight on up to twelve months depending on circumstances. It is always advised, however, to check in again if things seem to be changing around the question.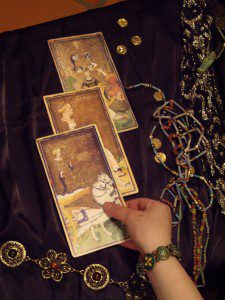 Some tarot card readers advise "going off book," and while I think this is an important part of the process… I also believe that first you have to read the book. Divination is one of the components of magick that most relates to cooking. There are rules, substitutions, guidelines that need to be mastered before you can begin to improvise.
The Modern Witchcraft Book of Tarot
provides a good deal of this type of information. Recommended here are two really good ideas – recording your readings, and keeping a tarot journal. As you begin to get in sync with your cards you will see that their mysteries are being revealed to you uniquely and powerfully. A journal will help you remember and connect with this knowledge.
Author Skye Alexander
According to her publisher "Skye Alexander is the award-winning author of more than thirty fiction and nonfiction books, including The Modern Guide to Witchcraft, The Modern Witchcraft Spell Book, The Modern Witchcraft Grimoire, The Modern Witchcraft Book of Tarot, and The Modern Witchcraft Book of Love Spells. Her stories have been published in anthologies internationally, and her work has been translated into more than a dozen languages. The Discovery Channel featured her in the TV special "Secret Stonehenge" doing a ritual at Stonehenge. She divides her time between Texas and Massachusetts."
As always if you have enjoyed what you read here please remember to share, share, share !