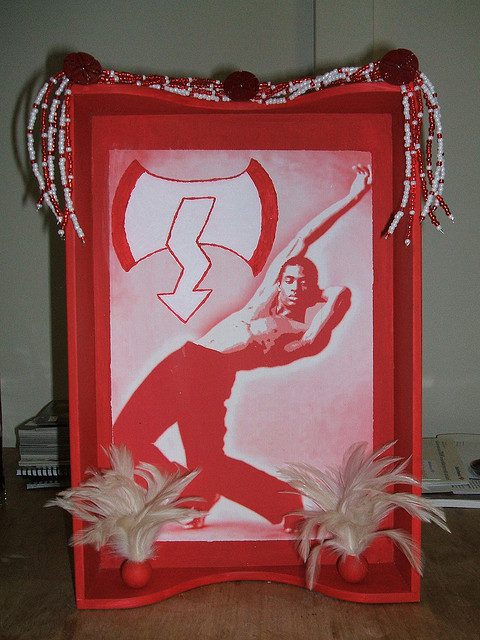 Chango is one of the most popular and also controversial Orisha in the pantheon of La Regla Lucumi, more commonly known as Santeria. He is honored on December 4th the feast day for Santa Barbara in the Catholic church. Chango represents the ashe, or sacred energy, of fire. He is the roar of the thunder, the beat of the drum. The Chango feast is a celebration of his passion, and raw power.
One of his favorite tools is his sacred axe which is always double sided. He can just as swiftly deliver justice, as help you avoid it. He is both a warrior and a king, and there are numerous sacred stories telling of his greatness. Here is one from AgoLaroye.com
"Chango was at a party one day having the time of his life. Chango was drinking and dancing like no ever. He was swaying his hips and showing all his sexual masculinity. His crown was kept firm on his head as every moment he did, it did not move. That was to show all that he is truly Chango, a king. Everyone in the party was enjoying Chango and was cheering him on. The great king of Oyo kept on drinking and did not realize that some of his enemies were outside of the party noticing Chango.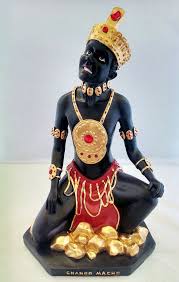 The party was dying out and Chango decided to leave the function. He went around the room giving his good bye to everyone. He was eyeing some of his mistresses that were there to see if they would go home with him. Chango staggered to one of the corners of the party where his enemies were hiding. Within a minute, his enemies grabbed him and tied him up. No one in the party saw and Chango was taken to a cell where his enemies kept him.
Days passed by and Chango was no where to be found. Oya who was married to Ogun already had left Ogun and had a fling with Chango. Oya also did not hear anything from Chango. She did notice that Chango had left his pilon (a wooden pillar that Chango sits on) and his mortar (where Chango hides his secrets) in her house. Oya grew very weary and was worried about Chango. But besides her worries Oya was very inquisitive and wondered what was so special about Chango's pilon and mortar. She moved the red cloth that was covering his pilon and mortar and saw nothing special about it. When she touched the mortar she noticed that it had a gleam to it. Inside the mortar there was some kind of clear liquid that vibrated. She looked closer and an image started to form in the liquid.
In the image in the mortar was the face and body of Chango. Oya saw that Chango was being held captive by his enemies. She saw that he was locked in a cage fit for a dog and his enemies were surrounding the cage making mockery of him. Oya looked harder into the mortar and saw that Chango was in a rage but he couldn't do anything because he didn't have his oshé and his powers. Oya grew upset and lighting sparks started to form in her hair. She yelled up in the sky and called for a centella (lighting) to come and help her and she would ride it to find Chango. With that the image of Chango's face reflected in the liquid and Oya grabbed the liquid and put it to her lips, as in to kiss the face of her loved Chango.
In that instant Oya's lips and mouth started to burn her furiously. She staggered back and forth wondering where the heat was coming from. She ran outside of her house to where she had a well to grab some water. The water did not do anything to ease the pain. She finally opened her mouth as she could not stand the burning sensation and when she did a huge fireball came from her mouth. Everywhere she turned and screamed out, fire was released from her mouth and everything was burned on fire. At this moment a centella crackled in the sky and fell right to her feet. Oya screamed and stepped onto the centella. The centella rose to the sky and Oya was standing on it and the centella proceeded to take her to where Chango was held captive.
In a second the centella was above the place where Chango was kept and when the centella started to come down, Oya who was riding it screamed a war cry and fire was released from her mouth. Another centella came from the sky that broke the locks that were holding Chango. When Chango's enemies saw Oya coming down on a centella breathing fire they all ran for cover. Chango was wondering how was he released and when he ran outside he grabbed his oshé and he saw his mistress Oya standing in the fields surrounded by centellas that crackled around her and that she was breathing fire. Chango was reluctant to run the other way because he never saw Oya in this state. Oya sent another centella to grab Chango and he to was standing on a centella alongside with Oya. Chango started to throw thunderbolts with the help of his oshé while Oya was throwing lighting and fire upon the enemies of Chango as they rose into the sky together.
They both arrived at Oya's place safe and Chango was still in amazement of Oya's actions. He told her that the only one who knew the secret of him throwing aiña (fire) was him and that secret was kept with his pilon and mortar. Oya turned to her lover and told him that she looked into his mortar and tasted the secret that he had there. Chango was upset that she discovered his secret but he was grateful that she saved him. From that day when Chango goes into battle, his mistress Oya goes in alongside him fighting. "
There are many ways to honor Chango on his feast day. Many light a candle and some have an actual Chango feast. This year the House of Maman Brigitte and I will be hosting a Chango feast in Brooklyn on December 2nd at Tarot Society, 4 Charles Place, Bushwick. The festivities will be part of our Voodoo Winter Market taking place from 12-6. It will feature free mini workshops, readings, massage, merchandise and more. Please join us !
As always if you have enjoyed what you find here please remember to share, share, share.