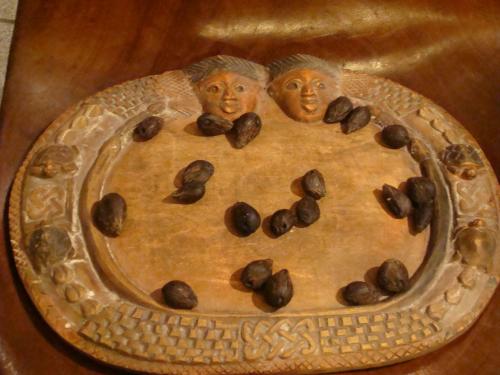 As always the Reading of the year was released first thing in January from the Yoruba Association of Cuba. We reported about that reading here on this blog. As usual many people have questions about what this means for the world and for themselves. In an effort to help people better understand this process, we asked our friend Rebeca Spirit to report on an exciting event happening here in New York.
On January 11th 2018 The Caribbean Cultural Center hosted a panel discussion on the Letra Del Ano, or reading of the year. The panelists included
Angela Fontanez – Yoruba Tradition/Spiritualism- USA/Puerto Rico
Alex La Salle – Yoruba Tradition – USA/Puerto Rico
Michael Manswell – Shango Baptist Tradition – Africa/Trinidad
John Mason – Yoruba Tradition – Africa/USA
Paulo Bispo – Candomble Tradition – Africa/Brazil
C. Daniel Dawson – African Spirituality Scholar, Moderator
The Reading of the Year is an African Traditional Religion tradition, passed down through the generations. Every year at the end of the Roman calendar year, Priests and Priestesses convene and close out the year with meditation and cleansing. After that the house elders then meditate, and receive information from the spirits, creating a doctrine for their house to follow for the upcoming year.
The Caribbean Cultural Center African Diaspora Institute (Harlem,NY) held a symposium where Elders from several different traditions spoke about their views on the letters they created for their respective houses. I, as a non-initiate in any of the ATR's do not have a house or elders, but was interested and glad to be able to attend the lecture. The most important part of this event was the caliber of the speakers, and the diversity that they brought to the table.
Each elder discussed the importance of the letter, and what it means to their houses. The Elders also discussed the history of the letters, how they provided the community a central understanding. In Brazil they came together to change the politics, to demand the rights for the people to practice. This led into one of the main points of each letter, community must be built in order for us to grow. Each one spoke of how important it is to have compassion for those in need, and that love grows as we work together.
There is not one specific letter that is for every practitioner, or follower, of the traditions. Instead there are individual letters for each house, based on the makeup of the house. Just like any community, there is an overarching understanding but each individual family has its own rules and traditions. We may all celebrate a holiday but we have different traditions within that holiday.
The consensus of the group was that honesty is key. That we have to come out of the shadows of fear and isolation, and start stating our truths. This does not mean, however, that we are supposed to just come out and be mean or spiteful. It means we need to really pay attention to our needs and make it clear to our communities, families, friends and work environment.
There were also several other points that each member of the panel spoke about, from ebo to sacrifice, from cleansing and honoring the Orisha, to cleansing and honoring the self. All agreed not all sacrifice is huge undertakings or elaborate doings; sometimes it's a simple prayer and time spent in seclusion. There was also a great deal of faith being spoken about. That if we do not have faith, we have nothing. I found this to be the most important statement, because without faith, what are we doing? Why would we ask our ancestors or Orisha for help if we do not believe they will come through for us?
All in all it was a very informative evening, filled with an energy of progress and motivation to do better. My overall take away can be summed up as this: Honor, Honesty, and Patience. We must honor our paths, both individual and collective. We must be honest in our journey, with ourselves and others. There is no way to move forward and accomplish any goals if we are not honest with our needs or thoughts. Finally, we must have patience. We must believe that everything is happening in divine timing, and that what we need will be granted us. We must believe that our intentions and work is moving us forward. And we must be patient when we are trying to accomplish a goal.
I highly recommend that people check out The Caribbean Cultural Center and their programs. There is so much misinformation floating around the consciousness it is easy to get lost or start doing the wrong things. CCCADI strives to bring in people who are on the front lines of their work. Each presenter is top in their field, practicing what they are teaching, and genuine. They also take into account that the average citizen does not have a lot of disposable income, and tries to make all their activities affordable. As a community we need to honor our leaders and the work that is being done to bring truth and information, and this is one place we can all go to for that.
Rebeca Spirit is a Spiritual coach, medium and tarot reader. She is involved with the spiritual community in NY and often attends classes/symposiums. Rebeca is a student of history and religion, and is working toward a life in an ATR. She can be contacted on her business page here.
As always if you have enjoyed what you read here please remember to share !