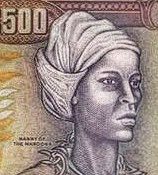 Most of the time women's history takes a back seat in the literature, this is the case with the legendary Queen Nanny. Known also as Nanny of the Maroons, this woman was a powerful leader, and a force to be reckoned with.
There are many differing reports of Nanny's life. Some recount that she was an escaped slave, some say she may have had slaves of her own. It is irrefutable however that she was a hero of Jamaica who practiced that ancient african magick known as Obeah. Many prefer to downplay her connection to African healing methods and magicks. Nonetheless, the article Queen Nanny of the Winward Maroons by Jae Jones tells us :
"Queen Nanny and her four brothers escaped from their plantations into the mountains and jungles that make up portions of present-day Jamaica. Queen Nanny and one of her brothers, Quao, founded a village in the Blue Mountains on the Eastern side of Jamaica, away from European settlers. The town became known as Nanny Town. Under her supervision, she limited the amount of attacks against the European settlers and plantations. Instead, she preferred to trade and farm peacefully among neighbors. However, Nanny did make numerous and successful raids, which freed many slaves. It is told that Queen Nanny's efforts helped to free almost 1,000 slaves during her time."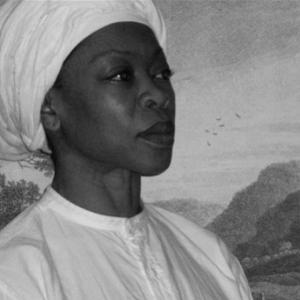 Attitudes about Obeah, are a holdover from a time when these practices were secret and vilified. Queen Nanny's story is therefore steeped in folklore and sorting out the truth is a tricky business. This powerful foremother's story persists however, she has made it into art, literature, and her face is even printed on the money. In Jamaica she is honored as a national hero and has been given the lofty title of "right excellent."
Controversial photographic artist Renee Cox has chosen Queen Nanny as the subject of several of her works. Her series Queen Nanny of the Maroons situates Nanny in a variety of both historical and modern contexts. The sublime beauty and moving narrative of the Jamaican people is clearly evident in these images. Over the ages Nanny has been no stranger to the art world and many have chosen to show her in this way. Many of these pictures can be seen in the following video.
Nanny has also been the subject of a longer documentary film, Queen Nanny: Legendary Maroon Chieftess, the trailer of which can be seen below. Directed by Roy T Anderson, the film details one of the most celebrated, but least recognized heroines in the resistance history of the New World. The film can be purchased online, and will also screen in Pittsburgh, PA at the Harris Theater starting Feb 23rd, 2018.
Despite the gaps in history the power and strength of Queen Nanny is strong and she will always have a place in our house as a leading foremother. As always if you have enjoyed what you read here please remember to share.