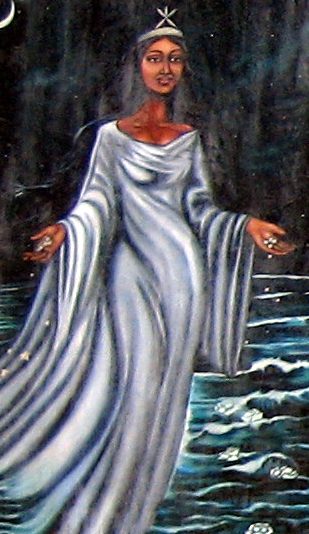 As happens every year, the 2018 reading of the year for Cuba and the rest of the world has been cast this morning. In it we find the ruling Orisha for the year, along with additional advice and prohibitions to ensure success in the months to come.
While each individual spiritual house of Ifa and Lucumi (Santeria) still has its own individual divination for the year, efforts have been made in the past few years to unify the global reading and present it via the Yoruba Cultural Association of Cuba.
2018 Reading of the Year
Ruling Sign: OSA SHE, OGBE OSA, OTURA TIYU
Ruling Orisha: Yemaya
Accompanied by : Eleggua
Flag of the year : Half White and Half Blue with black edging.
The detailed reading of the year in Spanish can be found
here.
For those who may be unfamiliar with her, Yemaya is known as a strong and powerful Orisha. Yemaya is also welcoming and compassionate, and very often it is her who makes herself known to people outside of the religion. She is said to control all the oceans and the life that lives in them. The Virgin of Regla is the Catholic saint most often syncretized with her, but she is also represented by images of Diosa del Mar, with stars falling from her hands. Yemaya's sacred number is seven, and accordingly her ritual necklace or eleke is most often made up of seven blue beads alternating with seven crystal ones. As with most Orisha there are several paths or faces of this divinity.

Common offerings for Yemaya include, but are not limited to,
Coconut
Plantains/Bananas
Black Eyed Peas
Pineapple
Watermelon – uncut
Watercress
Molasses
As always follow the guidance of a qualified practitioner if you have any questions or concerns. Please remember to like, share and Happy New Year !