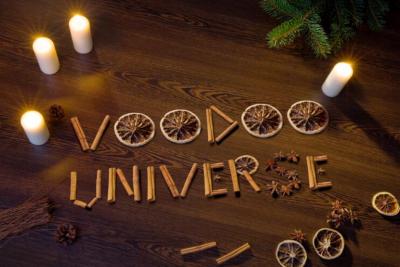 The Voodoo Universe blog is going strong. I want to thank everyone for all their support. What many of you may not know is that the Voodoo Universe blog also has a youtube channel for all it's videos. There we feature spells, recipes, events, special series like Tarot Every Witch Way :Food, and much more. Here are our top ten voodoo videos on our channel.
Top Ten Voodoo Videos On Voodoo Universe
10. Make Your Own Magickal Healing Shower Bombs – Everyone seems to be coming down with a touch of the sickness these days, these shower bombs featuring essential oils and a touch of magick are just the thing to help you feel better. Easy to make, and even easier to use, you can find the how-to information in this video.
9. Priestess Miriam Blows the Conch Shell to the Wind. – It has been a serious honor and privilege to be part of Priestess Miriam's Voodoo Spiritual Temple in New Orleans since I first began the religion almost 25 years ago. It makes me smile that this video that I shot of her at the Mississippi river is one of the most popular ones we have.
8. Make Your Own Herbal Gris-Gris Spell for Maman Brigitte – Maman Brigitte is one of the most contraversial and also the most popular Lwa in the Haitian Vodou and New Orleans Voodoo pantheon. She is Mistress of the Cemetery and is in charge of supreme justice.
7.Voodoo Universe Explores Babalu Aye and Ricky Ricardo– When people listen to 1950's icon Desi Arnaz do his drum chant for the Orisha Babalu Aye, many wonder what his connection to the Santeria (Lucumi) religion is. In this video we go to the Lucy Desi Comedy Center in Jamestown, NY to try and discover the truth for ourselves.
6. Tarot Every Witch Way: Food – The High Priestess – One of the things I am most proud of is my new video series titled Tarot Every Witch Way Food. In it we explore Tarot cards and their meanings through the sensual delights of food. Each week we make a new recipe and discuss how you can use these foods and ingredients to both better understand the tarot cards, and also bring about positive change in your life. If you haven't seen it yet please take a look.
5. Fire Fire Fireside Chats : Voodoo and Santeria Possession – Possession is one of the most feared and least understood aspects of religion. This video helps to sort out some of the mystery surrounding this divine happening.
4. Voodoo vs. Hoodoo– When people are new to African Traditional religions one of the first questions that they ask are what are the differences between the different branches of the religion. This Voodoo video helps sort out some of these answers by describing the traditions of New Orleans Voodoo, Vodou, and Hoodoo.
3.Make Your Own Yule Protection Mojo Bag – Everyone loves the holidays, or holidaze as I call them, not really. The most wonderful time of the year can be stressful, depressing and difficult for many of us. This video shows instruction on how to make a mojo bag to help deal with all of these things, and the best part is you can use it anytime.
2.Voodoo Spiritual Temple Benefit Concert– If you are doing things right, out of adversity can come strength,… this is one of the most important lessons there is to learn. Many of you know that in 2016 the Voodoo Spiritual Temple suffered a fire. Like a phoenix rising from the ashes it has come back better than ever, and one of the beautiful steps on that journey was this benefit concert. Watch this voodoo video to see the Temple members in all their glory.
1. Legba Veve at the Crossroads– This is by far the most popular video we have done. It features the creation of a veve, or ritual ground drawing done with cornmeal to honor and welcome the Lwa. In this video we pay tribute to Legba the guardian of the crossroads, the opener of doors, the wise father guiding us down the proper path.
Thanks so much for watching ! Please remember to like and subscribe to our channel, maybe even comment about what videos you would like to see in the future ! Please continue checking out this blog, who knows what the future may hold !