This past week saw the passing of three powerful foremothers Emerante de Pradines, Rachel Beauvoir Dominique, and Nema. They worked tirelessly, loved enthusiastically, and their legacy will live on.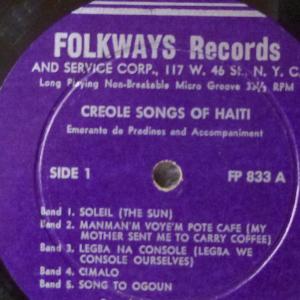 Emerante de Pradines passed away on Jan 6th. Renowned for her contributions in dance, music, and anthropology she was born in Haiti on September 23, 1928 (some accounts say 2018.) Mother of Richard Auguste, member of the famous RAM band. Emerante de Pradines' exciting life led to numerous contributions to Haitian ritual life and music. In 1954 she was a pioneer in the controversial recording of Haitian Vodou songs, including Legba Na Console (Legba We Console Ourselves) on her Creole Songs of Haiti Album available from Smithsonian Folkways. In an article by loophaiti.com  the Minister of Culture and Communication, Mr. Limond Toussaint announces the disappearance of "a beautiful star of the galaxy of Haitian folklore has died out". She will be honored and missed.
On January 5, 2018 the nation of Haiti also saw the loss of another cultural treasure, Rachel Beauvoir Dominique. Haitilibre.com writes "
After studying cultural anthropology at Tufts University in the United States of America, in social anthropology at Oxford University in England, Rachel Beauvoir-Dominique taught anthropology and Haitian culture in two (2) entities of the State University of Haiti: the Faculty of Human Sciences (FASCH) and the Faculty of Ethnology (FE). She collaborated with the Vice-Rectorate for Research and participated in various research projects, including the research project on the history of ethnology in Haiti implemented by the Faculty of Ethnology and its research unit, the laboratory LADIREP.
Engaged politically in the battle against dictatorship in the 1980s, Rachel Beauvoir-Dominique was part of the contingent of young graduates who rushed to return to the country to help rebuild.
Voodoo Priestess, she was a vigilant defender of this popular religion, founder and active member of two Foundations dedicated to the preservation of Haitian cultural traditions. " Here is Rachel Beauvoir Dominique speaking on the true meaning of Haitian Vodou
Some people go by the theory that trouble occurs in sets of three. This week also saw the passing of another foremother, Nema (Maggie Ingalls.) She passed away on January 9, 2018. Nema was an experienced magickian, mystic, and author of Maat Magick and The Way of Mystery (republished by Black Moon Publishing as Wings of Rapture). She was an Elder and High Priestess of the Circle of the Sacred Grove, Church of Pantheist Wicca, and an initiate of Adi Nath Tantra. Here is a video of her describing magick and her work.
I am honored to say that Nema was a friend of mine, and the also the Voodoo Spiritual Temple in New Orleans. My thoughts and prayers go out to her husband Lyrus, and her family. May she rise in power.
As always if you have enjoyed what you read here please remember to share !