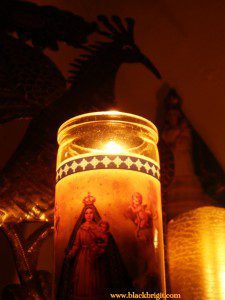 People of all faiths and traditions can set up a Goddess shrine. They can be part of the sacred spaces of Wiccans, Pagans, Ceremonial magicians, devotees of African Traditional Religions, and even, in a way, with some Christians ( with the reverence for the Virgin Mary.) Shrines for the Goddess have been made by humans for thousands of years, since the beginning of culture.
As someone who has been setting up altars and shrines my whole life, I forget sometimes that people may not know how to begin creating these devotional areas. Let me start by making the distinction that altars are usually created for a specific purpose, while shrines are generally set up as a permanent way of honoring what is represented. If you would like to welcome the energy of a specific Goddess in your life, creating a Goddess shrine is a wonderful way to begin.
Goddess Shrines : Separate But Equal
The first thing to think about when setting up a Goddess shrine is location. Obviously, this decision is going to be dictated by which Goddess you are honoring, and where her sacred power lies. Another thing to consider is the amount of space you have, and what type of space that is. Do you have a large space, or a small one ? Do you need to keep it hidden from prying eyes or others who may be in your home ? Is it a place you need to protect it from small hands, or paws (you know what I mean)?
In my post on How To Create A Shrine For Yemaya I write "Remember to always consult with your godparents before setting up any type of shrine, or purchasing something. Begin by making sure you have a separate space for your shrine. Many Lucumi devotees even craft separate cabinets so their shrines can have equal but divided space. At the very least set up your shrine on a table, and cover it when you have guests present or are not actively honoring it. "
Some African Traditional Religions have a prohibition on setting up a shrine in your bedroom. The belief is that the intimacy of that room should be kept separate from your sacred life, and this is something I was always taught from leaders in the New Orleans Voodoo religion.
Goddess Shrine : Size Matters
A few months back my godson offered a workshop called Size Matters: Crafting Mini-Altars and Shrines. Many people have the need for smaller shrines to use for travel, or even in your own home. These types of shrines can be crafted in small tins, cigar boxes, or just about anything. They use smaller offerings than you would put on a regular size shrine, but their functionality is the same.
What To Put On Your Goddess Shrine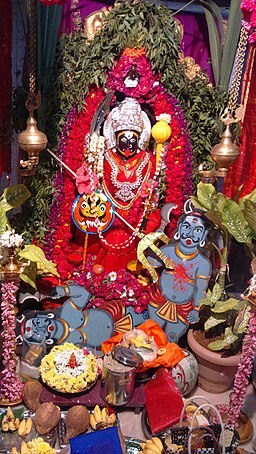 Obviously, the things that you place on your shrine will be specific to the Goddess you are dealing with. There are some commonalities, however. Very often people leave a tribute of flowers or food. As in the photo of Mahalakshmi which accompanies this post.
Goddess Shrine Offerings Can Include :
Flowers
Plants
Candles
Food
Drink
Images of the Goddess
Statuary
Crystals
Items specific to the Goddess you are honoring ( for example Amber for Freya, Raisins for Hekate, or Oranges for Oshun)
Further Resources and Readings about Goddess Shrines and Altars
There are many books and resources to consult about setting up sacred spaces for the Goddess in your place. One amazing resource, which I am proud to be part of,  is the Mystery School of the Goddess. A sacred feminine wisdom school, they offer online classes and workshops detailing all aspects of Goddess worship.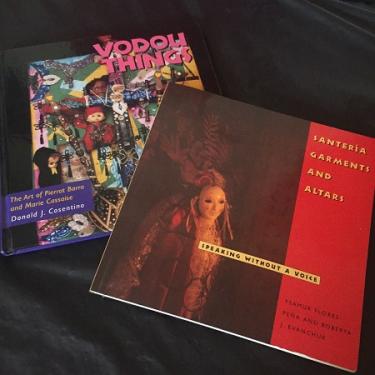 As far as the Afro-Caribbean traditions are concerned there are a few books I would recommend. First there is Santeria Garments and Altars by Ysamur Flores-Pena and Roberta J. Evanchuk. This wonderfully illustrated book includes numerous sacred garments and spaces used in the religion. Flores-Pena talks about one specific altar or throne for Oshun saying " this particular altar would be … 'a structure within a structure.' In this sacred space, for seven days, the iyawo would eat, sleep, and experience the process of initiation into the priesthood of Oshun….[His] altar and the initiate who becomes part of it, together, must send a message to those who see it. " And there certainly is a lot to see here. Another wonderfully illustrated work, this time dealing with Haitian Vodou, is Vodou Things: The Art of Pierrot Barra and Marie Cassaise. Personal expression is key here. Consequently, the focus is on devotional works of art that are altars and shrines in their own right.
Finally, for more information on other ways to honor the Goddess please check out my book 55 Ways to Connect to Goddess. As always if you have enjoyed what you read here please remember to like, comment, and share !