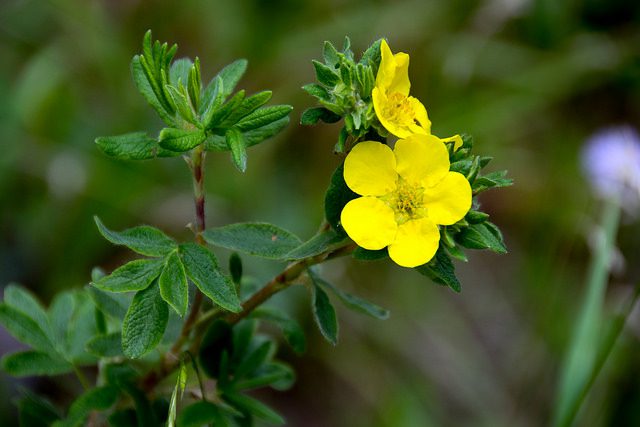 Five Finger Grass is one of the most popular herbs in Hoodoo and Conjure magick. Also called cinquefoil, five fingers, hand of Mary, silverweed, torementil, and witches weed, this herb is known for it's ability to bring success and protection. The botanical name for this herb is Potentilla, and there are over 300 different varieties of this plant. The five elongated leaves on this plant resemble fingers, and that is how it got its name.
The Five Fingers of Mercury and Venus
Most often Five Finger Grass is associated with the planets Mercury and Venus. According to the website Alchemy-Works.com "Cinquefoil is usually considered to be a Mercury herb, because it normally lies along the ground and spreads quickly by its thin but tough stalks. And the Mercury association makes sense, given cinquefoil's long association with divination and magick. For instance, Agrippa includes cinquefoil in a recipe for Mercury incense and said that cinquefoil drives away devils and helps one to resist poison." The plant's connection to Venus comes from it's use in spells for love. Noted author Judika Illes' in her work  Encyclopedia of 5000 Spells, burning Cinquefoil as an incense at bedtime will let you have dreams of your lover.
Fingers Full Of Money
There are many ways to use Five Finger Grass to put money and prosperity in your hands. Consequently, a few of these include:
Put a bit of this herb in your wallet or pocketbook to help draw money to you.  It will also help you to find sales, deals, and bargains.
A mojo bag filled with this grass and a piece of ginger root will draw success when gambling.
One folk magick spell says to place a pinch of Five Finger Grass behind a mirror, and then face the mirror towards the front door. This will help to keep bill collectors from your home.
Make a floorwash with the grass, Florida water cologne, and cinnamon to bring money into your space.
If you enjoy what you read here please check out the other posts in our Herbal Magick series, and remember to like, comment, and share !