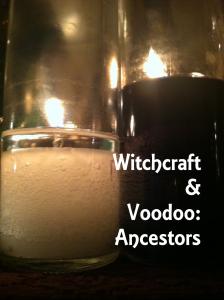 I have experienced some sad times in life when my favorite tv shows were cancelled. Hopefully, many of my readers watched and enjoyed the Video series Witchcraft & Voodoo presented by myself and my co-host Sable Aradia, I'm glad to say we're back. Glad is too tame a word, I'm absolutely overjoyed.
We began the ongoing video project discussing the similarities and differences between our respective traditions of Voodoo and Witchcraft in 2016. Since then we have discussed the important issues and questions such as : Deities, Money, Sex, Divination, and much more truth about these religions.We took a little break due to unforeseen technical issues but the series returns today.
So please join us today, and onward as we continue to explore the universes of Witchcraft & Voodoo. This time around we chosen to focus on the Ancestors. It seems fitting because sometimes you have to begin again, at the beginning. Watch as we talk about Ancestor honorings, altars, celebrations, holidays, suppers, and more.
We are always looking for new topics, if you have any ideas please leave them in the comments section below. If you have enjoyed what you see here, and would like to see more of it please subscribe to :
Lilith Dorsey Youtube Channel – Eclectic, entertaining, and ethereal check out my videos on Voodoo, Vodou, Santeria (Lucumi,) Hoodoo, Tarot and more. This channel is dedicated to providing accurate and respectful information about all these spiritual traditions. If you would like to learn more please check out my blog Voodoo Universe.
Sable Aradia Youtube Channel – I am a speculative fiction and Pagan author: a singer/songwriter & composer; a blogger, vlogger, podcaster & teacher. You can find links to all of my projects below! Subscribers will be interested in: Paganism & Wicca, fantasy & science fiction, activism, machinima, or music (epic, folk, filk, meditation, rock or metal, most of it with a fantastical element or theme.) You can also find me over at the SFWA Official YouTube channel. I am a modern Renaissance woman. Merry meet!
Tune in to see us every other Monday so you won't miss an episode, and don't forget to share, share, share !