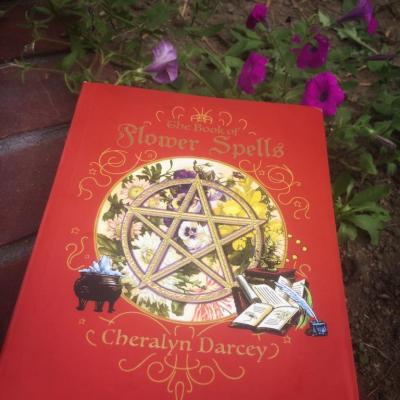 The Book of Flower Spells by Cheralyn Darcey begins like any good spell book should. It has a description of various components that go into the making of a successful spell. It talks about the attributes of the days of the week, crystals, and the stuff this this book is about… Flowers. Flowers are magical, intoxicating, the stuff of life.
The spells in this book are numerous, and they're not the usual once you see everywhere either. One of my favorites is the frangipani self-confidence spell. This talks about one of my favorite flowers. It even goes into some of the folklore surrounding this magical bloom. Darcy writes that "in Malaysia at the scent is said to accompany the appearance of the Pontianak – a female vampire."
One interesting thing about The Book of Flower Spells is that the author give substitutes if you can't find the flower you need for a spell. Magnolia is replaced by corn flour, lilacs are replaced by lemon blossom, and daffodils are replaced by petunias. As many of us know sometimes it's hard to find the exact right ingredients for a spell, especially when the flower or herb is not in season. Fortunately Darcy provide solutions for us.
This spell book is well thought out and would be a useful addition to any beginner or experts library. The authors bio tells us that she is a "botanical explore, organic gardener, independent natural history scholar, artist, educator, and the author of several books and oracle decks. For more information see www.cheralyndarcey.com
In case you missed it, this blog also contains much more information about using flowers in your magick. Please see our Herbal Magick posts featuring : Hibiscus, Dandelion, Lily of the Valley, Primrose, and more. We hope to feature more of these in the future so please let us know which flowers and herbs you would like to see.
As always if you have enjoyed what you read here please please please remember to like, comment, and share.