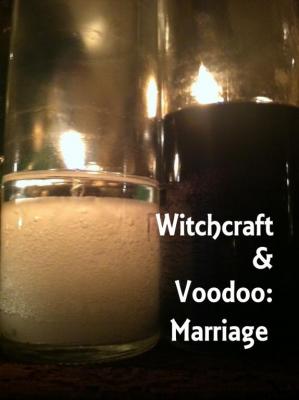 So much of the job of a Priest or Priestess is dealing with problems, but every once and awhile there is a bright and shiny star in the form of a magickal wedding or handfasting. In this brand new episode of Witchcraft & Voodoo we discuss just about everything you want or need to know about having a wedding, or handfasting in these traditions. You will find out about "jumping the broom," spirit marriages, tying of hands, and much more.
A few years ago I was blessed to be able to perform the wedding ceremony for my goddaughter. It was phenomenal, we created a large veve out of rose petals, asked the Lwa and Orisha to bless the couple, and created magick. The ceremony was one of the most memorable I have ever performed. I hope to do more weddings in the future.
Sable Aradia and I began this ongoing video project discussing the similarities and differences between our respective traditions of Witchcraft & Voodoo in 2016. Since then we have discussed the important issues and questions such as : Deities, Money, Sex, Divination, Food, Cultural Appropriation, and much more truth about these religions.
So grab your something old, something new, something borrowed, and…. a broom and watch as my co-host Wiccan Priestess Sable Aradia and myself present Witchcraft & Voodoo: Weddings & Handfastings.
As always if you have enjoyed what you read and see here please remember to like, comment and share.