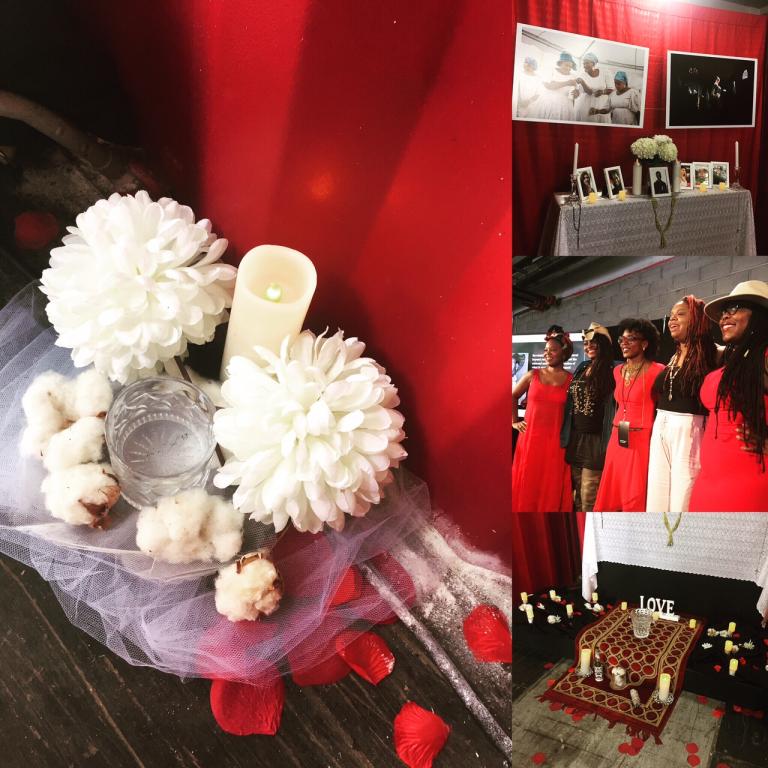 It's not often that the sacred power of African Traditional Religion and the powerful women behind it get to be truly seen, and appreciated in the light of day. Luckily, this is not the case in the exhibit called Altar: Prayer, Ritual, and Offerings on display as part of Photoville in Brooklyn. Presented by MFON: Women Photographers of the African Diaspora their visual creation is both complex and sublime. The artists statement from the Photoville website explains :" The visual association of altars are often akin to spiritual pedestals; sites where rituals are enacted, places of sacrificial endowment. Altars are often erected to pay homage to an ancestor or to honor God or a saint. This exhibition takes the altar out of its religious context and interrogates photography as a practice containing the same attributes as altars. The images presented in this exhibition examines several religious traditions that have originated in and/or practiced on the African continent and throughout the world. "ALTAR" also centers love and meditation as a spiritual practice. In this exhibition, we regard the final product—the photograph—as the altar. The context, process, and content of the photographs fulfill the attributes, ritual, sacrifice and offerings."
Like most of the installations at Photoville, Altar is located inside a shipping container. But instead of seeming industrial, what the artists have created here is a true spiritual transformation that allows the works to be seen in a sacred context. This context takes the form of red walls, beautiful draping ceilings, rose petals, and numerous altars dedicated to the ancestors. The most complex altar takes the form of a center table towards the back of the exhibit. On this altar are photographs of other women photographers from the African Diaspora who have risen up to join the ancestors.
Altar: Prayer, Ritual, and Offerings was curated by MFON co-founders, Laylah Amatullah Barrayn (pictured above) and Adama Delphine Fawundu (pictured above,) along with assistant curator Crystal Whaley (pictured above.) It includes many phenomenal photographers including : Collette V. Fournier, Crystal-Anne Chijindu, Daesha Devón Harris, Deborah Willis, Diane Wah (pictured above,) Fanta Diop, Felicita "Felli" Maynard, Gulshan Khan, Hilina Abebe, Idris Hassan, Imani Dennison, Intisar Abioto, Jenevieve Aken, Johanne Rahaman, Johnette Iris Stubbs, Kameelah Janan Rasheed, Kay Hickman, Kennedi Carter, Koren Martin, Lola Akinmade Åkerström, Manyatsa Monyamane, Marilyn Nance, Melissa Bunni Elian, Miora Rajaonary, Nicky Woo, Nicole Najmah Abraham, Nina Robinson, Nydia Blas, Pavan Carter, Rahima Gambo, Régine Romain (pictured above,) Rhynna M. Santos, Sabriya M. Simon, Salimah Ali, Sokari Ekine, Stephanie Mei-Ling, Valda Nogueira, Zarita E.Zevallos.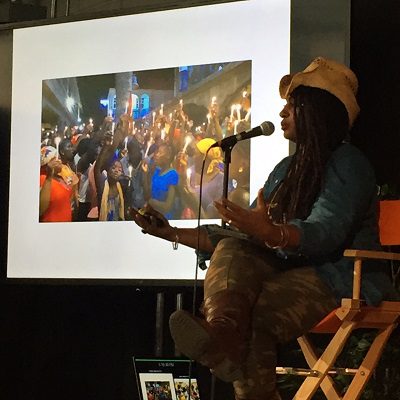 Many very important topics were discussed during the panel discussion last Saturday with curators and artists from Photoville's Altar. Agency, representation, and anthropology were all brought to the fore as these female photographers shared their vision with us. It was a great honor to hear documentary filmmaker Régine Romain speak about her film Brooklyn to Benin: A Vodou Pilgrimage. Her images are phenomenal, and her words are just as strong. She spoke of her pilgrimage saying " My journey with photography, and my pilgrimage to Benin, and to Haiti was one in which I was always destined to do….my project is one that took time to complete. It's one in which I traveled throughout the Americas looking at the survival of traditional African spiritual practices. " Régine is an inspiration to us all, and I hope to profile her soon here on Voodoo Universe.
The last weekend for this year's Photoville exhibits will be September 20-23, 2018. Please take the time to visit Altar: Prayer, Ritual, and Offerings if you can, you won't be disappointed.
Regular readers of this blog know that Art and Altars of the African Diaspora have been featured numerous times here, please check out this link if you would like to know more. As always if you have enjoyed what your read here please remember to like, comment, and share !