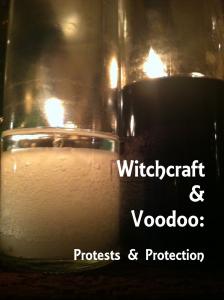 There has been a lot going on lately in the Witchcraft and Voodoo communities. This week on Witchcraft & Voodoo : Protests & Protection, the Youtube show featuring myself and Sable Aradia, we decide to take up some of these topics like protests and protesters, protection spells and magicks for the front lines, and positioning ourselves within these communities.
I was blessed with the opportunity to present workshops and help with ritual again this year at Hexfest in New Orleans. Some of you know this year we were visited by protesters. In an article featured in the New Orleans Advocate festival creator Christian Day was quoted as saying ""This is a terrorizing act. It is a frightening act….What an absolutely atrocious welcome mat for our nation to have a family from Australia come all the way to America to be terrorized in their hotel room." I was also interviewed for this article but unfortunately my comments didn't make the cut. Fortunately, I was able to discuss my feelings and responses with my Witchcraft & Voodoo co-host Sable Aradia this week on the show. Protesters have something I have had to deal with a few times lately, not only at Hexfest, but at Witchsfest here in NYC too, where I am also a presenter. We also take some time to discuss what to do as a protester in order to protect yourself in these troubling times. More than once in recent memory I have been on the other side of the protests advocating for Black Lives Matter, Transgender Rights, and other causes I am passionate about. In addition many of my godkids are also out there fighting these good fights, so in this episode we got a chance to talk about protection magick to use in these situations.
As always please watch, comment, like, subscribe to our channels, and remember to share this post !