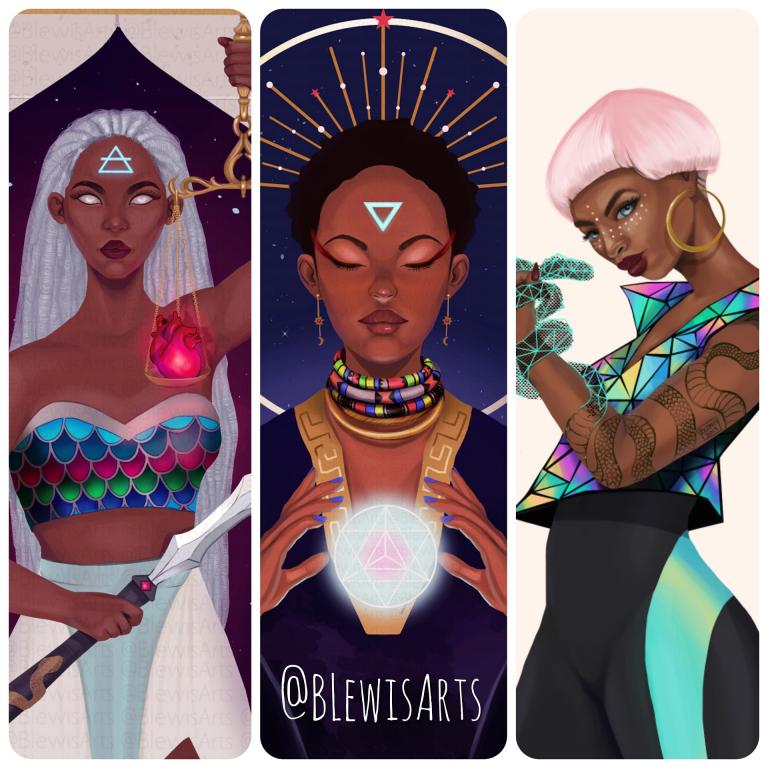 I've been a tarot reader and divination enthusiast since I was a child, but back then there weren't any decks or images that represented me and other BIPOC. So the minute I saw Brittany Lewis' new tarot deck I knew I had to get an interview about it for the blog. Lewis' website tells us " when creating artwork outside of commissions, my focus is to develop spiritually charged imagery of the African Diaspora in futuristic settings." But I had more questions, so here they are in the interview below.
Did you always want to be an artist?
Art and creating in general has been something I've done my entire life. I did it when I was bored, sad, happy, excited. I would draw so much that I thought it was something everyone did. It became second nature to me. I didn't think much of it until I was about 16 when I had an art teacher – Mrs. Owens – who took me under her wing and saw something in me that she fostered and nurtured. She was my first Black art teacher and she gave me the confidence to move forward as a creative. From that point on, I decided that I would be an artist professionally.
When did you decide to fuse your art with spirituality?
As an artist, especially once I began to freelance – I found that I was creating work that wasn't necessarily what I wanted to create. It didn't fulfill me and I found myself creating more and more to meet the expectations of others rather than being authentic to who I am. I remember one day, honestly reflecting on what I was doing versus what I wanted to do and what I wanted to see. I was really going through it at this time because to be an artist – in my opinion is much more than creating pretty pictures but giving a voice to the voiceless, even if that voiceless person is you.
Recognizing the power of being an artist, I had to decide how I wanted to use this expression. I no longer desired to create images from pop culture – which was more about recreating other people's ideas and visions. I wanted to express myself in the most truthful way I could. Shortly after going through that thought process, I was asked in an interview with Blaque Canvas Magazine, what I thought people would say when they saw my art. I remember being completely dumbfounded and speechless. I didn't answer. But what that question did, was give me the boost I needed to move forward creating more for myself and whatever was to come from it would come. I set out on a mission to be purposefully introspective throughout my artistic and spiritual journeys.
One of the biggest things that I was lacking was visual representation of my own spiritual journey. What I noticed was that worldwide – in almost every culture, there were very few – if any – depictions of the African Diaspora – or any darker people – as Gods and Goddesses, witches, mythical characters, etc. Much like the old Hollywood troupe, darker beings were often seen as negative beings. There's a HUGE lack of balance and void in that space. One of the biggest arenas for this lack of representation is in the realm of Tarot and Oracle decks.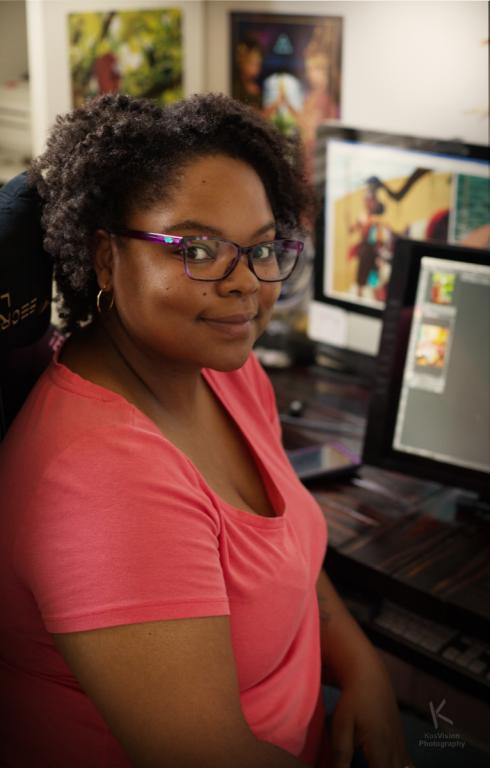 Do you read cards? How did you get started?
I do! The same year that I decided to be an artist – I decided that I wanted to learn to read tarot. I'm not sure what lead that desire but I knew I wanted to learn. I was always reading about and researching different spiritual systems – even at that young age. I also had plenty of metaphysical experiences – often seeing apparitions and so much more. So wanting to read tarot I think was just a natural calling.
During this time the only deck that I could get readily available was the Rider-Waite Smith Deck. I remember not being able to connect with the images – as a 16 year old there was something about it that I just didn't vibe with. There wasn't very much information for beginners to learn to read with them, so I gave up on it. Fast-forward 13 years from then, I get the itch to learn again. This time with many more decks and information available, and having grown significantly in my own journey, I began to read and I've been doing it every since.
You are working on a tarot deck yes? How did you get the idea to do this?
Yes. Once I decided that I would learn tarot again, I had to find a deck. I knew from my past experience that I didn't want to start with the traditional Rider-Waite deck but I also recognized that there was a vast amount of information about learning from that particular system. So my search began. I was set on finding a deck that I connected with and instantly ran into the hurdle of not finding one that I felt represented me. This was around the same time I was having my artistic epiphanies. Being from a very ingenious lineage, I decided that I would use my own abilities to create what I wanted to see, rather than wait on the world to do it for me. At that point, I decided that creating a tarot deck would be a dream project of mine – It took me 5 years or so to finally start that project.
What's your favorite card so far? I'm particularly fond of your Lovers card? Why did you choose this direction for the card?
The Lovers card is my favorite card as well. One thing about my deck is that it's a self-portrait of my own spiritual journey and understanding. The Lovers card is a representation of something I experienced – so it holds a super special place in my heart. Just prior to creating that card, I was going through a major shift spiritually and I was exploring the duality of the mundane and higher selves – thus the Lovers card was born.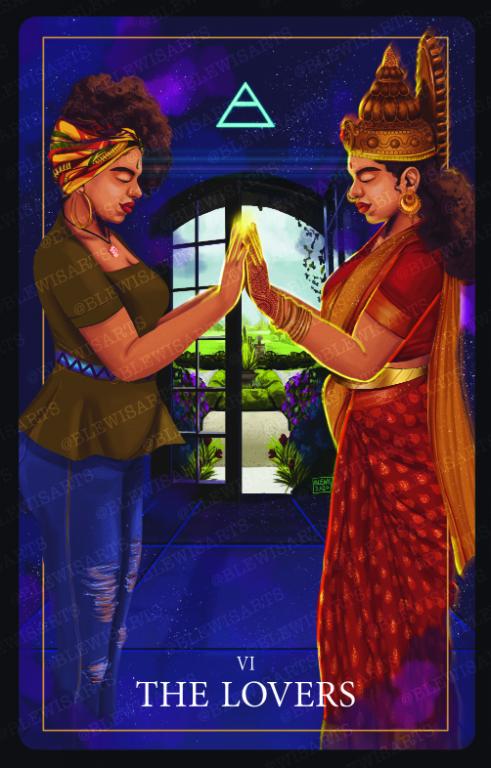 It seems like much of your work is rooted in Afro-futurism? Do you agree? Why do you think this is especially important now?
Yes, I totally agree. Afro-futurism is one of the things that I wanted to showcase in my artwork and especially in my tarot deck. I'm a huge science fiction fan – from Television to literature and beyond. One of the things that I've noticed in sci-fi – as with many things, is the lack in representation and presence of the African Diaspora – as if we don't exist in the future. And though there are black creators of this genre, they often don't get the recognition I feel they should. Writers like NK Jemisin and Tananarive Due are brilliant – but they are often overlooked. Nonetheless, in popular science fiction, there's plenty of dystopian doom and gloom.
One of my goals artistically is to showcase a different viewpoint: a much more magical viewpoint. Someone who has struggled will continue to struggle – vying for acceptance from others if that person cannot imagine themselves as something more – more magical, more powerful, more godly even. If I've never seen myself as a Goddess, how can I act as a Goddess? Just as when I was younger, before I had my first black art teacher, doing anything art related as a profession was outside of my purview. I didn't even consider it – nor did I think it to be possible for someone like me. It is my desire to showcase infinite possibilities.
Do you have any advice for young Black witches just starting out?
To young black witches I would first say: No one can tell you how to do your magic. Trust in your own intuition and your own abilities. Heal those past traumas in order to move forward. That means confronting the darkest, deepest secrets and showing those parts of yourself love. Love every part of who you are. Seek help if you need it – whether that is through counseling or confiding in unbiased elders. Love yourself and be yourself.
What are you working on now?
Currently I'm creating the Queens in my tarot deck. I'm so excited to be working on this deck. The response has been wonderful and so humbling. I'm just happy to be able to share this part of myself.
How can people get in touch and buy your amazing work?
I'm currently on Instagram and Facebook as @BLewisArts and @BLewLotus.Tarot. I post lots of behind the scenes looks into the creation of my deck and I also do daily readings. Prints and t-shirts of my art can be found at: www.blewisarts.com. There you can also sign up to join the Tarot waitlist. Wait-listers will have first dibs on Pre-orders and will find out before it goes public. If you sign up for the monthly newsletter you get a coupon for Free shipping off your first order.
For more posts about Tarot please check out the Divination Space Station series on this blog. As always if you have enjoyed what you read here please remember to like, comment and share !