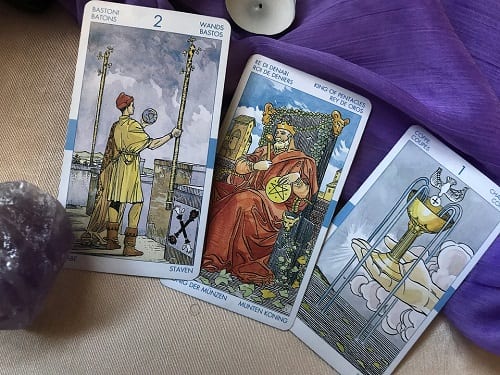 Most days I think Tarot Decks are like Tattoos, you can't have just one. Each one explores something different in a unique way. There will be images that speak to you in a variety of ways. Getting to know your newest deck is part of the fun. After you birth your new deck you are ready to start the process of getting to know it with a discovery spread.
Here on the Voodoo Universe blog I have talked a lot about how to birth your deck. Saying:
The process can be as complex or as simple as you would like to make it. You can use any, or all of the following methods as you birth your tarot deck into the world.
Consider getting a special bag or box to place your tarot deck in. This could be something in the a psychic power color like purple, or one inscribed with symbols or sigils that will help to charge and energize your cards.
Some readers like to put their new deck under their pillow on the night of the full moon to bond the deck and the reader together.
After you have blessed it using the above ways, or one of your own choosing, you are ready to start a dialogue between you and the cards. One great way to start this process is to do a discovery tarot spread. Shuffle and combine the cards well. Some people do this three times to make sure they are well mixed. Then choose three cards. Lay them out from left to right. The first card will be on the left.
What can I learn from you ?
What's going to help with that learning?
What subject are you best at exploring?
The first card will show what you can learn from this particular deck. You may choose a major arcana card which well represent that this deck can be focused on major issues and forces at play in the universe. A court card here might indicate that this deck will help with interpersonal relations or messages from people. The second card you pulled will show you what is going to assist in your learning. This could be an individual person, if you pull a court card, or an idea or attitude if you get a major or minor arcana card that isn't one of the court cards. The third will deem the subject that your new deck will give special insight on. If you're unclear about the meaning feel free to lay another card on top of any or all of these to help elaborate on the message. For beginners and adepts alike I always recommend Jana Riley's Tarot Dictionary and Compendium, this provides a variety of meanings and insight into each card. This in conjunction with the book or instructions that came with the specific deck will be more than enough to get started. What are your favorite ways to get to know your newest deck of cards. I'd love to hear about it in the comments below.
As always if you have enjoyed what you read here please remember to like, comment and share !