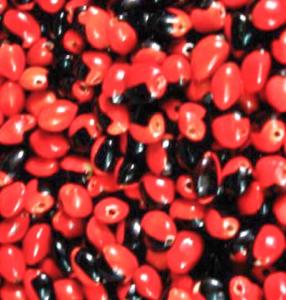 One of the most popular magickal ingredients in La Regla Lucumí (Santería,) is Peonia seeds. Also called Crab's Eye, Lady Bug Seed, Sailor's Valentine, Jambee beads, Wayruros and Huayruro (pronounced Why-RU-RO) seed these tiny treasures of magick can be worn, carried, or placed about your space to gain special blessings. The seeds are used all across the globe and their power is known worldwide.
The plant grows natively all throughout South America. Historically it was said to be used even by the Incas as a charm of protection. It has been a valued part of my spiritual arsenal for decades.
The most common form of the seed is an intense red, with a black spot. Some refer to these ones as male, while the purely red seeds are said to be female. The seeds are toxic so please don't eat them, and be extra cautious around children and pets. It worth a mention that while researching this post I found an article title "Woman Suffers Hallucinations After Buying Bracelet on Ebay."
The blog TwoWorldsOneChica tells us that " The native Peruvians believe the seed brings positive energy, happiness, fertility, good luck and wards off negative energy. They also make huayruro bracelets for newborns to help keep them safe from harm. "
Uses for Peonia Seeds
Protection
Healing
Removal of Hexes and Curses
Prosperity
Decision Making
Good Luck
Fertility and Abundance
Ritual Jewelry is such an important part of magick and protection. For those wishing to learn more about the topic here is an interesting video from creator Chameleon's Eye about Afro/Tribal Mystic Jewellry (please remember to like and subscribe):

This post is part of an extensive series on Herbal Magick, please check out the other posts about Mistletoe, Wisteria, Vanilla, Juniper Berries, Jezebel Root, and many more.
As always if you have enjoyed what you read here please remember to like, comment, and share.