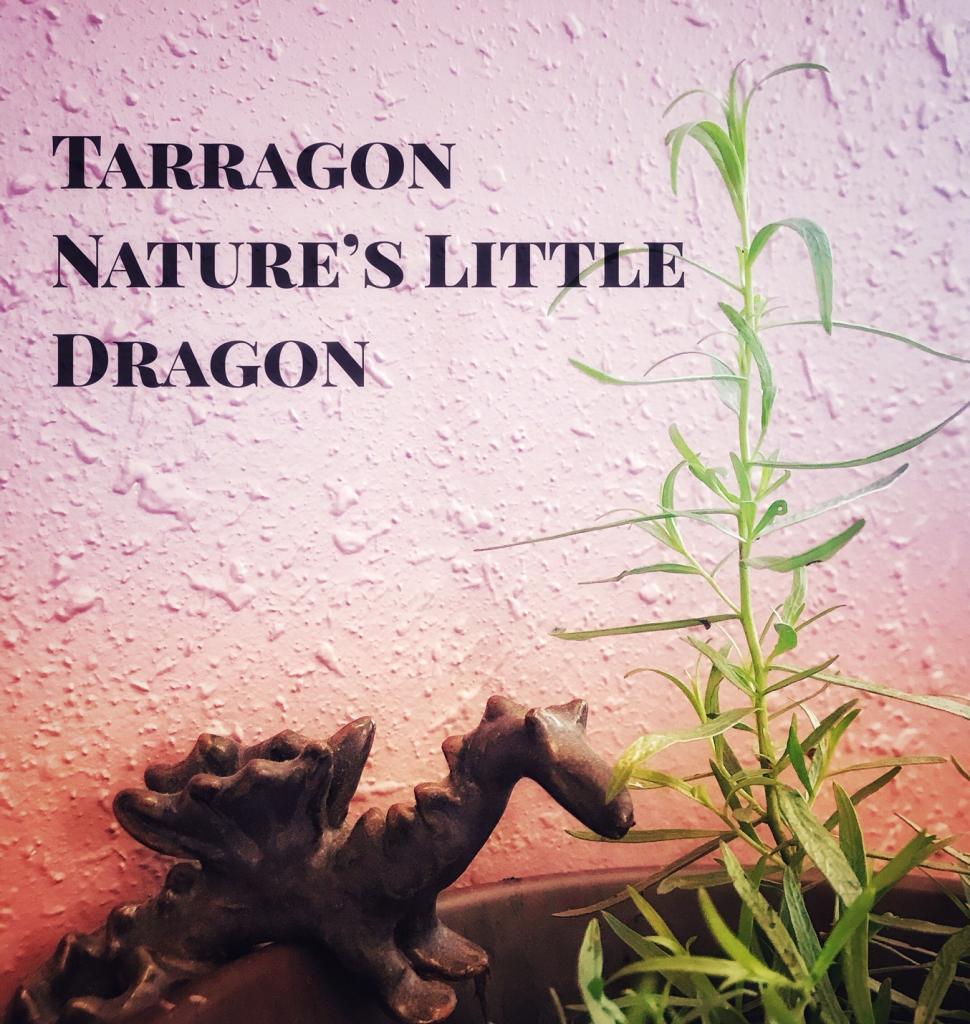 Tarragon is one of those kitchen witchery herbs that is frequently overlooked. The herb is also known as dragon's mugwort, wyrmwort, or little dragon. Tarragon's association with dragons is twofold. First it is because the roots are very intertwined and even resemble snakes. The second reason is that the word is said to come from the Latin dracunculus, meaning dragon.  The name of this plant isn't the only thing that is intense. It has an intense flavor that has been described as part vanilla and part anise or licorice. The reality is that there are two different types of tarragon: French and Russian. In cooking tarragon is frequently paired with chicken or fish, and is a prime ingredient in Bearnaise sauce.
Blogger Cynthia Mueller writes about this herb's history saying "the ancient Greeks and Romans did not include artemisias in their kitchen repertoire and it was only rarely mentioned during medieval times. The Arab botanist and pharmacist, Ibn-al-Baytar of Spain, mentioned it as a breath sweetener, sleep aid and as a seasoning for vegetables."
If we start talking magick Tarragon is said to be an herb that vibrates with the element of fire and the planet Mars. It is associated with the Goddess Lilith and also Artemis, which is where it gets it's Botanical name Artemisea. The website gardensablaze.com tells us it " can also be used as a banishing herb. Use as an incense as you write down the thing you want to banish on a white piece of paper and then burn the paper in a suitable container. "
Some Spiritual Uses of Tarragon
Healing
Banishing
Protection
Calm
Nurturing
Luck
Love
After reading this post you may wish to grow some of this magickal herb, or use it in your kitchen witchery. Tarragon is easily grown in the garden, or as part of your magickal window box. It is a Mediterranean herb and as such is fond of dry conditions, full sun, and poor soil. As for cooking, the following recipe is a great one to add to your culinary repertoire.
Tarragon Green Goddess Salad Dressing Recipe
One of my favorite things to do is to use fresh herbs in a recipe and this one is absolutely delightful. Tarrgaon can bring all the magickal uses above to the table. Parsley and garlic are said to represent healing, while lemons bring protection and cleansing. They all combine beautifully in the following.
Ingredients:
1 cup spinach leaves, removed from stems
1 cup curly parsley, removed from stems
2 Tbs. garlic chives, chopped
2 Tbs. tarragon leaves
1 clove garlic, minced
2 Tbs. Lemon juice
1 Tbs. rice vinegar
1 tsp. anchovy paste (optional)
1/2 cup mayonnaise
1/2 cup sour cream
Salt and Pepper to taste
Add all ingredients except salt and pepper to a blender and mix well until combined. Add salt and pepper to taste and mix well. Makes approximately 2 1/2 to 3 cups. Serve with salad or vegetables.
Please check out the rest of the posts in our Herbal Magick series. As always if you have enjoyed what you read here please remember to like, comment, and share !