Welcome to the inaugural post of the Walk & Word Blog! Thank you for joining us as we explore God's word together.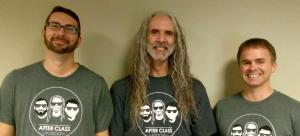 This blog is the brainchild of friends and colleagues Sam Long, Ron Peters, and John Nugent. We are the professors of Old Testament, New Testament, and Theology respectively at Great Lakes Christian College in Lansing, Michigan. For nearly a year, we've been recording a weekly podcast titled After Class (available through iTunes and Google Play). In this podcast, we've explored a variety of topics, all of which grow out of our shared interest in rigorously studying the Bible as the word of God and applying that study to the daily walk of individual believers and the church community.
This blog is our most recent effort to continue this exploration and share it with others, like you. As with the podcast, our goal is to bring the best we have to Bible study and kingdom living. Here are some of the things you can look forward to seeing.
The Mission: Study God's Word – The Whole Word
First, we are committed to studying and understanding the Bible in its entirety. The present church age is, sadly, characterized by an alarming degree of biblical illiteracy. This results in both misunderstanding and misapplication of God's word in the life of the church. Our goal is to never grow weary in our efforts to study God's word, so that we may be workers who do not need to be ashamed, who rightly explain the word of truth (2 Tim. 2:15). To understand God and what it means to be his people, ambassadors of his kingdom, one must engage the full witness of scripture—even the OT. Each of us strives to bring his area of specialty to this endeavor.
The Manner: Accessible to Everyone, Not Just Eggheads
Second, we strive to be accessible to all, whatever their educational background. We never want to talk over peoples' heads because our goal is to educate for God's kingdom by exploring what it means to bear witness to God's kingdom and righteousness in all things. We believe in the transforming power of God's word. So we hope to be used by God to encourage the transformation of hearts, minds, and actions, so we may all lead lives worthy of the Lord, fully pleasing him, as we bear fruit in every good work (Col. 1:10).
Thanks for Joining Us!
We look forward to hearing from you and interacting along the way. And we invite you to sign up for our newsletter so you can stay up to date with what is going on in our ministry of the word.