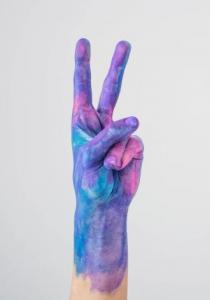 In the first part of "Practical Peace" I looked at how the Bible describes the original creation—as this peaceful act that put everything in its proper place. It was a world where everything functioned as it was designed.
LONG WAY FROM THE GARDEN
But that is not the world in which we find ourselves is it? We have people getting trampled on Black Friday just for a TV, computer, or phone. I once talked to a guy who used to work at Target. He said one year, a woman thought the store was supposed to open a half hour earlier than it actually did. And when the doors did not open, she threw a cart through the window to get in. Doesn't sound like peace, does it?
I am about ready to take the news module off my google home page, because I am almost brought to tears every day when I read the headlines. Murder, rape, theft, adultery, violence – nothing about the world I see seems to care much about "peace on earth, good will toward man." That is not relationships working in harmony.
The story of Adam and Even grips our hearts because it is not simply an ancient account of two people and their tragic mistake. It is our story as well. It is our personal tragedy. We share in this story both because Adam and Eve are our spiritual ancestors and because we mirror their behavior in our own lives. Like the first humans, we have rebelled against God. We live outside of God's paradise. We yearn for the peace for which we were created, but never experience that peace, except in bits and pieces. Though we were meant to live in peace with God, our neighbors, our world, and even ourselves, we experience brokenness in all of these relationships.
PEACE MISSION
It is into THIS world, not the Garden world, that Jesus enters. The Bible tells us that Jesus came at just the right time – at the time when things were about as bad as they could get for the world and for the Jews, God sent his Son into the world and once again initiated efforts of peace. The story of the Bible is about the goal of God—to return the world to that Shalom.
Paul triumphantly celebrates Jesus' peacemaking work in the opening of his letter to the Colossians:
"For in him all the fullness of God was pleased to dwell, and through him God was pleased to reconcile to himself all things, whether on earth or in heaven, by making peace through the blood of his cross." Col 1:19-20
The peace God intended for creation – once lost because of sin, often promised by the prophets – God reestablished through Jesus by "his blood on the cross." For this reason Paul can say simply of Christ: "he himself is our peace" (Eph 2:14).
Peace with God begins when we experience reconciliation through Christ, but it doesn't end there. When Paul speaks of "peace with God," he thinks of the Old Testament concept of shalom. Peace with God includes intimacy and blessing. It encompasses everything God had intended for his relationship with us. When we have peace with God, we begin already to live in the restored creation, even while we yearn for that restoration to be completed.
LEGACY OF PEACE
Jesus is called the "Prince of Peace." Princes are named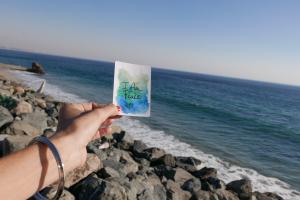 from the place they come. The Prince of Wales is from Wales. He carries on the tradition and practices of Wales. His goal is to uphold the family name. So when Jesus is called "The Prince of Peace" he is continuing family tradition of bringing peace to the world. Just as God began the process so Jesus continues it. Listen to what he says in John 14:27: "Peace I leave with you, My peace I give unto you: not as the world gives, give I unto you. Let not your heart be troubled, neither let it be afraid."
Jesus, the Prince of Peace, comes from peace to bring us peace. Christ is stating that His peace is a different kind of peace from what is available through the normal channels of the world. The world's peace largely results from having the discontent calmed by means of things, or thinking that one has enough power to have control. Christ's peace is a result of faith, and it is because of a relationship established through faith. The faith that God is in control, that God is working out a purpose in and through us—in fact even in spite of us to a very great degree. It is a faith that we are not merely pawns, but actual participants in the most wonderful process and program that could ever happen to a human being: to be called.
According to Ephesians 1:4-10 God chose us; God adopted us; God redeemed us; God forgave us; God lavished us with wisdom and understanding; God made known the mystery of his will, which is this: to bring all things in heaven and on earth together under one head, even Christ. That is a relationship. All united together, under one head, one banner, one God. Working together towards restoring and recreating a fallen world.
And so Jesus says to us, "Blessed are the peacemakers for they will be called sons and daughters of God." In the same what that Jesus is a prince of peace and continues the process, so we will be called sons and daughters of God—members of the line of peace. We become princes and princesses of peace as well. It's not just a God thing. It's not just a Jesus thing. It is a you and me thing. We the peacemakers.
And what we do either contributes or detracts from that shalom. We were chosen to be holy and blameless in God's sight. In other words, good children – good princes and princesses of peace, upholding the family name with our actions. We are to be full of godly thoughts, actions, and seek to accomplish God's will. Just as God was at peace and at rest when he accomplished His own will so too are we. And understand something—though creation seems to reverting back to chaos, through the work of Jesus it is headed back to that Shalom.
The final part in this series will explore tangible ways that peace and peacemaking are accomplished.