This is the third and final post about peace. You can find parts 1 and 2 here and here.
PERSONAL PEACE
So when it comes to seeking peace in our personal lives we need to remember that peace is a gift from God. Knowing peace each day is a blessing from God. Divine peace comes not from meditation but from the hand of God. If you are lacking peace, don't try to make yourself feel peaceful. Often we go about seeking peace like Frank Costanza on Seinfeld:
Breathing exercises or soothing rationalizations have their place, but the reality is that we need to turn our hearts to God. To cry out to him for help. To spend time with him on a regular basis. I am always impressed by how much more peacefully I take on the problems of the day when I have begun that day with Christ.
The more you focus your mind upon God and the things of God, the more you will dwell in his peace. If you are struggling with doubt or worry, I would not be surprised if your mind is focused somewhere else – probably on yourself and your problems. Ask God for the grace to set your mind upon Him, and you will come to know his peace.
Prayer becomes the principle context in which this work of "mind-setting" occurs. In prayer we meditate upon God's mercy and love. In prayer we lay our worries at God's feet. You and I need to adopt Paul's advice to the Philippians as our own and perhaps start our days meditating on this:
"Do not worry about anything, but in everything by prayer and supplication with thanksgiving let your requests be made known to God. And the peace of God, which surpasses all understanding, will guard your hearts and your minds in Christ Jesus." Philippians 4:6-7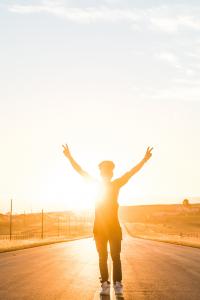 PEACEMAKING
In addition to our own peace of mind, we are called to be peacemakers. However, our modern culture has reduced peacemaking to tolerance in the sense of accepting all lifestyles, choices, and viewpoints. In other words, we simply whitewash social evils in a grand attempt to "make nice." It's all too easy for us to confuse peacemaking with "nice-making." But I don't think this is what was getting at when Jesus blessed the peacemakers.
Perhaps we should take our cue from Ephesians 4:
"I therefore, the prisoner in the Lord, beg you to lead a life worthy of the calling to which you have been called, with all humility and gentleness, with patience, bearing with one another in love, making every effort to maintain the unity of the Spirit in the bond of peace. There is one body and one Spirit, just as you were called to the one hope of your calling, one Lord, one faith, one baptism, one God and Father of all, who is above all and through all and in all." Eph 4:1-6
A couple of really good, practical suggestions for enjoying peace can be found here.
PEACE AT CHURCH
First, be humble and gentle. Or as Paul says in Philippians 2:3, "Don't think too highly of yourself, but consider others better than yourself." If you have a complaint or criticism, communicate it with humility, realizing that you could be wrong. And in all interactions, treat people with gentleness, remembering that they are precious to God.
Second, be patient. This call to patience implies that those around you will frustrate you with their slowness, especially in the church. They won't repent quickly enough. They won't serve actively enough. They will pray too long or not pray enough. Yet you must put up with their faults and weaknesses, even as they must put up with yours!
Finally, be forgiving. Peacemaking requires forgiveness. Over and over again, people will hurt us. That's sad, but that's reality. If we hold onto the offense and the pain, if we formulate plans to get even, if we fail to forgive or pretend to forgive without actually doing so, then we will contribute to the our own lack of peace. When we do forgive, however, our relationships with be renewed and the body of Christ will strengthened.
PEACE AT HOME
Everything I have said about peacemaking in church applies equally to family life. Humility, gentleness, patience, unity, and forgiveness belong at home. Unfortunately, home is often the toughest place to live out these virtues. When I come home from work, after a day of exercising humility, gentleness, patience, and forgiveness in my work life, I'm worn out. My children might get the last bit of peacemaking I can muster, though sometimes they don't even get the dregs. My wife, however, can get pride, insensitivity, impatience, and unforgiveness. If she's had a bad day too, you can imagine how much peace will bless our marriage that night.
PEACE IN THE WORLD
In our world we bring God's peace to the world by holding up the cross of Christ as an example to emulated. Though the world might scoff at Christ's paradigm of self-sacrifice, it shows us all how to live.
We extend divine peace into the world by living peaceably each day: "Do your part to live in peace with everyone, as much as possible" (Rom 12:18). Notice that we are to live peaceably with "everyone," those inside the church and outside of the church, those in our families and those at our workplace, the servers who wait on our tables with extra consideration and the "stupid idiots" who cut us off in the parking lot. This is, of course, much easier said than done. It's not all that demanding to tell others, especially if they're geographically far away from us, what they need to do to live in peace. But it's really quite challenging to live peaceably with others each and every day.
PARTING PEACE
Peace can be found. It is accomplished. It is the fruit of doing God's will. Even God gets peace from doing His will, and His sons and daughters will also find peace in doing His will. Peace is destroyed through pride and the desire to control according to one's own will. Peace is achieved through faith, working through love for God and doing His will. This is where things are/should be headed.
God has done his part. He has offered peace between us and Him by coming as one of us, and through Jesus restoring the world. Our peace is based on the amount of conflict in our lives. Sometimes we bring conflict on ourselves through sin causing alienation between God and ourselves or others and ourselves. Sometimes conflict comes even when we do nothing because of others' sins. And until we deal with that conflict, peace will elude us.