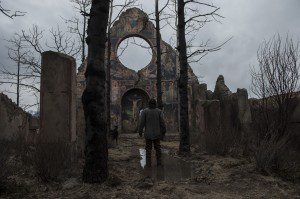 The Oscar nominations came out this morning. And religion, believe it or not, was everywhere.
OK, so it's not like War Room made the cut. Faith-based films may be getting better, but they're not ready to climb the stage at the Dolby Theatre just yet.  But when you look at the best picture nominees, you'll see that many of them contain religious elements. At least one front-running film is explicitly about faith—even as it illustrates how that faith can be twisted into something terrible.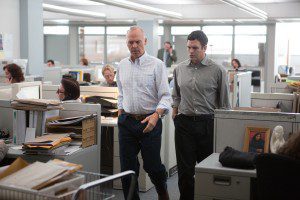 Spotlight (six nominations) is predicated on the Catholic priest scandal that came to light (thanks to the Boston Globe investigation dramatized here) in 2002. The priests netted in the scandal didn't just abuse their young charges physically, but spiritually. Time and time again, we hear how victims believed that priests were just a step below the Almighty Himself. They were His avatars in a sense—His hands and feet. "How do you say no to God?" one now-grown victim asks. The scandal shook the faith of many a Catholic, including the lapsed ones who conduct the investigation in Spotlight. One says she can't celebrate Mass with her grandmother anymore. Another, whenever he sees a priest, grows angry. "They knew and they let it happen! To kids!" Mike Rezendes (Oscar-nominated Mark Ruffalo) says. "It could've been you, it could've been me, it could've been any of us! We gotta nail these scumbags! We gotta show people that nobody can get away with this—not a priest or a cardinal or a freaking pope!"
Mad Max: Fury Road (10 nominations) also contains a religion gone wrong—specifically the personal religious cult of the movie's big bad, Immortan Joe (Hugh Keays-Byrne). "I am your redeemer!" he bellows. "It is by my hand you will rise from the ashes of this world!" Joe has fostered a cult of personality around him, and he's treated like a living god by his fanatical War Boys. He expects them to die for him, promising an afterlife by his side in Valhalla if they perform their duties well. And so when they, kamikaze-like, prepare to sacrifice themselves for Joe's unholy cause, they spray their mouths silver and contemplate eternal happiness, "shiny and chrome." It's all a bunch of bunk, naturally—and War Boy Nux eventually comes to understand that. And when he turns away from this false religion to something altogether better and more lovely, I think we find echoes of a worthier faith.
But organized religion isn't always a bad thing in this year's best picture nominees. In Brooklyn (three noms), the Catholic Church is shown as an intrinsic part in the life of Eilis (Saorise Ronan) and those around her. It was the church that helped give her a new life in the United States, where kindly Father Flood (Jim Broadbent) takes her under his wing. Her landlady, Mrs. Keogh (Julie Walters), is a deeply, and comically, religious woman. "I'll thank you to keep (God's) name out of a conversation about nylons, thank you very much," she says. "He might be everywhere, but He's not in Bartocci's on sale day." And when Eilis's sister dies unexpectedly and despairs of ever seeing her again, Father Flood tells her that he believes she will.
I've argued that Room (four noms) may be the most Christian movie of the lot before. But even if you chuck my notion that the story serves, at times, as Christian metaphor, it still contains a bevy of explicit religious nods: It's obvious, for one thing, that Ma told Jack that he's a gift from God, and she's been filling his head with Bible stories. In fact, when the two are (spoiler alert) finally rescued, Jack (Jacob Tremblay) refuses to have his long, long hair cut—believing that it makes him strong, like Sampson. Even now in an increasingly secular age, many parents turn back to religion when they have kids, believing that it'll help ground them and instill some moral underpinnings. And maybe the inclination to turn toward faith is even stronger when you've been locked inside a single room for years.
The Revenant (which leads Oscar's nominations with 12) taps into that same instinct to believe in something transcendent. Hugh Glass (Leonardo DiCaprio) indeed believes. In one of the movie's most beautiful scenes, he meets with his dead son in a torn-up church, the bell swinging mutely from the rafters, the walls festooned with religious pictures and iconography. Throughout the movie, he sees glimpses of his dead wife, and in a flashback/vision, we see a bird crawl from underneath the dead woman's shirt … perhaps emblematic of her soul taking flight. Clearly, Glass has notions of an immortal soul—a belief that may sustain him. That sense of spirituality rubs hard against the more materialistic atheism of John Fitzgerald. True, we hear him say a prayer over Glass as he tries to murder the guy, but it's obvious that Fitz doesn't believe it's being heard by anybody but he and Glass. He tells a companion about how one of his friends—starving and alone—found God. "Turns out, God, he's a squirrel," Fitz says with a glint. "A big ol' meaty one" which Fitz's friend shot, skinned and ate.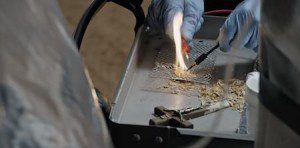 Even the largely humanistic The Martian (seven noms) offers a couple of nods to faith. "My father was a Hindu, my mother was a Baptist," says Venkat Kapoor, the guy on the ground trying to bring home the stranded Mark Watney. "I believe in something." Mitch Henderson, a guy nominally in charge of the crew sent to Mars in the first place, nods quietly. "We'll take all the help we can get." And while it wasn't that faith that eventually saved Mark—human creativity and courage are put at the fore here—religion still plays a role. Watney, stranded on Mars and in desperate need of a way to grow food, pillages the belongings of his newly departed workfellows. He finds a wooden cross in one of the bins—the only flammable item he can find. He shaves part of the cross as fuel for a chemical reaction—one that eventually leads to his ability to grow a whole lot of potatoes. Even on Mars, it seems, the cross can do some pretty amazing things.