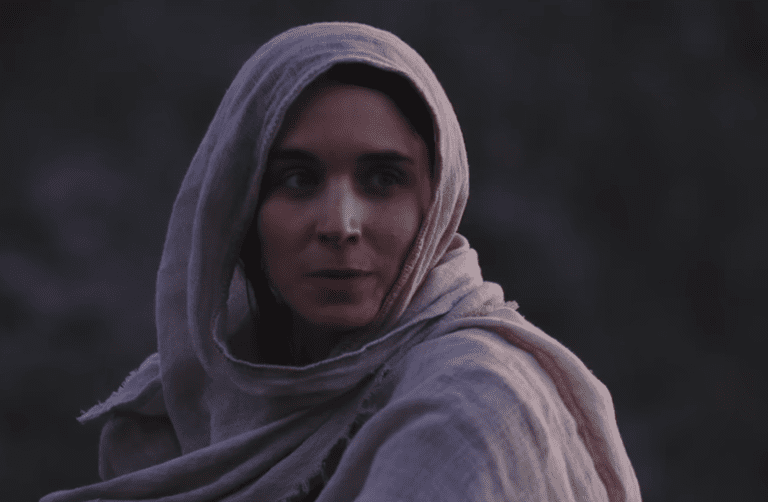 What? It's just the early days of 2018 and your "Read the Bible in a Year" plan is already shot?
Well, no worries. Hollywood has us Scripture-slackers covered, apparently. Three high-profile, Bible-based movies are heading to theaters this coming year. And they won't be alone. Several other prominent faith-based offerings are on their way, too.
'Course the question is, will any of them be worth our time?
Let's face it: While Christian flicks are getting better, they're still pretty uneven. For every quality film like Risen that comes to town, Christians have to apologize for a Saving Christmas or Left Behind. And when high-profile moviemakers attempt to make a Bible-based movie, the results are often … less than inspiring.
Still, I have reason to hope, and some of these films look pretty good. Here's a quick glance at what the faith-based film industry has in store for us in 2018. And a warning, March looks pretty crowded.
Samson (Feb. 16): Theaters are filled with super-strong superheroes able to lift cars and knock down buildings with their shields and hammers and big, green hands. It's probably about time that the Bible's own superhero takes the field. This film features Billy Zane, Rutger Hauer and Taylor James as Samson, and given all the squelching sounds we hear in the trailer—along with Samson's bloody storyline—this feels like a movie that could've legitimately pocketed an R-rating. Given that it's a Pure Flix production, I highly doubt the final movie will wind up there. But one can hope, right?
I Can Only Imagine (March 16): Those who haven't heard MercyMe's multi-platinum hit should turn in their Christian card right now. Bart Millard wrote this soaring ballad after his father died, imagining how his pops might react to being inside the pearly gates. But it wasn't 'til I watched an advance clip of this flick that I realized just what jerk Millard's dad had been before he found his way to faith. "My dad was a monster," we hear Millard (played by J. Michael Finley) say in the trailer. "And I saw God transform him from a man I hated into the man I wanted to become."
Paul, Apostle of Christ (March 28): I'm kind of excited about this one. From Sony's Affirm Films, Paul, Apostle of Christ stars James Faulkner as Paul and Jim Caviezel—the guy who played Jesus in Mel Gibson's The Passion of the Christ—as Luke. It looks like a project with a fairly healthy budget, and it centers, of course, on one of Christianity's most important and most fascinating figures: A guy who went from being one of Christendom's most zealous persecutors to its most eloquent evangelist and who, eventually, would die for his beliefs.
Mary Magdalene (March 30): Christian films may come and go with few noticing in the broader culture. But this one—yeah, it'll draw some buzz. Claiming to be based on the "untold story" of Mary Magdalene, one of the best-known and most controversial of Jesus' posse, this film boasts a legion of A-listers: Chewetel Ejiofor as Peter, Joaquin Phoenix as Jesus and Rooney Mara as the titular Mary. Director Garth Davis, who did such an incredible job with Lion in 2016, helms this movie, which gives me hope that Mary Magdalene could be pretty good. The trailer leaves me feeling a bit … mixed.
God's Not Dead: A Light in the Darkness (March 30): The third installment in Pure Flix's popular God's Not Dead franchise has a ready-made audience who turned God's Not Dead into a hit and God's Not Dead 2 into, well, at least a solid bunt. It'll feature Oscar-winning actress Tatum O'Neal and Emmy-nominated actor John Corbett. But let me be honest: I've not been a fan of previous God's Not Dead movies. To me, they feel like red meat for old-school culture warriors that slip way too easily into an "us" and "them" narrative that I feel corrodes Christianity's core message. But the trailer gives me hope that this third installment may step beyond that a bit: "The whole world knows what the Church is against, but it's getting harder and harder to know what it's for," we hear in the trailer. That's encouraging.
Unbroken: Path to Redemption (date unknown): This sequel to Angelina Jolie's Unbroken aims to shore up the biggest faith-based criticism of the original movie: The credits started rolling just when the story started getting good. Sure, Louis Zamperini made it to the Olympics, survived being stranded out at sea and miraculously made it out of a Japanese work camp—all documented in Jolie's movie. But it missed out on Zamperini's post-war life: His alcoholism, depression and, most importantly, his conversion to Christianity that inspired him to forgive his most ruthless wartime abusers. Jolie, a pretty good director, won't be a part of the sequel, alas. God's Not Dead director Harold Cronk will claim the helm. (Sorry, would include a trailer, but it doesn't look like one's available just yet.)