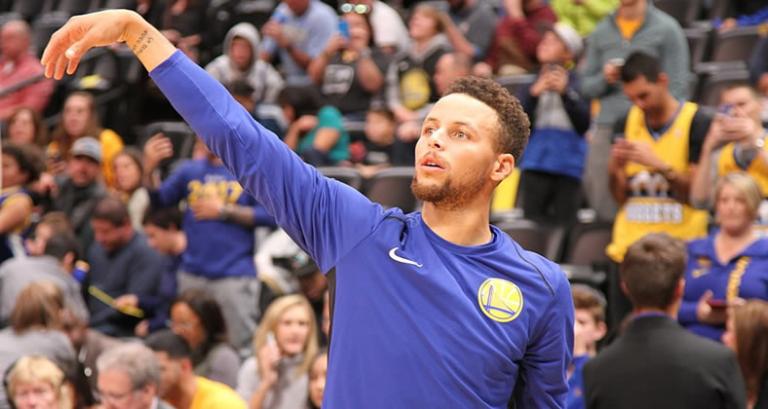 The Cleveland Cavaliers and the Golden State Warriors will face off for the fourth straight (!) NBA Finals starting tonight. The Warriors have the edge in their championship rivalry (winning titles in 2015 and 2017), and they're heavily favored this time, too. I'm a sucker for a good underdog story, so I'll be rooting for the Cavs.
Still, Golden State's an absolute marvel of a team—an Avengers-level mashup of superstars that, when they're on their game, are nigh-unbeatable.
They're also made up of a bunch of Christians. Warriors guard Stephen Curry (despite a rather colorful exclamation after a recent game) is an outspoken Christian—one raised in a family that held devotionals every morning and runs onto the court with a Bible verse on his shoes (Philippians 4:13) every game.
"I know why I play the game, and it's not to score 30 points a night, but it's to use the stage I'm on," he's quoted at Everydayfaith.net. "I've been put here for a specific purpose: to be a witness and to share my testimony as I go through it."
He's pretty good too.
Draymond Green, the sometimes hot-headed heart of the franchise, says he's Christian, too. "I may lose a friend or two, but I will never lose my faith," he says. Reigning NBA MVP Kevin Durant is a believer: Baptized at Hillsong New York City in 2013, he reads the Bible every day, and some suggest that he signed with the Warriors, in part, to be with other believers.
Klay Thompson is Catholic. Shaun Livingston is Lutheran. Indeed, Curry says that nearly a dozen guys attend the team's Bible study.
In 2015, defensive ace Andre Iguodala told Christianity Today that "We got a team full of believers … We all believe and we all say God has a way for you, a purpose for you. This is my purpose."
But I think the Warriors also embody another, less divine but still important, purpose.
Yes, the team has more than its share of Christians in the mix. Many are not shy about sharing their faith. Yet the organization's president and COO, Rick Welts, is openly gay (the first such senior executive in major league sports), and the Warriors play in one of the most secular cities in the U.S. Coach Steve Kerr's grandparents were missionaries, according to a (fantastic) New York Times profile, but if he identifies with any religion now, I'm at a loss to find it.
But Kerr (who replaced the more religiously vocal Mark Jackson as the Warriors' head coach in 2014) encourages the team to embrace both individuality and community—and an environment in which players can speak their minds and still value each other's views.
That's not easy today. We talk about tolerance and celebrating diversity, but what we tolerate and celebrate can be as inconsistent as a Colorado April. And even when we do successfully embrace tolerance, we sometimes toss aside our own values to do so.
Not many of us know how to disagree with people, and love and accept them at the same time.
Kerr, a record-setting three-point shooter back in the day, leads by example.
When President Donald Trump tried to ban Muslims from certain countries from entering the United States, Kerr—whose own father was assassinated by radical Muslims—
didn't mince words
.
As someone whose family member is a victim of terrorism, having lost my father—if we're trying to combat terrorism by banishing people from coming to this country, we're recalling going against the principles of what this country is about and creating fear. It's the wrong way to go about it. If anything, we could be breeding anger and terror, and so I'm completely against what's happening. I think it's shocking.
But when most of his players balked at a White House visit after their 2017 title, Kerr encouraged them to go as a "gesture of goodwill." On The Lowe Post, Kerr acknowledged that said, "there's a respect for the institution, for the office. There's a respect for our government that I think you have to take into account regardless of people's opinions of the person sitting in that chair." (Trump later withdrew his invitation to visit, rendering the issue moot.)
On Martin Luther King Jr. Day, Kerr used his press conference to say this: "It's critical for people to have compassion and have empathy," he said. "And I would hope in these times, with so much anger and divide, that we'll be reminded of that today." And when the Warriors sponsored an LGBTQ night earlier this season, he told the press that "there's never been a more important time in our country to respect the person next to you regardless of race, creed, color, sexual preference, sexual identity."
Respect, Kerr says. That's a key word. Not agree with, necessarily. Respect. Sometimes we conflate one with the other, and we assume that we must either sacrifice our values or … well, just act like bigots.
Even in our era of deep division, we see people manifesting that sense of basic respect in beautiful ways. in Egypt, Muslims defend Christian churches, even to their death. In Texas, Christians help rebuild an Islamic mosque after it burned down. No one's capitulating to a religious ideology: They're simply being decent human beings.
But it seems like we're having a harder time doing so. Voices on the left and right grow ever more shrill, positions become ever more entrenched. Forget television's talking heads: They're shouting now. People scream at each other online constantly. We don't discuss issues anymore: We go to linguistic war. And Christians are sometimes the shrillest warriors of all.
And so we come back to the "other" Warriors—a team that seems to embody both Christianity and diversity, individuality and community. Its members play their hearts out for their fans, some of whom might not agree with them on much of anything. Their fans cheer them on, knowing full well that they might worship or vote or act or think completely differently than their favorite player on the court.
This dynamic isn't unique to the Warriors, of course. It's what gives sport its power and, at times, its profundity: For a couple of hours, people of all different stripes gather in one place and find something to agree on.
But the Warriors, I think, model it better, and more obviously, than most.