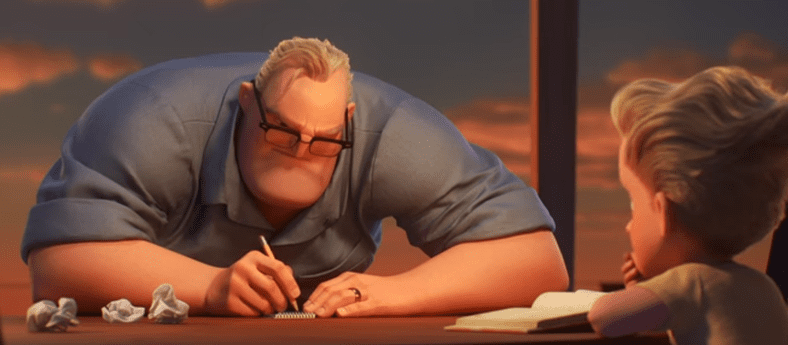 Every superhero has his weakness. Superman has his kryptonite, Batman had his Bane. And in Incredibles 2, Mr. Incredible faces perhaps his strongest foe yet: Single fatherhood.
It's not as if his wife, Helen (a.k.a. Elastigirl) is leaving him permanently. This is, after all, a Pixar movie. But when she's given a chance to help legalize superheroes again—an exclusive club that her entire family belongs to—she feels she must take it. That means leaving home for a bit to take on her new evil nemesis, the Screen Slaver.
Given the chance to don her mask again, Helen thrives. She loves being a superhero. And who wouldn't? Saving innocent people? Bringing bad guys to justice? Driving a ludicrously cool motorcycle while rocking some seriously stretchable Spandex? Most of us (OK, at least me) dream of being superheroes when we're kids. Heck, most of us would jump at the chance as adults, too. Saving the world may have its share of dangers, but it'd be way more fulfilling than filling out HR personnel reviews in cubicle-ville.
Bob Parr knows that simple truth well enough already, thanks. He spent a good chunk of the first movie (2004's The Incredibles) working in a gray office environment, legally barred from using his superhuman strength to help so much as a gnat. And when in this movie he's told that an aggressive PR campaign might clear the way for him to legally become Mr. Incredible again, he's pretty thrilled.
So why does his wife get to have all the fun?
"I'm so proud of you!" he tells Helen through gritted teeth. "Really!"
With his wife leaving home to go a-superheroing, Bob becomes the family's primary caregiver—a role with which he's unfamiliar and uncomfortable. But he accepts the challenge all the same—and I think in so doing, he reminds us what a real hero is.
It's interesting to me that Incredibles 2 and Won't You Be My Neighbor?, a documentary about Mister Rogers, were released so closely together. Both showcase a quieter sort of hero than we're used to in this age of bombast. Rogers advocated the simplest of goodness: civility, decency and plain, old-fashioned kindness. As radical as a pair of plain canvas sneakers. But Mr. Incredible takes the message even a step further: In Incredibles 2, he models a sort of truly sacrificial heroism—not one that requires a showy sacrifice of a hero's life, but a subtler sort of sacrifice. The sort of sacrifice that is doled out bit by bit, day by day. And I think that, in so doing, he's reflecting a little bit of Christ, too.
Mr. Incredible, like Jesus, has some pretty superhuman attributes. While he wouldn't necessarily take center stage with the "sound of the trumpet of God," Bob certainly could've flexed some of his incredible musculature if he felt so moved. I mean, really, who could stop him?
But instead of forcing himself into the picture, he moves into the role of a servant—someone who supports Helen and cares for the kids as best as he can.
"I've got to succeed so she can succeed," Bob tells himself in Incredibles 2, "so we can all succeed."
This role—that of a servant—is not one that Bob feels particularly comfortable filling. In fact, we get the impression that being the family's primary caregiver is about the most difficult job he's ever had.
But Bob understands that, this time 'round, it's not about him. It's about Helen. He understands that being a parent is ultimately a servant-role, too. We prepare our kids for success. Our greatest reward is standing backstage when our sons and daughters are ready for the spotlight. "Done properly," Incredibles designer Edna Mode tells Bob, [parenting] is a heroic act."
There's a paradox in play here, of course. In the world of story, the word "protagonist" is practically synonymous with the word "hero." He or she is inherently at the center of the action. Sure, the hero might not always be an Achilles or Perseus, a Wonder Woman or Captain America. He might be more of a Holden Caulfield or Woody Allen type. But even so the story's hero, by definition, stands at the center of the story. It all revolves around him.
Jesus tells us something different, though.
"Whosever would be great among you must be your servant, and whoever would be first among you must be a slave of all. For even the Son of Man came not to be served but to serve, and to give his life as a ransom for many." (Mark 10:44-45)
That's hard for us—OK, hard for me—to wrap my mind around. The Jesus who washed his disciples' feet doesn't feel particularly heroic. But Jesus insists that those simple acts of servanthood gets closer to what being a hero means—not to man, but to God.
Mr. Incredible gives us a little inkling of that sort of heroism in Incredibles 2. And here's the cool thing: We can all aspire to be that sort of hero, even if we don't own a shred of Spandex.