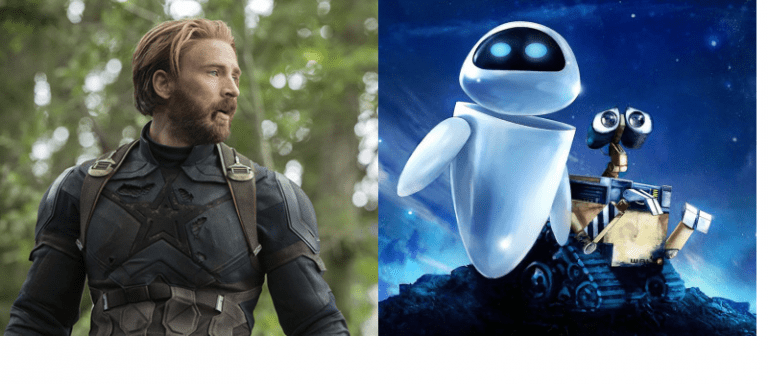 Buzz Lightyear versus Iron Man? Mr. Incredible versus Captain America?
Though Disney owns both Pixar and Marvel, seeing these colossal clashes play out on the big screen seems a bit … unlikely. Even if such a showdown were to happen, faceoffs between Marvel's and Pixar's protagonists might fall a bit short. Watching Hulk and Thor duke it out on the trash planet of Sakaar … oh yeah, I'd pay money for that. Watching Hulk take on Up's Carl Fredricksen has a little less appeal.
But while a battle royale between the studio's heroes might not be that exciting, a clash between the studios themselves would be pretty epic.
Consider: Both the Marvel Cinematic Universe (beginning with 2008's Iron Man) and Pixar (which launched its first feature-length film, Toy Story, in 1995) have been on epic runs, both in terms of critical acclaim and box-office bankability. Both boast a fairly equal number of contenders: Before the release of Incredibles 2 this weekend, Pixar has made 19 feature-length films. Avengers: Infinity War was the 19th in Marvel's own cinematic universe.
But which studio/franchise made the most money? Which has earned the highest level of praise?
For this exercise, we'll set Incredibles 2 aside and pit Pixar's and the MCU's track records against each other in a winner-take-all contest. Let's get ready to tabulate!
1. Box Office Success: Since 2008's Iron Man, Marvel's properties have raked in a staggering $6.63 billion in North America. That's a whopping $349 million per movie! For comparison's sake: If the MCU was a country and you lumped all of its domestic earnings into a single fiscal year, it'd have a higher GNP than Mozambique. (And we're not even counting the extra $10.2 billion Marvel's made overseas.)
Pixar's no slouch, either. Since 1995, when Pixar released its first feature Toy Story, the animation studio has pocketed $4.94 billion in North America, averaging about $260 million per movie. Since Pixar started its cinematic output 15 years before the MCU started cranking, adjusting these numbers for inflation would push Pixar closer. But who has time for that nonsense? On to the next category!
Edge: Marvel.
2. Critical Acclaim: I've heard some Hollywood insiders whine about the glut of superhero movies in theaters these days. They're all the same, they sniff. They're killing creativity. But here's the thing: Not only are Marvel's movies making plenty of cash, but they're widely praised, too. MCU films score an average—an average—of 83.8% "freshness" at Rotten Tomatoes. Five of its films (Black Panther, Iron Man, Thor: Ragnarok, Spider Man: Homecoming and The Avengers) have an RT rating of 92% or higher. That 92%, by the way, is what 2018 Best Picture winner The Shape of Water earned. And here's another bit of trivia for you: Not a single MCU movie has been graded by Rotten Tomatoes as "rotten" (a score below 60%). The lowest-scoring film in the MCU universe is Thor: The Dark World, at 66%.
But as impressive as that is, Marvel falls short of Pixar. The studio's 19 films log in at RT with an astonishing 88.2% "freshness" rating. If we pretend that
Cars 2
never happened (Pixar's most critically lambasted movie by far at 39%), and the studio pushes its freshness rating to almost 91%. Eight of its 19 movies equal or surpass the MCU's highest-reviewed flick (
Black Panther
at 97%). Two of them—
Toy Story
and
Toy Story 2
—have perfect 100% ratings. When it comes to critical acclaim, Pixar's the equivalent of the Golden State Warriors: Just too many weapons for anyone to overcome.
Edge: Pixar
3. Oscars: Moviegoers and critics may love the MCU, but Oscar … does not. While the awards fate of Black Panther and Avengers: Infinity War—the former of which may be a dark horse for a best picture nomination—Marvel's movies have been nominated for only 10 Oscars, almost all of them for Best Visual Effects. (The original Iron Man was also nominated for Best Sound Editing, while Guardians of the Galaxy scored a nom for Best Costume Design.)
Pixar, meanwhile, practically could bathe in the Academy's love for it. The studio has won 15 Oscars and hauled in 45 nominations for its feature films. Granted, Pixar has a built-in advantage in this category: The Academy has given out Oscars for Best Animated Feature since 2002, of which Pixar has won nine. No such category for "best superhero film" (much to my chagrin). But that still leaves Pixar still with six shiny statuettes in its trophy case, and let's not forget that it's also collected two Oscar noms for Best Picture, the most prestigious award of all. (Those honors went to Up and Toy Story 3, by the way.)
Edge: Pixar
4. Extras: Marvel has trained us well. We sit in theaters through the interminably long credits, waiting to see our someone talk with Nick Fury, or give us a clue to what's next up in the MCU, or maybe even eat a little shawarma.
That's all great, of course. But let's face it: Marvel has yet to win an Oscar for its extras, either, whereas Pixar's pre-feature shorts have won five Academy Awards and been nominated for another 14. BAO, the short story that runs before Incredibles 2, illustrates just how marvelous, and how touching, these bite-size chunks of animation can be.
Edge: Pixar
Conclusion: If you're a fan of superhero movies, if you love great animated flicks, we're living in a bit of a golden age right now. Marvel's Cinematic Universe is a film achievement that we'll look back on and, well, marvel at. And Pixar … well, do we have any doubt that our great-grandchildren will be watching Toy Story and The Incredibles decades from now?
But while both Pixar and Marvel have set their respective bars pretty high, one stands unquestionably higher. I'd rank the top Pixar films—Up, WALL-E, the Toy Story movies—among the best movies of any genre, able to draw a laugh or tug a heartstring of those of any age. Congratulations, Pixar. You win the prize.