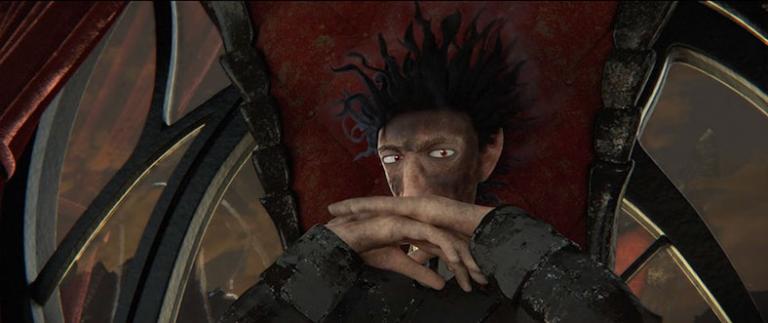 I've never read Pilgrim's Progress.
As a college English major, you think I would've. And I should've. At one point, pretty much everyone who could read was reading John Bunyan's Christian allegory. The book has never been out of print since Bunyan first dropped it into the world in 1678. And while some consider it the English language's first real novel, it didn't stay strictly "English" for long. Bunyan's seminal work (officially titled The Pilgrim's Progress from This World, to That Which Is to Come)  has been translated into more than 200 languages. It's inspired everyone from Kurt Vonnegut to Terrence Malick to Sean McFarlane. Long before Harry Potter, this has been the very definition of "must read."
If the book is anything like the animated movie–now in the middle of a Fandango theatrical run–I understand the fascination with it a little better. Bunyan's book is off-the-charts crazy.
The story is a straight-up, on-the-nose allegory. Christian Pilgrim, living in the ironically-named city of Not Cursed, learns through a mysterious book of a much-better place called the Celestial City. He's determined to make his way there. But travel in those days was always perilous, and this journey particularly so. The Swamp of Despondency (called a "slough" in the book) is only his first challenge. He and his sometimes traveling compatriots must deal with all manner of trials. The Valley of Humiliation. The Castle of Despair. A well-dressed deceiver named Worldly Wiseman. (John Bunyan may have been many things, but he was not a master of subtlety.)
Bunyan's goal was to write a "guidebook," if you will, for Christians on their own Christian journeys, pointing out stumbling blocks and waypoints on the way to paradise. It's not easy, Bunyan told his readers. But it is worth it.
The animated movie, naturally, has that same goal in mind–while making Bunyan's Christian fantasy as kid-friendly as possible. This 17th-century tale is infused with a little 21st-century humor, and the story clicks right along. Also to be noted: Some of the book's grimmer moments are dealt with discretely. When Christian's traveling companion, Faithful, gets burned at the stake in the materialistic trap of Vanity Fair, only a bit of smoke offers a nod to Faithful's sad fate.
While the movie's animation is pretty rudimentary compared to what we're seeing from Disney and DreamWorks these days (and it was made with a tiny a fraction of the budget typical for such projects, I hear), the images can be striking. I loved the scene in which Christian (off the straight-and-narrow path) is trying to scale the monstrous "Hill of Legality," with a Moses-like law-writer at its summit crafting ever-more edicts.
"Follow the instructions!" the law-writer tells Christian.
"Which ones?" Christian asks, as yet another tombstone-like tablet pops from the ground.
"All of them, of course!"
Scenes like that lend Pilgrim's Progress an Alice in Wonderland vibe, and really, that may be the closest comparison I can find for this very strange story. But when Christian and another traveling companion (Hopeful) run into a giant with narcolepsy and his rather shrewish wife, I was also reminded of the Monty Python-esque film Time Bandits. It's reminiscent of fantasy epics like The Lord of the Rings, as well.
But all of its narrative insanity serves a greater purpose–the same purpose that Bunyan had so long ago. It reminds us that the Christian walk is hard and sometimes dangerous, but that help is always nearby if we need it. And the destination is oh-so-worth it.
Pilgrim's Progress is a Fathom event, and will have its final showing (unless more are added) April 20. Click here for details and to buy tickets.