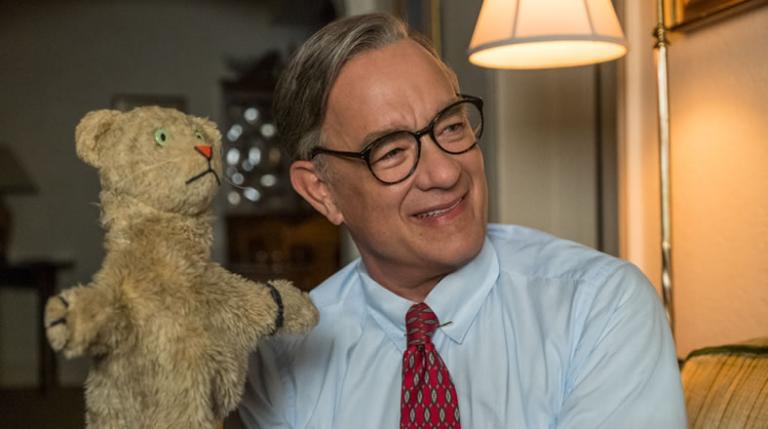 I've got a friend who's prone to make lists, and he recently gave me one of the 20 happiest moments of his life. It made for a pretty fascinating read: Some I remembered (we've been friends since childhood), some I didn't. And after I read it, I started thinking what would make my own list.
I noticed something funny after writing a few entries, though: How often the memories I most treasured were also deeply painful. Talking with my grandmother when she was slipping into Alzheimer's. The night I spent with a loved one in the ER after he overdosed. These are moments that, on many levels, I wish I never experienced. But they're also the ones that I never want to forget.
"There is no normal life that is free from pain," Fred Rogers says in A Beautiful Day in the Neighborhood, which comes out tomorrow. In many ways, pain forms the movie's narrative thread, distinguishing between pain that can bring us together and the pain that drives us apart.
A Beautiful Day is based on one of my all-time favorite magazine pieces, Esquire's "Can You Say … Hero?" by Tom Junod. It's a beautiful, deeply insightful piece that shows why a children's television show host (who died in 2003) still holds such sway over the culture. The film uses the real story and pushes it halfway into the Neighborhood of Make-Believe.
In the film, Junod becomes cynical magazine writer Lloyd Vogel (played by Matthew Rhys) who was deeply wounded by his father years before and seems to take it out on his subjects. He's asked to write a simple 400-word piece on Fred Rogers (Tom Hanks) for Esquire's "heroes" edition. Lloyd protests: Mister Rogers, a hero? He's supposed to interview a guy "because he plays with puppets for a living?" Yes, his editor tells him. Why? Because no one else on Esquire's list would sit down with him. Only Fred Rogers would dare talk with the fearsome journalist.
Later, Lloyd learns that Fred didn't just agree to sit down with him: He asked for Lloyd. "He likes everybody," someone tells Lloyd. "But he loves people like you." Hard people. Broken people. People in pain.
That gets, I think, to the central paradox of the real Mister Rogers and his ever-beautiful neighborhood. Throughout his career, Fred and his gentle persona was relentlessly mocked on late-night television and jaded teens (many of them who'd grown up watching Mister Rogers' Neighborhood as children). Why? For me, once being one of those too-cool-for-school teens, it came down to one basic thing: It all felt just too nice. Mister Rogers (who was an ordained minister and thought of his show as a ministry) was aggressively nice. His neighbors were relentlessly nice. His neighborhood was ridiculously nice. It all felt unrealistic, a neighborhood not grounded in a fallen world.
I was wrong, of course: In an age of groundbreaking children's television shows such as Sesame Street and The Electric Company, Mister Rogers' Neighborhood was the only one that ever truly dealt with pain or loss or fear or sadness. I still remember, as a kid, watching Mister Rogers scoop a dead fish out of his fish tank and talk about grief.
We knocked
Mister Rogers' Neighborhood
for not dealing with the messiness of life. But if you look closer, he was the guy who embraced it. He wasn't
nice
—that sort of milquetoast nice that lives oblivious to pain. He was
kind
, a kindness born in a world of pain and, perhaps, born of it.
A Beautiful Day in the Neighborhood notes that Mister Rogers' Neighborhood dealt with really heavy issues: divorce, war, racism, assassination. It reminds us that, of all the puppets that Fred "played" with, Daniel Striped Tiger was the closest to who Fred was deep inside—a puppet that often felt shame and fear in a way instantly recognizable to the 4-year-olds watching. It might've always been a beautiful day in that fictional neighborhood, but Fred never stopped pain at its border. Fred acknowledged it and accepted it. He didn't try to make-believe it away; he cut it down to size.
Throughout the movie, Lloyd tries to get under Fred's skin. In one scene, he asks the television show host about his strained relationship with his own sons. In a masterful scene by Hanks, we watch as the emotions play underneath Mister Rogers' face—the anger at the question, the pain of the truth. That's when he says that every life comes with pain. He acknowledges that it couldn't have been easy for his boys, to grow up as Mister Rogers' sons. And he thanks Lloyd—thanks him—for that perspective.
But all the while Lloyd's working at Fred, Fred's working on Lloyd, too—digging deeper into why the reporter is the way he is, the pain at the root of it all. And when Lloyd finally confesses his hurt and anger—and that his father is the source of them—Fred reminds him, gently, that his imperfect, deeply flawed father is still worth loving and even honoring.
"He helped you become what you are," he says.
There's a profound, somber truth in that, I think. Our pain makes us who we are. But how we respond to that pain … that's the secret to life. We can't avoid most of our hurts. But we can determine what, and how, it makes us.
The film offers a nice twist, too, to that problem of pain. Without giving too much away, we see how pain doesn't always drive people apart. It can bring them together.  In that pain, a new sense of intimacy grows, a love is rekindled. Not a shut-your-eyes-and-pretend sort of love, but a love born in spite and in the midst of hurt, of knowing the brokenness in our lives and our circumstances and loving each other in spite of it.
In one of my favorite scenes in the movie, Fred says that sometimes he too feels anger. Sometimes he feels scared or sad. He describes those emotions in terms of music—like hitting all the lowest keys of a piano. "BOMMMM!" he sings in a growl. And toward the end of the movie, we see Fred do exactly that on his own piano—hammer the keys in frustration. But then he recovers and plays himself and plays a gentle tune before he walks away.
Every day of his professional life, A Beautiful Day in the Neighborhood suggests, Fred Rogers chose to take the harsh, low notes of life and make music with them. And that makes A Beautiful Day a pretty beautiful movie.