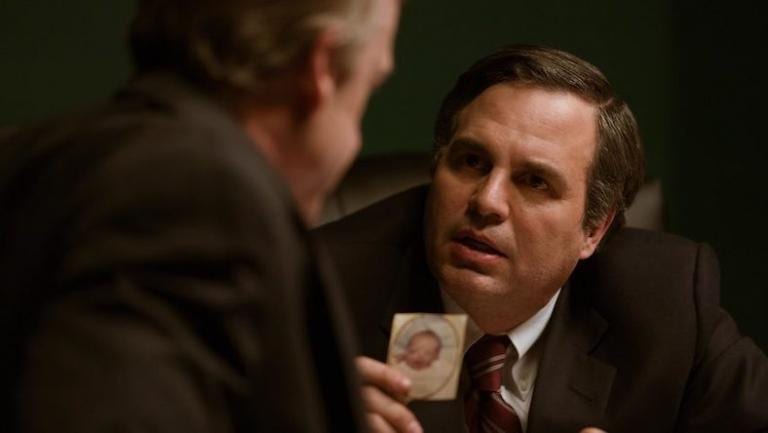 The environmental docudrama Dark Waters pits attorney Robert Bilott, one-time defender of the country's mighty chemical companies, against the mightiest of them all: DuPont.
On one hand, the film simply, dramatically documents a case of corporate malfeasance and the man (played by Mark Ruffalo) who was instrumental in exposing it. But I think even more so, it's the journey of the man himself: He traded an easy path for a righteous one, and what that trade cost him. And it, like many movies in the hunt for end-of-season awards, hints ever-so-gently that faith may have played a role in his costly convictions.
Bilott had no intention of embarking on such a crusade. The story begins with a favor, more or less, to his grandmother. Unsolicited, a West Virginia farmer and an acquaintance of Grandma Bilott barges into Bilott's Ohio law firm and insists that a DuPont-owned landfill near his farm contains dangerous chemicals—chemicals that are mutating and killing his cattle.
Bilott doesn't believe a word of it at first. He knows the guys at DuPont. He believes it's an honest, generous company that would never try to hurt anyone. And if it was in the wrong, DuPont and its good people would certainly correct it. "Better living through chemistry" is DuPont's motto, circa 1998. Bilott believes the motto. Moreover, he believes that DuPont believes it.
But he wants to do the old guy a solid—look into it a little, at least. As he digs into the farmer's claims, he's at first inclined to believe all the DuPont-sponsored studies that allege the landfill is free of contaminants, and that the dead cattle are the farmer's fault. And maybe he would've let the matter drop after that cursory look. But the farmer prods him—guilts him, really—into continuing. And eventually the truths that Bilott uncovers suggest that the whole "better living through chemistry" motto referred to more to DuPont's executives than anyone else. If a lucrative product was found to be harmful to DuPont's employees, DuPont's neighbors and potentially even DuPont's consumers … well, better to hush up any inconvenient chemistry than shelve the product itself.
Dark Waters
doesn't make a big deal of Bilott's faith. His wife, Sarah, looks like she's the family's real spiritual rock, leading prayers at dinnertime and insisting that the boys attend Catholic school even when Bilott's fight against DuPont grows ever more costly.
But even as Bilott's crusade exasperates Sarah, she insists that her husband is a good man, a strong man—and most church-going folks like Billott would point to one ultimate source for both goodness and strength. That's especially true, perhaps, in a case like this, where all power, prestige and profit lie on the other side.
Embrace secular relativism, and it'd be easy to let the matter drop. Only someone grounded in a more esoteric, more spiritual sense of right and wrong would pursue the right against DuPont and its deep pockets. Like an Old Testament prophet, he's determined to hold this modern king accountable.
Righteous believers are having something of a moment in movie theaters. Just Mercy depicts another church-going lawyer fighting for the little guy. Terrence Malick's A Hidden Life makes the little guy the hero—an average ol' Austrian farmer, circa World War II, who refuses to fight for Hitler's army—and he, too, is motivated by faith.
These are important lessons for us always, but sometimes I think especially so now. So often, we risk being seduced by the allure, and perhaps illusion, of power and importance. We're sometimes lured by temporal importance even at the cost of our most basic morals. We live in a fallen world, we tell ourselves. We must compromise.
But that, too, comes with a cost.