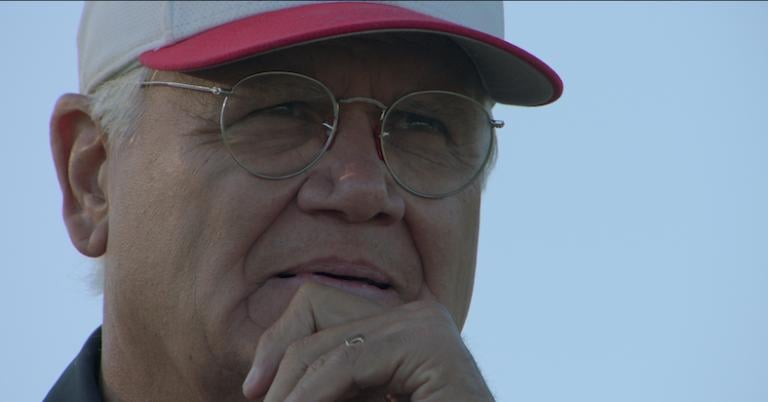 The most striking moment in the opening episode of God. Family. Football. isn't a jaw-dropping play or a fight in practice. It's a Tuesday morning Bible study, when dozens of high-school football players kneel and press their heads to the floor in prayer.
"[These players] belong to You, every one of them," Pastor Denny Duron prays over the team. Later, one of the team's members, lineman Jacob Carpenter, says that Bible study is the team's most important activity. "Going in there, at 7 o'clock in the morning, 60 of us guys in that little room … just talking about God."
That's pretty representative of God. Family. Football., the new six-part reality show on Amazon's Freevee service. The series is true to its name.
The show focuses on Evangel Christian Academy—perhaps Louisiana's most storied high school football program. After winning 14 state championships and a national title, the program fell on hard times in 2020. Now, Pastor Denny—who coached the squad to prominence—is back, hoping to lead the Evangel Eagles to another state title. The show chronicles its 2022 season.
But as you might expect, the show is as much about faith as it is football. It practically opens with a prayer.
"We have a God who makes us unified, makes us strong," says Pastor Denny.  "And when you love each other and you're a family, you're going to do great things."
The most notable thing about the show? In the end, the Eagles' focus on faith might not be that unusual. Oh, certainly, you're not going to find a lot of public-school coaches praying with their teams before and after every practice. But it seems like football and faith have always had a close relationship—as close as a football's laces are to the center's heavily taped hand.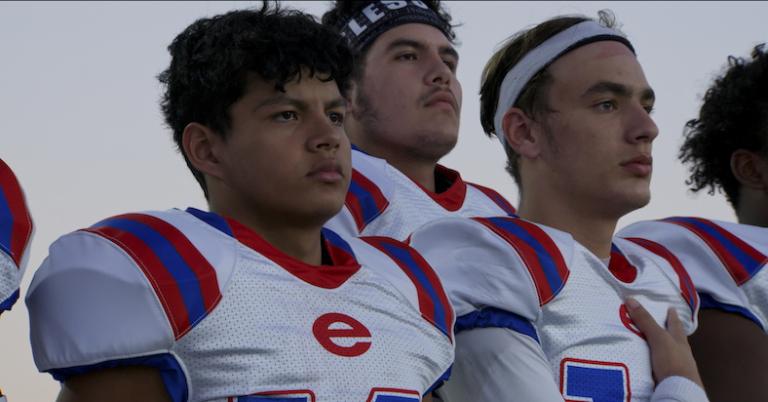 Hail Mary
God. Family. Football. certainly ties sport and spirituality closely and unmistakably together. But it's hardly alone in that. In my career as a movie reviewer, it seems like half the Christian films I've seen have been centered on football. Facing the Giants, Woodlawn, 23 Blast, Greater … and on and on and on. Even the best-known secular football movies seem to have a faith element. You can't tell Kurt Warner's story in American Underdog without addressing his faith. Rudy takes place at Catholic Notre Dame. In Remember the Titans, we see prayers and meet a character known as "the Rev."
Flip on an NFL game, and you'll likely see the screen filled with outspoken Christians. Denver Broncos quarterback Russell Wilson was an executive producer for God. Family. Football. Eagles QB Jalen Hurts has said "I keep God in the center, I give him all the praise, I lean on Him all the time …". Saints quarterback Derek Carr almost chose ministry over football. The NFL  reportedly has the highest number of self-described "born-again Christians" of any of the major professional sports.
That faith-football connection extends far back into the sport's earliest days. According to the Pro Football Hall of Fame, one of its originators—Amos Alonzo Stagg—was all set to become a Presbyterian minister before deciding to coach football at the University of Chicago Instead. There he introduced such innovations as tackling dummies, numbered jerseys, and plays in which men would go into motion. He told the university president that "my life can be best used for my Master's service in the position you have offered." (Interestingly, Pastor Denny says much the same thing in God. Family. Football. He says that God spoke to him, and asked Denny what was in his hand. "A football," Denny said. "If you give it to me, I will use it," God apparently told Denny.)
But why? Why is football so connected with Christianity?
Part of it could be attributed to simple geography. American football is popular everywhere in the country, of course, but it has particularly deep roots in the southern U.S., where religion remains an essential part of the cultural fabric. In college football, 17 of the last 18 national champions have been teams from the South. Some believe that football is particularly popular among conservatives—another constituency that has strong ties to faith.
But I think it goes deeper than that. Football—in its own admittedly violent way—echoes three themes that Christians feel are essential parts of their faith.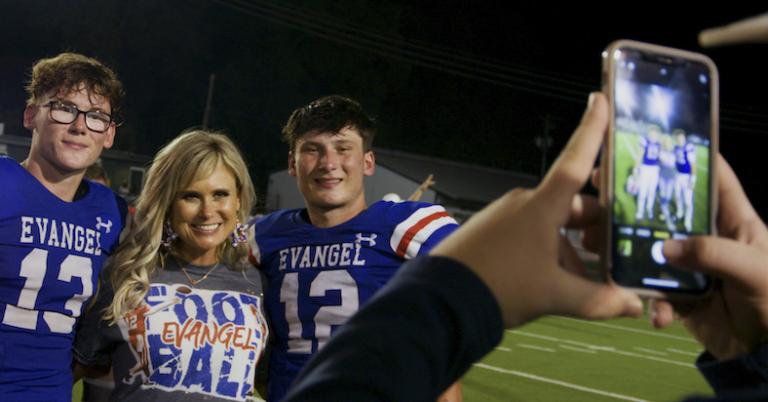 We're In this together.
In God. Family. Football., Pastor Denny returns again and again to the idea of the team being family. "It's tough to beat a really great team," he says. "But it's almost impossible to beat a really great family."
Read the New Testament, and you'll hear plenty of references to the wider Christian family. Believers called each other "brothers" and "sisters." And Paul writes about how essential community is to the Christian Church. "And thought a man might prevail against one who is alone, two withstand him—a threefold cord is not quickly broken," he says in Ecclesiastes 4:12.
Certainly this sentiment isn't unique to football, just as it's not unique to Christianity. But as we talk about what makes the football field such a popular stage for Christian films, this is a biggie. Every Christian football movie I've ever seen has stressed this all-for-one attitude. Often, selfishness and infighting is a team's downfall when the film begins. By the end, the team becomes a team—and those coming-together stories are meant to be lessons for those of us off the field, too.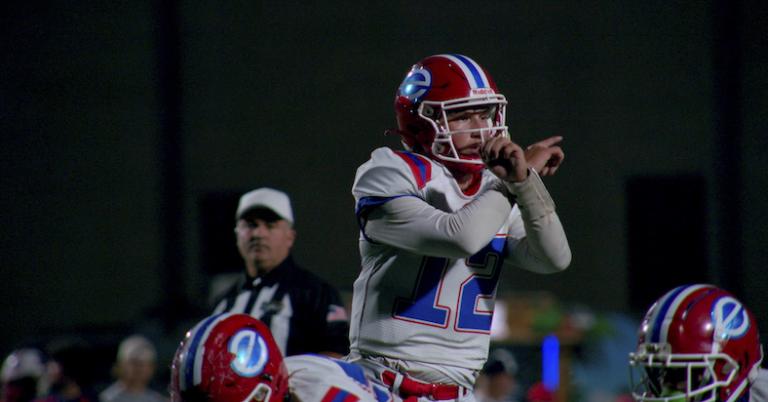 Everyone has a part to play.
Paul writes, "For just as the body is one and has many members, and all the members of the body, though many, are one body, so it is with Christ. (1 Corinthians 12:12-13, ESV). He goes on to say that every part has its own role to play; ears hear, eyes see, and they all fit into the grander scope of what the body is supposed to do.
All team sports echo that vibe a bit—but football especially so.
In baseball (the most individual of team sports), most everyone is supposed to try to hit the ball when they're at the plate. If you're on defense, you're supposed to catch that same ball and throw it to the appropriate spot. Sure, everyone plays different positions, but for the most part, the core of your job doesn't look that different.
But in football, half of the folks on offense aren't even supposed to touch the ball. Only one guy will be throwing the thing (unless the coach decides to get particularly tricksy). Jobs are more clearly defined. Each person has their own role to play. Just as eyes see, quarterbacks throw. Just as ears hear, defensive linemen rush the quarterback.
And moreover, each player needs to be in a specific place if the team's going to have success. If a linebacker moves out of his gap, he'll leave a hole and, potentially, give up a big gain. Even if you're nowhere near the football on a given play, you still might be exactly where you need to be.
That dovetails neatly with …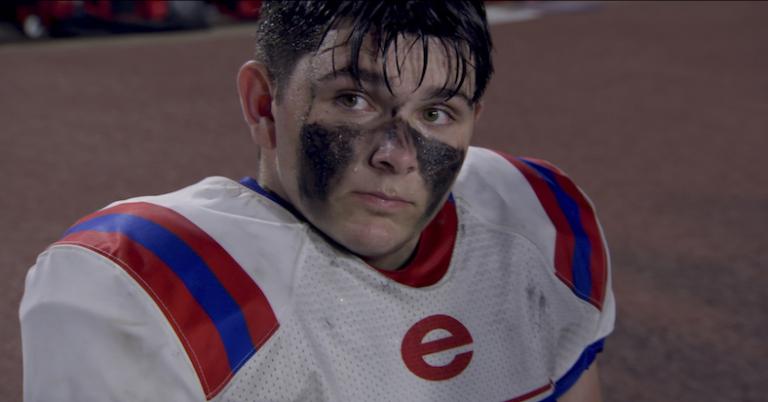 Teammates sacrifice for each other.
Certainly, this point overlaps with the other two we've talked about. But it takes the concept of teamwork a step further.
As mentioned, football defines its jobs pretty rigidly—and some aren't particularly glamorous jobs. Most every fan will know the name of their team's quarterback. The team's left guard? The only time that guy'll have his name called is if he committed a holding penalty. And yet—just as in Paul's body analogy—that left guard is still a critical piece of the team. Take that left guard out, and the only thing the QB will be seeing is a bunch of dirt and grass.
That fosters, I think, a sense of humility and camaraderie that successful teams need. That left guard knows he might never grab a football and score a touchdown in his entire career—and yet, when someone else scores, he has reason to celebrate. And the guy who scored? He knows full well that the left guard might've cleared his way.
God. Family. Football. is a strong reality show. And certainly we see how important winning is to Pastor Denny and the team he coaches. But there's an undercurrent here that it's not the most important thing. In the opening minutes, we see the team in late summer, practicing in the Shreveport heat. Each wears a shirt that says, "To God be the glory." And while skeptics might find a certain irony in playing a violent sport and praying to the Prince of Peace, the players feel no such paradox. For them, football and faith are inherently linked.