Imagine your dream party, with your favorite, most loving, intelligent, funny friends, gathered together to share passionately about our walk with God. They can't wait to tell you how they bring the truths of our faith and the transforming power of God's love to others, so you can do it, too. And they're just as interested in your ideas and want to learn from your experiences in the parish, the classroom, your home, or out in the world.
Imagine next that it is possible to carry this special band of friends around with you wherever you go! At any moment of the day or night you can ask them questions, share your own ideas, and keep that family feeling going 24/7. It would be like a little slice of heaven, right in your pocket, right?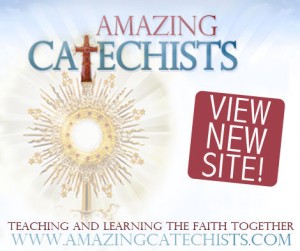 AmazingCatechists.com's new mobile-friendly design means that you can join us for an exciting and rewarding conversation about teaching and learning the Catholic faith–whenever and wherever you want to.
We warmly invite you to stop by to see the beautiful new design and sign up for our weekly newsletter, so you don't miss any of our posts about catechetics, sacraments, evangelization, technology, liturgy, resources, games, music, culture, theology, scripture, RCIA/adult ed, youth ministry, NFP/chastity, prayer, spirituality, news, special needs, and more!
ENTER TO WIN GREAT PRIZES!
Sign up for our weekly newsletter between now and October 13, the Feast of Our Lady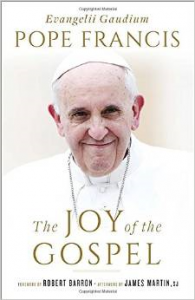 of Fatima, and be entered to win one of FIVE copies of a brand new special edition of Pope Francis's letter, "The Joy of the Gospel." This gorgeous hardcover book features deckled edges, a foreword by Father Robert Barron, and an afterword by Father James Martin, SJ.
This is the book to give your mom or dad or sister or brother or friend for Christmas, to spread the joy of the Gospel to everyone you love. Think New Evangelization and snap up a few copies, if you need more than one. You know exactly who needs this.
Come celebrate with us, and check out Sarah Reinhard's awesome review of the new AmazingCatechists.com now featured at CatholicMom.com!
And remember, SIGN UP for the newsletter (in the right sidebar), so you'll be entered to win the Pope's new book, and STAY in the loop for great catechetical resources and MORE GIVEAWAYS, coming soon!
God bless you as you share the joy of the Gospel with the world!