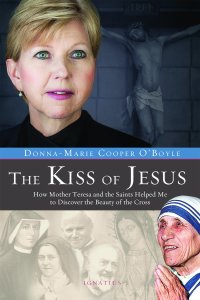 I love when a memoir provides both the shock of the unfamiliar and an intimate sense of shared humanity. Donna-Marie Cooper O'Boyle's new memoir, The Kiss of Jesus: How Mother Teresa and the Saints Helped Me to Discover the Beauty of the Cross, does all of that and more.
With incredible courage, through the gripping story of her life, Donna-Marie reveals to her many fans that she was once very wounded, and she understands that many lives are. She has made mistakes, suffered from abuse and humiliating losses, lived in poverty, fought to protect her children and clear her name, and struggled alone as a single mom.
Walking in faith sometimes seems like walking in the dark. I seemed to grope blindly a lot throughout my life, but with a certainty, or at least a strong hope, that there would be light–somewhere. I needed to trust God fully with my life and I prayed to do so. When I found myself in darkness I continued to search for God there, and I strove to serve Him each day in the people He put around me, starting in my own family. (p. 116)
Life, she admits candidly, has not gone according to plan. But because she has persevered in handing it all over to God, step by step and day by day, it has all come right; and she has done more than just survive: she has triumphed by joining her own suffering to that of her crucified Lord:
God calls us to learn the secret of redemptive suffering–not to waste our suffering–to unite our pain with His. As Saint John Paul II wrote, "In suffering there is concealed a particular power that draws a person interiorly close to Christ, a Special grace" (Salvifici Doloris, 26). (p. 116)
Donna-Marie is an accessible sort of celebrity, to whom many women look for guidance and encouragement. Through her television and radio appearances, talks, books, and lively presence on social media, she teaches and counsels in her signature style: gently, humbly, and without fanfare. People naturally flock to her with their prayer intentions–as well as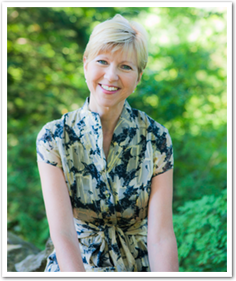 their praise.
I think it is the latter that has weighed on her because she senses that there are many women out there with the false impression that her life is perfect and her slate perfectly clean. It's not her intention to come across that way, it's just the natural assumption of the collective public, as we watch her move gracefully from podium to podium, best-seller to best-seller, and microphone to microphone.
But she understands that the reality of many women's lives can be extremely difficult and painful, and sometimes they carry a burden of shame because of it. This book gives the very clear sense that she wants to reach out to other women and offer them a share in the powerful hope that has transformed her life. She teaches us that pain is nothing to fear and that every suffering soul can be set free to flourish in the light of God's great love–if we will only offer it all to him by offering ourselves in service to others.
Mother Teresa often taught that real love often hurts; real love involves sacrifice. As Father Hardon wrote, "We love only to the degree that we are willing to suffer." Let's begin with the presence of the Eucharist in our lives and then seek out the abandoned, the lonely, and the suffering in our own midst…We needn't be afraid of it, because God is waiting to work miracles…when we cooperate with Him, amazing transformations occur in others and in our own hearts. (p. 180)
I have known Donna-Marie for several years, and I am awed by the consistency of her character. She is just as simple and caring in a radio interview as she is in a private conversation. We may assume that she is peaceful and cheerful because she has it all together and never makes any mistakes.
The truth, we discover in the pages of her new book, is totally unexpected–and may just bring hope to a great many suffering souls.
It is for this reason, above all, that I recommend this breathtakingly honest and inspiring memoir.