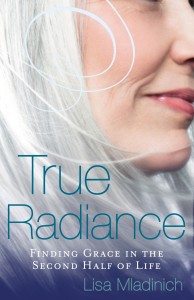 TADA!
This is the cover of my NEW BOOK, True Radiance: Finding Grace in the Second Half of Life!!!
Due out this fall, it's already available for pre-order from Amazon.
I thank, with all my heart, the many women (and one man!) who allowed me to interview them in preparation for writing this book on women's interior beauty! You are mentioned by name in the acknowledgements of the book. You are all beautiful!
Lori Bartels, Tracey Belucci, Bernadette Brandon, Jennifer Caiazzo, Sarah Christmyer, Erin Brown Conroy, Kay Cruise, Theresa Doyle-Nelson, Karina Fabian, Maggie Scheck Geene, Dr. Jane Gilroy, Lisa Goddard, Pat Gohn, Nina Hardy, Kimberly Hartman, Lisa Hendey, Marie Hosdil, Ellen Gable Hrkach, Helen Jones, Shelly Henley Kelly, Barbara Kirkwood, Liz Kirkwood Selden, Sister Janina "Bernarda" Krajewska, Dr. Peter Kreeft, Margot Mladinich, Suzanne LaGasse Moran, Dr. Ann Nolte, Louise Paré, Mary Lou Rosien, Elizabeth Schmeidler, Dr. Jem Sullivan, Susan Tassone, Vicki Thorn, Erin von Uffel, Juliet Way, Winnie Weir, Clare Lauren Westlund, and Jane Schiano Wigutow. (If I have left anyone out, message me and I'll rectify my error immediately!)
Love and deep gratitude goes to my dear friend, Pat Gohn, a natural spiritual mother and the best of writing mentors!
A very special thanks to the two exquisite women, both product development directors at Servant Books, who believed in me and guided me through the process of putting my thoughts together: Claudia Volkman and Louise Paré. You are both AMAZING.
Happy Holy Week!