Pagan Pride Day is a celebrated in the United States, Canada, Latin America, and is beginning to emerge throughout Europe in places like the Czech Republic and Italy. There is no official known start date or location, however it is known that sometime in the early 90's several groups were using the name for events and by the late 90's several events had been documented as using the name Pagan Pride Day. There is no information about the origins of the name Pagan Pride, but it is widely believe that "it owes its origins to the Gay Pride movement, and certainly it is a term that reaches far beyond any single organization." Pagan pride day features numerous rituals throughout the fall season, usually falling somewhere between Mabon and Samhain depending on the location and needs of the local groups.
Each event, though very different, all support a common goal and have a few core things in common. They all have public rituals throughout the day, a food drive or charitable activity, a press release and of course are focused on raising awareness about paganism. Their website states "We foster pride in Pagan identity through education, activism, charity and community…Through education, activism, charity and community, the project promotes tolerance and understanding between people with different belief systems. If you are a Pagan, the project can help you find pride and confidence in your path. If you are not a Pagan, the project can help you understand your Pagan friends, coworkers, and family members" For nearly 20 years, the Pagan Pride Project has been involved with many events throughout the America's; bringing pagan awareness, charity and activism to the public eye.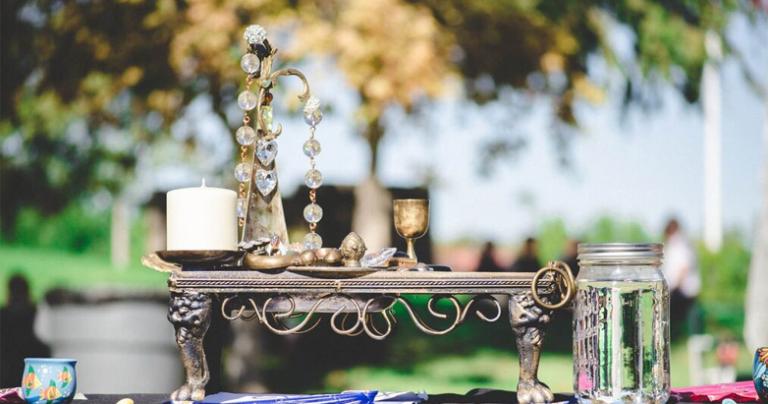 Over the years I have attended several different pagan pride days in various states throughout the U.S. I attend my first Pagan Pride Day in Raleigh, North Carolina many years ago. This particular festival takes place over 2 days around the Fall Equinox. I attended it two years in a row, the first year I spent one day there and the following year I camped and enjoyed the festival both days. In the past, the event has featured local vendors, had several rituals performed by various groups, medieval fighting demonstrations, and a food drive. The booths were filled with goods ranging from serious occult tools to whimsical ribbons and flower crowns. There really is something for each pagan path at this event.
The Raleigh Pagan Pride Day is held at the local fairgrounds, admission is canned goods and with many participants, the event brings in many boxes of canned food to be donated to those in need and local shelters. There are many local groups and vendors who set up their booths selling pagan and witch goods, herbs, crystals and information on local groves, covens and organizations. There are many classes offered in quiet corners of the park and there is a variety of performers including local belly dancers and musicians who come to perform in devotion or for fun. I have had the privilege of vending, teaching and performing Bellydance at this event many years ago!
While living in Arizona I became involved with the local pagan community. The Phoenix Pagan pride Day is usually held the first or second week of November. Arizona is quite hot during the traditional harvest months but by November it is much cooler and the perfect weather to host an outdoor community based event. The Phoenix pagan community is quite large with a wide variety of groups, and I have had the pleasure of running a medium sized coven while I was living there. We began to become involved with Pagan Pride Day immediately and within a few years we were helping with the rituals, vending, performing and teaching classes. A few years ago, I was asked by the fabulous Voodoo Priestess D.W.T. to join her in performing a ritual for the event and so the ladies of Rambling Rose, D.W.T and I lead our community in an ecstatic water blessing rite.
Our goal for this ritual was a Healing Water Ritual. We wanted to provide a ritual that would incorporate water and healing energies. Being connected to Avalon and Devoted to Aphrodite, I thought of Roses and the Water of the Glastonbury White and Red Well. I had some vials of water left from my pilgrimage there in 2012. As a dancer I decided I wanted to get people moving and what better way than to ask D.W.T.'s good friend and drummer to join us for the ritual. We consecrated our sacred space with two dozen roses, covering the ground with beauty. We invited the elements and cast our circle and the drumming began. When the ritual started we began to raise energy with free and ecstatic movements; we chanted and moved, dancing and spinning around in the grass. We spoke of healing water, healing our bodies and giving back to the earth. We spoke of how to create sacred water and blessed a large silver bowl full of water, we then added the waters of the Red and White well that I had brought back with me on my pilgrimage to Glastonbury in 2012 creating a powerful elixir. We blessed the land with the sacred water and covered the grass with fresh rose petals as offerings to the land and spirits we honored. It was such a wonderful ritual that we decided to do it again next year!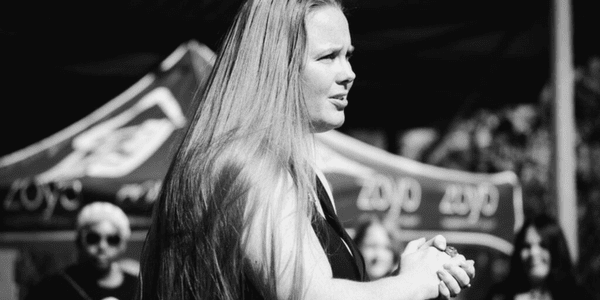 The next year D.W.T., Rambling Rose and I performed a ritual for our community; this year however we wanted to do a slightly different ritual honoring Water Goddesses by indulging in chocolate and raising energy for a common goal with dancing and movement. We performed the ritual by first creating our sacred space. The Elements were asked to join us as were the ancestors. We spoke about love and healing and treating our bodies in a sacred manner, speaking kind words, filling out body and soul with healing and goodness rather than thoughts about what we lacked, where we fell short etc. We then cast our circle and invoked our watery goddesses, asking them to join us in our sacred rite. We then partook in offerings of chocolate, dancing in indulgence, and pleasure. After we had partook in these offerings and ecstatic dance, we began to chant "Water spin and water flow, heal the land and help it grow". As we chanted this, 5 mason jars containing water were passed around the circle; each participant charging the mason jar with healing intent.
Water is often scarce in the south west. Places like California are experiencing fire and droughts that are devastating the land. We charged these mason jars with healing intent, in order to keep the land healthy, moist and nurtured so that Phoenix continues to thrive rather than barely survive. When we were finished charging the water, the mason jars were returned so that after the ritual they could be brought to and poured out in their respective directions. Gridding phoenix with sacred healing water poured into the ground in their proper direction adding healing magic to the land. Each jar was labeled and distributed to a particular direction, north, south east and west. The fifth and final jar was given as one final offering to the land in which we hold the event. Together D.W.T. and I poured the water out into the land giving thanks for the land, the park and being able to hold this event there year after year.
The Pagan Pride Day that I attended in Oregon this year and last was smaller than its counterpart on the east coast but still filled with magic and ritual. It is a one day event taking up only a small area of a local park, there are vendor's selling books, jewelry, baskets, crystals and pottery. Some groups and organizations had booths up as well. There were several rituals and a pod of mermaid's came out to play with the fairies who chased large bubbles around the park. Local organizations such as spiral scouts and local groves and covens had booths up handing out free information as well as performing rituals. For this location and event I only attended for a few hours during the middle of the day. Typically I attend the entire event, supporting all the groups and rituals, however I was only able to attend one ritual and teach a class these past two years.
The ritual in 2016 was put on by a good friend of mine who is a member of the Nigheanan Brighde Order of Brighidine Flametenders. The ritual was led by this wonderful group, Sara Star taught us how to sing in Irish and Erin Johnson led us in a sacred rite honoring Brigid. The rite honored this flaming water goddess with milk and honey. A sacred grove of nine hazel trees erected by the use of a tambourine creating a magical circle. We were lead through a devotional ritual to Brigid, which featured a meditation which Erin calls Reviving the Flame. When the meditation was over many were anointed with milk and honey and some dipped their fingers into sacred water from her well. All present were silent and respectful in the honoring of this healing water goddess. In 2017 I taught a class on Water Magic and shared a vending table with fellow witches!
Pagan Pride day welcomes all members and nonmembers of the community who are respectful and interested in learning more about paganism and similar paths. They raise awareness through community service and public demonstrations of rituals, classes and practices. While Pagan Pride Day varies city to city and region to region, each event is committed to providing a loving community based event which aims at educating pagans and non-pagans on various subjects. Each event is supported by local covens and groves and boasts a wide variety of entertainment, classes and even whimsical costumes. Visit the Pagan Pride Project website to get involved in your next local Pagan Pride Event.
Written by Annwyn Avalon
Photo Credit- Chrissy Mazer