I was so busy this fall and early winter that there was almost no time to focus on blogging or sharing my practice. This is a brand new year, so much ended in December for me. They were all good endings of course. So I thought it was time to begin blogging again and commit to sharing content. Sometimes sharing content is hard, it is a vulnerable thing to share our practice with strangers. This is rooted in fear and 2020 is the year to be moving far away from fear-based actions and to triumph over our blocks and shadows. So how does one even go about this?
For me, the answer was quite easy, it is bath time! Magical baths have been used by almost every culture throughout history. They are often performed in different ways. The root of the magic remains, submerge in sacred or magical waters and be cleansed, purified and made new. As I was pondering this, it dawned on me that I should start this new year with a bath! I had also been in the process of digging up an old bath recipe for one of my students to use in her personal work. I thought this would be not only a good opportunity to share this bath recipe, but to update it and tailor it to new beginnings.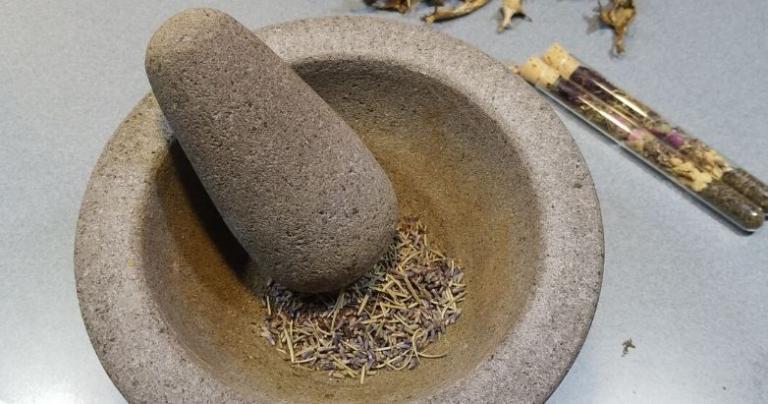 For this bath, you will need just a few simple ingredients. A bathtub, of course, is needed. Though you can always use bath recipes for sacred showers by combining the ingredients into a little cotton bag and using it like a scrubby on your body. You will also need Sea Salt (not Epsom salts) as well as dried crushed and ground Rosemary, Basil, and Hyssop. You will need one more final ingredient; fresh white rose petals that have been taken off the stem and placed in a sacred bowl!
You will want to begin by filling your tub with water to your desired amount and temperature. Once that is done, take 3 handfuls of sea salt and place it in the bath. When you are finished take your hand, finger or quartz point and stir the water in a sun-wise motion 3x. As you do this say Salt from the sea, I ask that you purify me, cast away all bane from this place so I may be purified by sacred grace. Then take the herbs and sprinkle them in the bath and say Plant spirits of power I call upon you this sacred hour. I ask that you remove lingering pain, bane, and strife so I can begin a new and powerful life. This is my will so mote it be! Sacred Waters Purify and Cleanse me!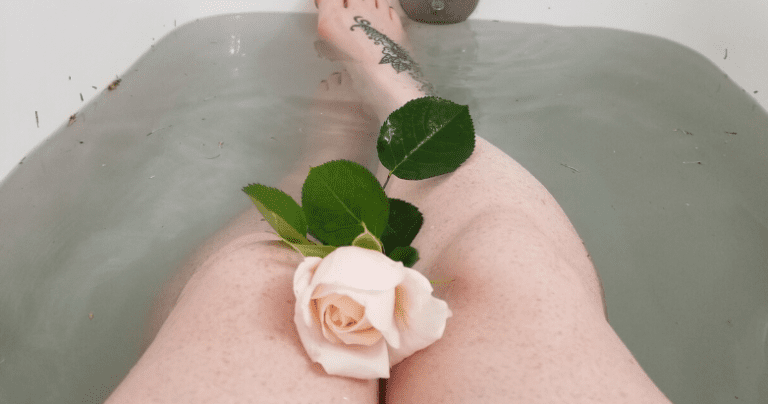 Once this is finished step into your bath and settle in to relax. Once you are relaxed begin to contemplate and meditate on those things that are holding you back. Are you holding to grief? Pain from a broken relationship? Or just exhaustion from the insanity of 2019? No matter what it is once you have identified it bring it to the forefront of your mind.
Once this is done, reach over the side of the bath and grab a handful of white rose petals. Gently raise your hands up over your head and let them fall over you. While you do this visualize them falling onto your body, and when you see a petal touch your physical form see it absorbs the negative energies you are wishing to expel. As it falls into the water visualize the herbal waters neutralizing it. Do this over and over again until the bowl is finished and you are laying in a luscious bath of white rose petals. Each petal is a vessel of light and purification helping to cleanse your aura and remove these specific things that do not serve you.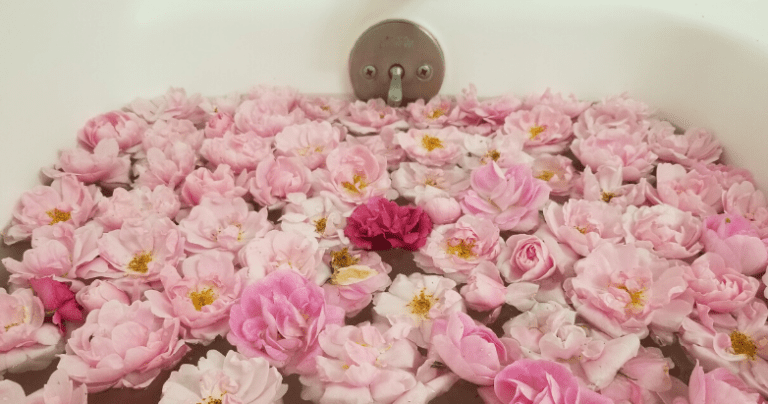 Continue to contemplate and meditate until you feel you have reached your desired state. Then pull the plug on the bath, stand up and watch the water begin to drain. As you do this, do a body scan and see if there are any hidden or lingering energies that you wish to send away. If you find them, send them into the water and allow them to drain out of the tub and away from you. When you are finished and all the water is gone dry the remaining water off of you, step out and dress in white for the remainder of the day.
When this is finished go back to your bath and gather your rose petals in a bowl and take them to your outdoor shrine and place them in your sacred space. If you do not have an outdoor shrine, spread the petals on a tray and allow them to dry, then burn them in the next ritual fire you create!
I hope this helps you as we move forward deeper into 2020. This bath is a real delight, so relax and enjoy!