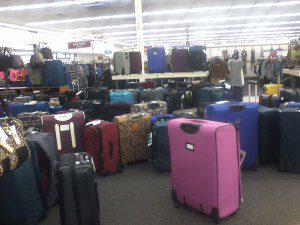 Please come with me to Africa. We will visit Kinshasa, Democratic Republic of Congo; Johannesburg, South Africa; Accra and Elmina, Ghana.
Day one: Suitcases.
Guess which one I chose to hold clothes for children in a poor school, a bridal gown, my own clothes, and a few gifts.
Which would you have chosen?
Danor Gerald will be posting photos of our trip via instagram, and John Ternieden will use social media to document our adventures. Your seat cushion can be used as a floating device.