The final scene in the Kickstarter video for Heart of Africa shows two young men, one white and one black, embracing tearfully. The audience surely senses their closeness, but won't know their history.
Jared Wigginton, the Anglo in that scene, was in the Missionary Training Center branch where my husband and I served. He was one of the missionaries headed to the Democratic Republic of Congo. When he let us know that we could email him, he became the first of my adopted sons—eventually totaling twelve Anglo missionaries and four of their African companions. When Elder Wigginton was paired with Zambian Chiloba Chirwa, I received my first divine invitation to break any preconception I had of the African continent or those who lived there.
It is embarrassing to admit this, but I assumed Elder Chirwa knew nothing about the world outside of Africa, that his English was elementary, and that his reading skills were poor. I would ask all of my readers to consider whether they, too, might have assumed such things of someone from the African continent.
As it turned out, Elder Chirwa's father was pursuing a Ph.D. in literature and had been named the Best Actor in Zambia in 1999. Chiloba himself had spent much of his childhood in England, and had an English accent. His sister, a doctor, still lived in England, as did his mother. Chiloba himself was planning on pursuing a degree in architecture. And he loved good books, especially those by Tolkien.
I began writing to Chiloba as well.
On January 25, 2009, I received a strange email from Elder Chirwa, whose writing was usually well-phrased. This email was disjointed and full of misspellings.
dear sister young
thnkyou for your help. I am feeling terribly ill. I think i may have chicken pox. I hate bein ill its such a shady experience especially on a mission.
I cant wait to gt to the temple again. I may not remeber all the deatails but the warm feeling of being there is still with me.
We have had a busy week. we are wiorking on a teaching plan to focus on famillies and build a foundation for the district.
Thatnks again i am having a hard time concenrating on the screen, i mus t go .
Take care
Elder Chirwa not only had chicken pox but malaria. Elder Wigginton reported a few days later:
Elder Chirwa is on quarantine for his chicken pox and malaria, and we spent four lovely days and nights at the medical clinic. Our arrival there was interesting. Last Saturday morning, resting trying to recover from my sickness, Elder Chirwa stumbled to his bed. I asked how he was feeling. He said bad, so I asked him to take his temperature again. It was 40 C, or 104F. I called the doctor and we got him checked in. His fever rose to 104.5 before we got there, and I supported him up the six flights of stairs. He was immediately hospitalized and stuck with an IV to bring down the fever. We spent ninety six hours together with him suffering a lot. I felt for him when they came in to inject him with a syrup looking substance in his leg . . . the needle being over two inches long. He squeezed my hand and curled in pain as they sent this medicine through his quad. It was a ten by ten room and I had a little cot to sleep on.
During this time, Elder Wigginton watched various DVDs, including The Work and the Glory, which was directed by Sterling Van Wagenen, the director for Heart of Africa.
Wigginton and Chirwa were paired a second time during their missions, and their bond was solidified. They would be forever friends.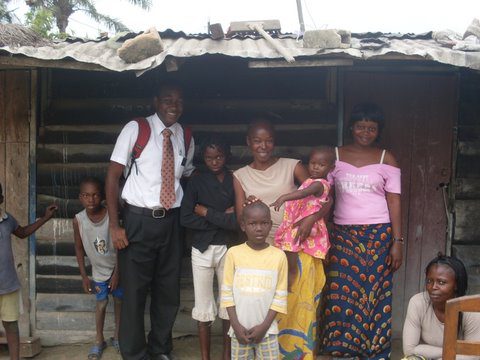 When Chiloba was granted a visa to come to the U.S. after his mission and study at BYU, he stayed at the St. George, Utah home of his mission president, Mike Headlee. We did not tell him that Jared Wigginton was going to visit him. In fact, I pushed the drama a little and said "Too bad Jared is so far away. It'd be nice if you could see him."
Jared was married by this time (and would eventually name his son after Chiloba), and came to the Headlee home with his wife. Sister Pamela Headlee met the couple outside of the house and led Jared to where Chiloba was working in an office. Jared greeted him in French, and Chiloba leapt up to hug him. That reunion is the last thing in the video here.
Elder Chiloba Chirwa wrote this to me as he finished his mission:
Alphonse is the artist that engraves on the nuts. I took him a picture of the First Vision and also of the Manti Temple for my companion. He engraved these two pieces so beautifully that it brought tears to my eyes. I wonder if he ever thought about what was symbolized in these two images: the restoration and the possibility to live together forever. I think he did. So before we took our priceless souvenirs, he asked us to pray for him. He rushed into his house and pulled out an old worn BUKU YA MOLOMONHI, a Lingala Book of Mormon Jared Wigginton gave him many months ago. We read together and with the little Kicongo [dialect] I know, I tried to bear my testimony.
I guess the wonderful mission experiences are numbered for me, but they sure have been sweet, and I am keen on using every last minute to serve the lord and others.
All of these young men, most of them married now, referred to themselves as a "band of brothers."
"We few, we happy few, we band of brothers!" exclaims Shakespeare's Henry V. In that play, the "brothers" were warriors, preparing for battle. The missionary brothers were preparing for life beyond the comfort zone. They remain tightly bonded. Each of them is involved in the effort to make Heart of Africa and to tell the story of missionaries from various cultures learning all the dimensions of brotherhood.