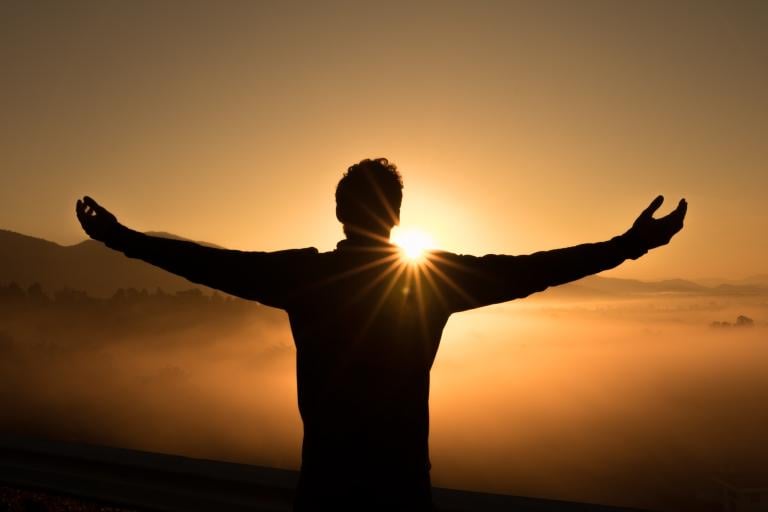 In those days John the Baptist appeared in the wilderness of Judea, proclaiming, "Repent, for the kingdom of heaven has come near." This is the one of whom the prophet Isaiah spoke when he said,

"The voice of one crying out in the wilderness:
'Prepare the way of the Lord,
make his paths straight.'"

Now John wore clothing of camel's hair with a leather belt around his waist, and his food was locusts and wild honey. Then the people of Jerusalem and all Judea were going out to him, and all the region along the Jordan, and they were baptized by him in the river Jordan, confessing their sins.

But when he saw many Pharisees and Sadducees coming for baptism, he said to them, "You brood of vipers! Who warned you to flee from the wrath to come? Bear fruit worthy of repentance. Do not presume to say to yourselves, 'We have Abraham as our ancestor'; for I tell you, God is able from these stones to raise up children to Abraham. Even now the ax is lying at the root of the trees; every tree therefore that does not bear good fruit is cut down and thrown into the fire.

"I baptize you with water for repentance, but one who is more powerful than I is coming after me; I am not worthy to carry his sandals. He will baptize you with the Holy Spirit and fire. His winnowing fork is in his hand, and he will clear his threshing floor and will gather his wheat into the granary; but the chaff he will burn with unquenchable fire."  (Mt 24:36-44)
Usually, when a preacher is faced with this Advent gospel, he or she focuses on Jesus' statement that no one knows when the end will come and then goes on moralize about how we should be ready for the end every day. But, this focus misses the fact that Jesus is also describing three different spiritual paths and their responses to the revelation that lies ahead at the end of history.   Of the three spiritual paths that he talks about, the first is just off stage and is the view that prompts him to talk about the fall of Jerusalem and the end of all things in the first place.
This is the escapist's approach to living. It is important to remember that in Noah's day, the people around him ridiculed him and lived in certainty that he was the crazy one who was wasting his life. They are the "Eat, drink, and be merry," crowd who also want to be certain about their own righteousness. These are the people who simultaneously are afraid that the world will end just any moment now, and who secretly hope that it will.  They don't want to die, but they are unwilling to make the effort that living faithfully requires of them.  They are sure that they are right about almost everything. But they wouldn't mind everyone who disagrees with them getting their comeuppance in the process. In Noah's day, the best solution from their point of view would have been for the rain to never come and his huge boat to sit there mocking him and his God forever.
Those on this spiritual path are still with us. To be sure, some of the people on this path are religious fundamentalists.  They have been a part of the human experience from the very beginning.  And, in every generation they have been handing out judgments on the behavior of others and predicting the end of all things.
But they aren't the only ones who have chosen this path.  In our own day and age, politics loom so large in our civic life, that many of them are without religious convictions of any kind, but they wield political opinion as the instrument of judgment just as vigorously as any religious fundamentalist ever thought of doing.
Now, before you conclude that I have just one group of people in mind, let me assure you that the people who take this path don't belong to one end of the political spectrum.  Just as there is a religious fundamentalism of the right and the left, so there is also a political fundamentalism of both the left and the right.
To be sure, they both have their own definition of sin.  They both believe in a different kind of devil.  They both have a special kind of hell in mind for the people with whom they disagree.  And they both believe that the end will come in a different package.  But – just like their religious counterparts – they are all so tired of living faithfully in the midst of opposition and challenge, and so certain that they are right, that they long for the end to give them a way out, preferably to the public embarrassment of everyone who holds a different point of view.
It is hard to overestimate how much damage this path does to the people who walk it and to the wellbeing of people who share the world with them.  People who are often wrong, but never in doubt, are usually petty tyrants at home.  In public they would rob people of their rights – all, of course, in the name of their own good.  And even though – if you asked them directly – they would say that they believed in mercy, grace, freedom, and dialogue, in truth, ultimately  they don't.  Mercy is for people who agree.  Grace if for people who repent of their opinion.  Freedom is for those who use it the way that they think it should be used.  And freedom of speech is for those who agree.
This is the spiritual path of the left brained. Neurologists have discovered that the left brain is always looking for targets and enemies.  Psychologist Iain McGilchrist describes our society as a world enthralled by left-brained thinking: certain of a handful of conclusions (most of them unexamined) and fueled by self-righteous anger.  Unwilling to believe in God, unwilling to submit to the natural realities around us, and convinced that the end of all things will be our own doing, if we are not careful.
The second spiritual path Jesus describes is that of the sleepwalker.  "For as in those days before the flood they were eating and drinking, marrying and giving in marriage, until the day Noah entered the ark…"
Arguably, this is the spiritual path that is offered to us wherever we look.  A hundred and one cultural messages insist that the good gifts of God are also the whole point of life.
You see it in our advertising.  You see it in the promises that our politicians make to us.  You can see it in the demands that we make of our politicians..  You see it in the steady insistence that – as human beings – life should be without limits, including – paradoxically – the right to end it anytime we want to.  We live at a distance, not just from God but from nature and everyday realities.
The problem with sleepwalking is that it is a half-truth.  The world around us, including experiences and opportunities to create – these are undoubtedly a part of life's rich tapestry, and God has given them to us as a vehicle for joy, connection, and celebration.  But, separated from the Giver, they are not only meaningless, they are dangerous.
And Jesus uses the story of Noah and the flood to describe what happens when we awake from that dangerous dream.  We discover that there is a God and that we are not.  That the gifts we have been given are a vehicle for drawing closer to God and to one another.  And we find that the emptiness that gnaws at our hearts and souls is follows hard on our failure to acknowledge this.
The third path and the only viable one that Jesus describes is that taken by those who are spiritually awake.  They are alive to God, alive to the realization that we live in God's presence.  Alive to our indebtedness to the faithful of the past.  Alive to our responsibility for the future.  It is what Eugene Peterson memorably describes as "a long obedience in the same direction."
Those who are spiritually awake rely on the conviction that the future is in God's hands.  But they do not need to have God relieve them of their responsibility.  They never confuse their own understanding of God with God himself.  And while they rejoice in the gifts of God, that gratitude leads them back into engagement with the needs of others.
This path is one of life-long attention to the purposes of God, attentive worship, regular prayer, and reflective living.  I am glad to say that I know a number of people who have walked – and are walking – this path.
Those who are spiritually awake give themselves to nursing friends back to health and offering encouragement to those who struggle.  Others are teachers and problem solvers.  At home they love and care for their spouses and children.  They seek to be a source of healing and hope.  At work they live with integrity and contribute to the wellbeing of others.
But the key difference between them and some of the sleepwalkers in the world is that they take their relationship with God seriously.  They reflect deeply on their lives.  They are conscientious about the prayers and worship that sustain them.  When they fail, they seek God's forgiveness and grace in order to continue the journey.  They rely upon God for strength and direction.
Only you can know where you are on this spectrum that Jesus describes.  For many of us, I suspect, there are parts of life where we making more progress than in others.  There are parts of life that we find easier to trust to God than others.  Some of us are on a path that looks a lot like that of the spiritually awake, but we have yet to invite God into those lives.
Wherever you may be, I invite you to take a prayerful, reflective inventory of your life.  Our lives are not a dragon to be killed or an experience to be sucked dry in greed.  They are the good gift of God.  And those who are awake know its joys and peace.
My friend, Bill Davidson, was one of them.  I want to do something I have never done before and that is to cite a portion of his obituary, because I think it will give you a sense a life if this kind looks like, viewed from the end of the journey.  The details of his life are not as important as the affirmations that appear throughout the account of his life.
William D. Davidson, M.D., lived intoxicated by life, loved with all his heart, endured a full measure of life's sorrows, and stepped into the arms of God on May 11, 2012. He died peacefully at home in full gratitude for all of God's blessings with his beloved wife, Eliana, at his side.

Complex and accomplished, Bill's empathy made him intolerant of human suffering and injustice; he pitted his considerable energies against both throughout his life. A fourth-generation physician, as a surgeon he found the limitations of his craft to heal the human body would push him to become a psychiatrist so as to also heal the inner being. Those insights inspired him to apply his healing arts to the study of inter-cultural conflict. Encouraged by many, he pioneered the study of psycho-cultural aspects of conflict resolution. His Institute for Psychiatry and Foreign Affairs laid the foundation for unprecedented dialogue on the nature of the Arab, Israeli and Palestinian conflict, and spread the seeds of greater under-standing between U.S. and Soviet scholars at the height of the Cold War. He sought not personal recognition, but end results that fostered peace and understanding among adversaries.

His adventuresome spirit took him everywhere – to apprentice with a Guatemalan curandero for his Master's thesis in anthropology, lead a medical delegation to the People's Republic of China in the early 1970's, sail trans-Atlantic on a tall ship in 1976, to Cyprus, Greece, Egypt, Turkmenistan, Azerbaijan, and beyond. Like his body, his mind was never still, always exploring, expanding, seeking to understand the greater plan.

Bill was so much in and of this world, yet he kept a never-ceasing mystical conversation with God and the Saints, finding Providence in the smallest of things, the most casual of meetings, the simplest of gestures. And it was the strength of that faith that sustained him upon realizing that his physical body would soon cease to be.

Joy, wonder, love, tenderness, action, courage, strength, decisiveness, and creativity were just some attributes of this son of God. He touched and comforted so many during his life and did so much good. We look forward to being reunited with him in God's arms and continuing our journey together at the appointed time.
May you find the same "joy, wonder, love, tenderness, action, courage, strength, decisiveness, and creativity" this Advent season.
Photo by Zac Durant on Unsplash