Acceptance of Alzheimers
In honor of Alzheimers Awareness Month, I'd like to show how my faith helped me handle the sadness of watching both my mother-in-law and my mother go through this loss of themselves.
With my mother-in-law, Emma, the disease's progression was brutal. This great lady was one of the kindest people I have ever met, and she was also an accomplished businesswoman, cook and seamstress.
When she was at that transition time of knowing something was wrong with her, she began failing in things she was good at. Her formerly outstanding meatballs were not cooked –still red in the center. I grabbed our toddler before she popped one into her mouth. "Why can't she eat my meatballs? What's wrong with them?" It was brutal. My husband had tears in his eyes.
And, this lady used to make glorious dresses for her daughters. She took pride in hemming my husband's new pants. One day the slacks came back horribly botched. So awful he could not get away with wearing them to work. We were devastated at Emma's loss of her impressive  skills. This disease is a robber of more than just memories.
Emma is home with the Lord now. She inspired us to no end. Everyone has wonderful, fond memories of her.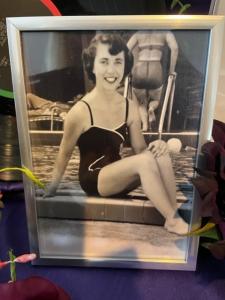 My mother entered her nineties very well. I'll always be grateful to God for that. Always prickly about people knowing her age, she joked, "Can you believe I'm 90? Isn't that awful?"
I noticed certain things were off, in the beginning. We were chatting about a vacation place she visited as a child, Sherwood Forest, MD. She suddenly looked at me and said, "Did your folks take you there?" I nervously replied, "What do you mean my folks? You're my folks!"
Then she would call me and say, "It's Joan." Since when did I ever call my mother by her first name?
Then the Aphasia set in. she used words that didn't fit correctly. This devastated me, as my mother raised me with a love for big words and their origins. "Why use a nickel word when you can use a $20 one?" She'd often pontificate.
She loved the satisfaction of doing laundry and cooking for herself. She could not be trusted to accomplish these simple tasks safely anymore. Her caregiver is like family to us. God sent her straight from Heaven, we swear.
What helps the most to endure this horrific experience is knowing we don't have to have all the answers; only God does. He offers us His peace and strength to continue cheerful caregiving. Deep breaths. Repeating things over and over because of short-term memory loss gets tedious. God helps us with that, too. Jesus, our brother, knows this journey is crushing, and never leaves us, throughout. "I will never leave you; I will never forsake you."
One Day at a Time
God always wants us to think in terms of only the next 24 hours. He only wants us to focus on the present. He created time this way so we would not get too overwhelmed. I am guilty of dwelling on the past and fearing the future. Working on this!
My siblings were local to my mother during her last years, while we had moved 1,000 miles away. We had helped Mom with driving for ten years prior, but my brothers and sister were involved in the last few years of the worst of my mother's decline. I visited when I could, but due to my work schedule and the expense, I could not come as often as I wanted to, in the end.
My siblings had to be sooo patient during this twilight of Mom's life. My awesome brother, Jim, coined the phrase, "Every day I had to go over the who, what, where, when and whys with her." God bless him. My sister, Mary, was amazingly organized and did a fantastic job with Mom. Brother Tom came on weekends and played guitar for Mom, who used to sing professionally at weddings. I would call Mom weekly and be astounded at her recollection of very old song verses when we would sing together. I had heard that dementia patients' historic memories are always much more astute than the current ones.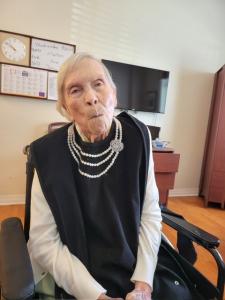 Managing the Sadness-Heaven Awaits!
My husband and Mom had such a blast teasing each other. Mom's sense of humor was completely off the wall and quite hilarious. Alzheimers stole this, too.
When I look at some of the last shots of my mother before she died, it slays me. God promises us that He will dry all our tears one day.
Belief in the Trinity and the afterlife is such a solace, after we have watched someone go through some extremely rugged last years on Earth!
"Therefore they are before the throne of God, and serve Him day and night in His temple. And He who sits on the throne will dwell among them." Revelation 7:15-17
"We who are still alive will be caught up together with them in the clouds to meet the Lord in the air." 1 Thessalonians 4:17
"What no eye has seen, what no ear has heard, and what no human mind has conceived –the things God has prepared for those who love Him." 1 Corinthians 2:9
Mom is partying now among God, the angels and with all her friends and siblings. She can see, hear, and think clearly. She has her soprano voice and her sense of humor back.
We don't know where God will lead us in this life, nor what His purposes are. But we know we can trust Him. He is the King, loves us with an everlasting love and wants the best for us.